As Seen On TV Review:
BulbHead's Lizard Flare Light
We've had it drilled into our heads since we were children: always keep an emergency kit in your car, including essentials like extra warm clothes, a first aid kit, and a flare light. Having a flare in your car can be lifesaving in the event of a roadside emergency, especially with the cold winter months coming up – the less time you spend stranded in a broken or fuel-less vehicle, the better.
If you're shopping for a new roadside flare, or building your car's emergency kit for the first time, this might just be the perfect product for you. We tested out BulbHead's Lizard Flare Light to help you decide if it's worth the investment – keep reading, and we'll tell you all about it. 
Features of the Lizard Flare Light

BulbHead's Lizard Flare Light is a 360-degree super-bright LED flare light, perfect for getting help and drawing attention to yourself in the midst of a roadside emergency. Many flares are bright – after all, that's their whole purpose – but we think the Lizard Flare Light takes the cake, with the product description claiming these things can be seen from almost a mile away. That's pretty dang far!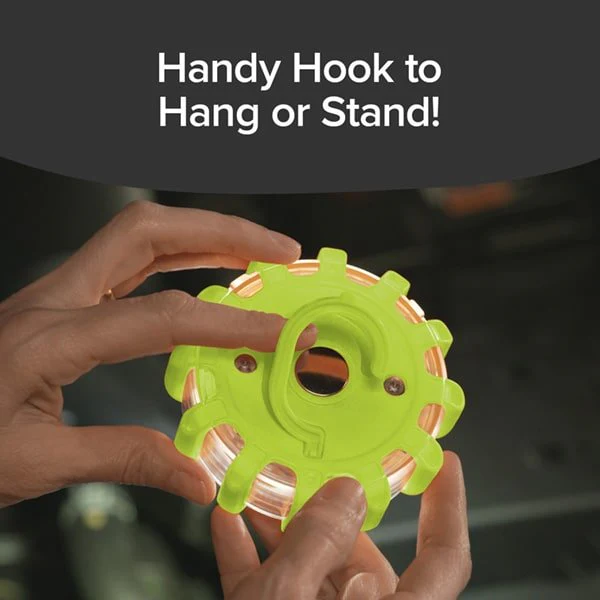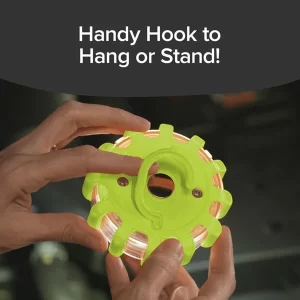 They're waterproof and weatherproof, which is a super important feature for a flare light, given that many of the circumstances that might cause car trouble (heavy rain, a blizzard) are the exact same ones you'd want a powerful flare for. The Lizard Flare even features a shatterproof ABS lens, meaning this thing is reliable, no matter what sort of sleet or winds or snow are pounding it.
Plus, obviously, it's electric. No need to worry about this flare being doused by rain or suffocated by heavy wind. It has all of the features and benefits of a traditional flare, without the flame.
The Lizard Flare Light has nine light pattern safety modes, so you can alternate the flashing pattern to figure out which one is most effective for your particular circumstances. These light patterns include: single flash, dual flash, triple flash, rotating, pulse, the SOS signal, solid light on high, solid light on low, and flashlight mode.
It also has a built-in handy hook, making it multi-functional and easy to store. You can hang it off a door handle, or keep the hook tucked away into the body of the flare – whatever's easiest.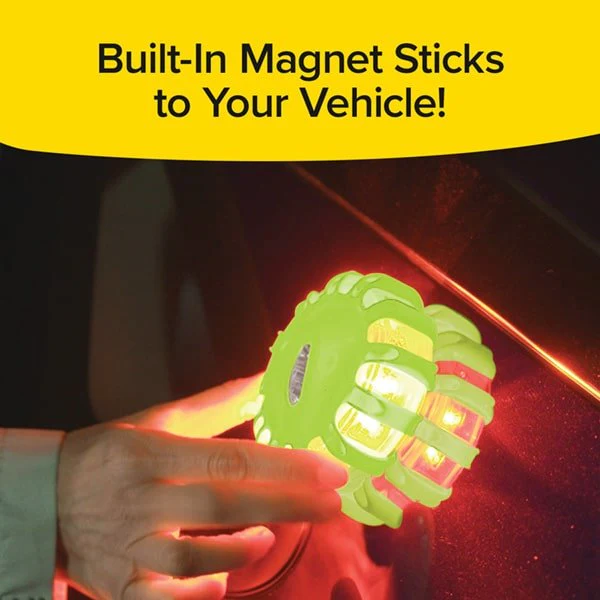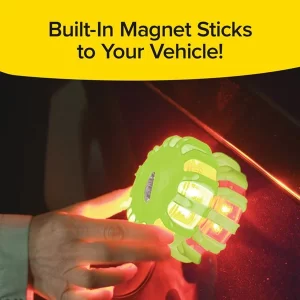 It even has a built-in magnet, which you can use to stick the flare onto your car to warn other drivers of your presence before exiting your vehicle. Whether you use the hook as a stand to place the flare on the ground, use the magnet to stick it to your car, or hang it from a door handle, there are a ton of ways to maximize the visibility of your Lizard Flares and ensure your safety while waiting for help on the side of the road. 
How Many Do I Need? 
While you can buy a trial pack of just one Lizard Flare, we recommend buying a six pack or twelve pack. Not only are they cheaper in bulk, but it's recommended to use at least six at a time around your vehicle to maximize visibility. If you have two cars, buy a twelve pack, and keep six in each car. It might sound like overkill, but trust us – nothing is too dramatic when it comes to your safety on the road. 
Plus, like we mentioned earlier, the price point is better when you buy in bulk. You can buy one unit for $9.99, six for $8.99 each, or twelve for $7.99 each – a total savings of $24, vs. buying twelve individual units. That's a pretty good deal, and we also think the price point is good in general, considering how multi-functional these flares are. You're getting a flashlight and a powerful flare with nine different light patterns, a magnet, and a hook, all for less than ten dollars. Buying a six pack for each car was a no-brainer for us. 
A Word of Warning
One important thing to note is that each Lizard Flare light requires three AAA batteries, which are not included in your purchase. Make sure you stock up on AAA before buying these, and also regularly check to make sure that the batteries in each flare have enough juice to keep you visible and safe in the event of a roadside emergency. The last thing you want is to make an emergency kit and prepare yourself for any situation requiring flares – only to find that when you need them most, they're out of batteries! 
Another thing we want to note is that while these flares are high-visibility and great for marking your vehicle in the event of a nighttime or rainy roadside emergency, they might not be as visible during extreme weather events, such as typhoons, blizzards, or hurricanes. If you live in a region that experiences extreme weather events, it's always a good idea to have a backup plan in place in the event of such extreme weather – one that doesn't rely on flares to keep you safe.
What Do the Reviews Say?
We weren't the only ones to test out these flare lights. According to the website reviews, 100% of reviewers would recommend BulbHead's Lizard Flare Light to a friend. One reviewer noted that although he initially thought this product was just a gimmick, he now plans to buy several for his family members, in order to keep them safe.

Another reviewer suggested that these could be useful in the event that you have to call 911 – you could set them outside your house so that the ambulance, firetruck, or police can spot the correct house more quickly. 
In fact, there are many emergency situations in which the Lizard Flare Light could be extremely useful outside of roadside situations. We feel that there's a nice peace of mind to be gained from having these flares – even if you never have to use them. It's an unconscious weight off your shoulders to know that you're prepared for the possibilities of what could go wrong.
Worth the Investment
All things considered, the price point for what you're getting with the Lizard Flare Light is actually crazy. They're relatively cheap, yet come with nine different light modes (including flashlight mode), are easy to attach to your car, can be seen up to a mile away, and are proofed against water, wind, and other severe weather. We've reviewed many products on the internet, and not all of them are great – but this one is definitely worth the hype, and we can't recommend it enough. (Just don't forget the batteries!)
You can gather up an emergency blanket, spare clothes, granola bars, bottled water, and all the first aid that you want, and your car emergency kit still won't be complete without a handful of Lizard Flare Lights. Hopefully you never actually end up needing to use them, but you never know what the winter roads will bring – and the peace of mind of having these safely stored in your trunk is WELL worth the investment.