As Seen On TV Review:
BulbHead's Star Shower Ultra 9
One of the best parts of the holiday season is driving around different neighborhoods and admiring the decorations and light displays. Decorating with Christmas lights is a quick and easy way to celebrate the holidays. And these days, there are many more options at hand besides simple traditional lights – including using lasers to decorate your home in an array of festive colors! 
If you're curious about decorating your home in a more festive manner this holiday season, or if you're already a seasoned pro at holiday decorating, we have the product for you. BulbHead's Star Shower Ultra 9 is one of the best laser light shows to take your holiday festivities to the next level.
Here's everything you need to know about the Star Shower Ultra 9 laser light show. 
Why Lasers?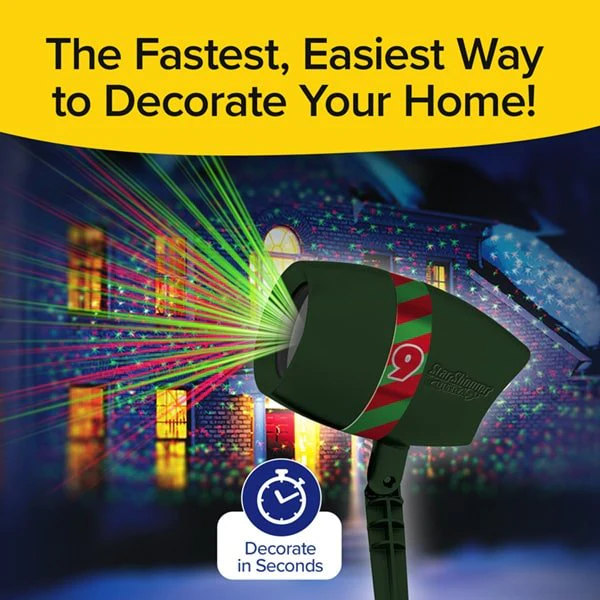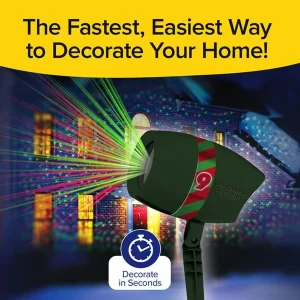 If you're new to the holiday decorating game, you might be wondering why you should even care about laser displays when you could just rely on traditional Christmas lights. While Christmas lights are a classic decoration, we all know how labor-intensive Christmas lights are to set up. 
First, you have to untangle them, which can take hours. Then you have to test them to make sure they're still working. If even one bulb is broken, part or all of your lights may not work. Finally, you have to climb up and down a ladder, stringing them around your house. This process can include a lot of physical labor for just a few weeks of fun.
Christmas lights might be classic, but let's face it – they aren't exactly a walk in the park to set up. Using a laser display to decorate your house, on the other hand, just might be the easiest thing you can do to ring in the holiday season. And with BulbHead's Star Shower Ultra 9, your choices have gotten even better. Simply plug in the projector and your entire house is lit up in whatever colorful display you've chosen!
Features of the Star Shower Ultra 9

The Star Shower Ultra 9 is a brand-new product from the number one laser decorating company in the world, so our expectations were already high. After trying this product, we can confirm that they have been met, if not exceeded! There are so many beautiful light patterns to choose from that can be projected across your home. This creates the perfect display to turn your house into a winter wonderland for the next few weeks.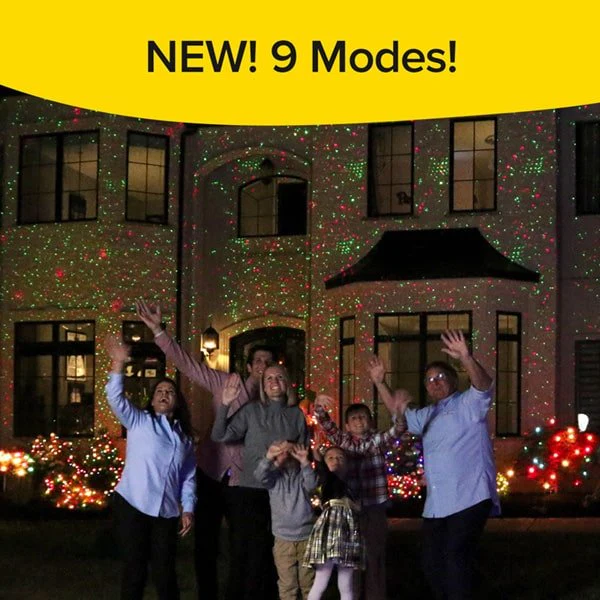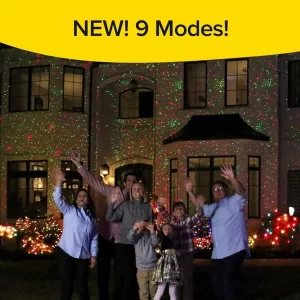 The Star Shower Ultra 9 features nine different light patterns, all perfect for decorating your home during the holiday season. It offers three color options – red, green, and combo – as well as three motion modes, including still, blinking, and motion. These color options and motion modes can be combined into the nine unique light patterns that make up the "ultra nine." 
All of these displays are beautiful, and it's nice to be able to choose from the unique moods offered by each one. For instance, setting the laser display to the combo color on the "still" setting creates a very classic and cozy Christmas vibe, while the blinking setting helps amp up the energy and provides a more fun and dynamic look. There are many laser display tools out there, but not many of them all for so much creativity and customization with just one product. 
Display Size

The most impressive part of the BulbHead's Star Shower Ultra 9 is that it can project thousands of stars onto an area covering 3200 square feet, including the tops of shrubs and trees that you otherwise may not be able to reach with lights. You can also combine more than one Star Shower for a doubly impressive display, or combine more than one light pattern at once. 
Although there are many light displays and laser setups out there, we feel that the display size of the Star Shower Ultra 9 was one of its most impressive features. When it comes to decorating for Christmas, after all, the more, the merrier! 
Power Source and Other FAQs 
Buying things on the internet can sometimes feel like a gamble, but when it comes to the Star Shower Ultra 9, we've done all of the investigating to answer your questions for you. Here are some frequently asked questions and what you need to know.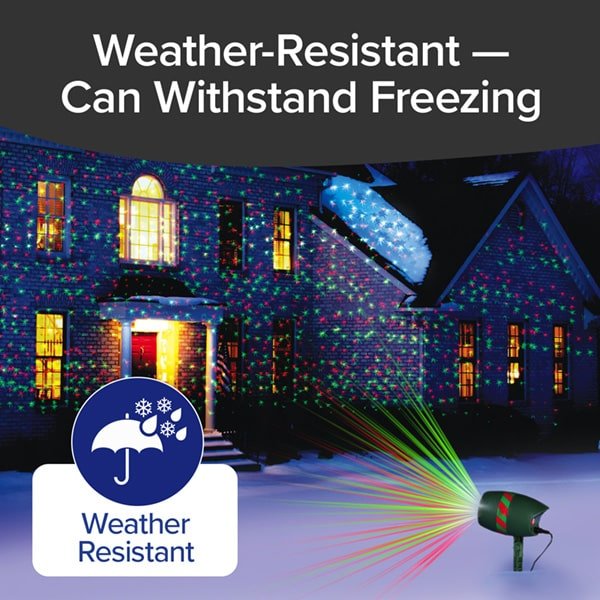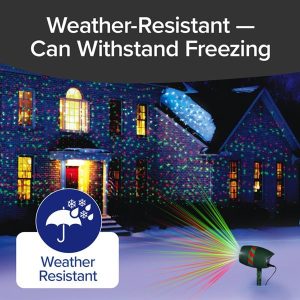 First, you might be wondering what the power source is for such an impressive display of lights. The Star Shower Ultra 9 comes with a 2-prong wire plug that fits into any typical indoor/outdoor extension cord – no batteries necessary. Keep in mind that the Star Shower is designed to turn on when it's dark. So, if you try to test it out in the daytime and find it's not working, don't fret! If you want to test it out before setting it up, use a dark room. 
You may also be wondering how far you need to set up this powerful 3200 square foot display. This is quite the distance to project over, and the optimal distance to project from is approximately 100 yards away. Any further and the display may not be as luminous, while any closer and it might project onto your neighbors' homes!
Whether you live in a climate that gets super cold or remains hot during the winter months, the Star Shower Ultra 9 can likely withstand whatever temps the holiday season throws at you. Specifically, it can continue functioning in temperatures as low as -30 degrees Fahrenheit (-35 degrees Celsius) and as high as 100 degrees Fahrenheit (and 40 degrees Celsius). We think that's pretty impressive, for a little laser projector. 
The Price Point
The Star Shower Ultra 9 runs at $39.99. This price is pretty comparable to what you'd pay for two or three strands of Christmas lights strung together, so we think it's pretty fair for what you're getting. It's also much easier to set up than traditional methods of holiday house decorating, so you're getting the best bang for your buck.
If you're working with an extra large decorating space, this product also comes in multiples – you can buy a two pack for $59.98, a four pack for $119.96, or a six pack for $239.94. You can ensure that your house is the most vibrant and colorful on the block, or buy this laser projector for friends and family. 
Whether you're looking for a way to step up your Christmas decorating or simply want to take a break from the labor-intensive string lights. BulbHead's Star Shower Ultra 9 laser projector might be the solution for you. After testing it out, we can safely say that we're hooked.