As Seen On TV Review:
BulbHead's BrushBone
We can probably all agree that taking good care of our furry friends is essential, and one of the most important aspects of pet health is good dental care. You might not have expected to find yourself brushing your dog's teeth, but even our canine companions need their teeth and gums taken care of from time to time.
Enter BulbHead's BrushBone dog toothbrush. After testing it out, we can confirm that this unique and innovative dog toothbrush is the perfect dental tool to help keep your dog's mouth in mint condition. Why? Just keep reading, and we'll give you the full rundown of our experience with this helpful product. 
What Is the BrushBone? 
BrushBone: More than a simple dog toothbrush, it's the ultimate dental tool for maintaining optimal oral health in dogs. This innovative product provides a deep clean, and we were blown away by how efficiently it removes food debris and plaque from our furry friend's teeth to improve their overall dental health.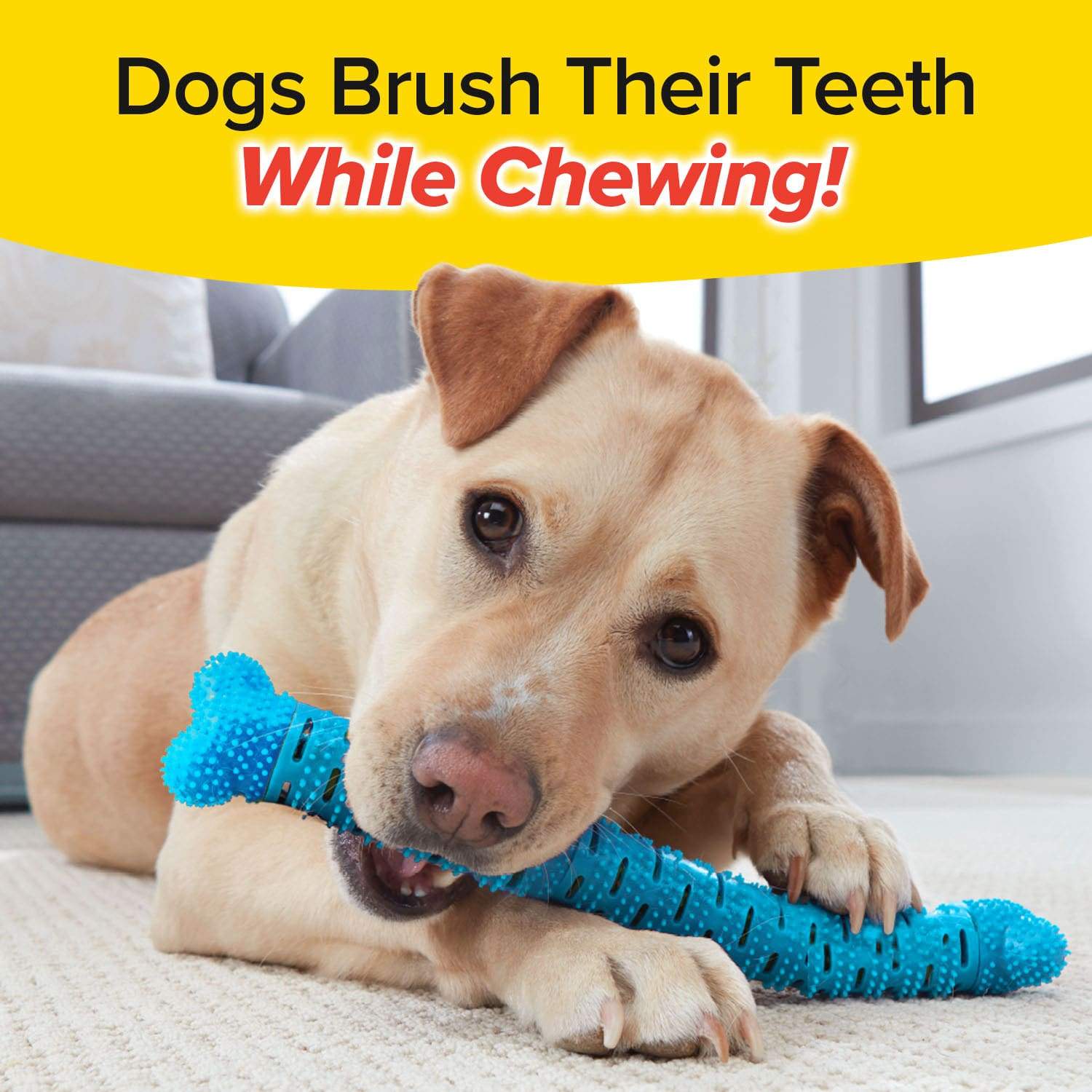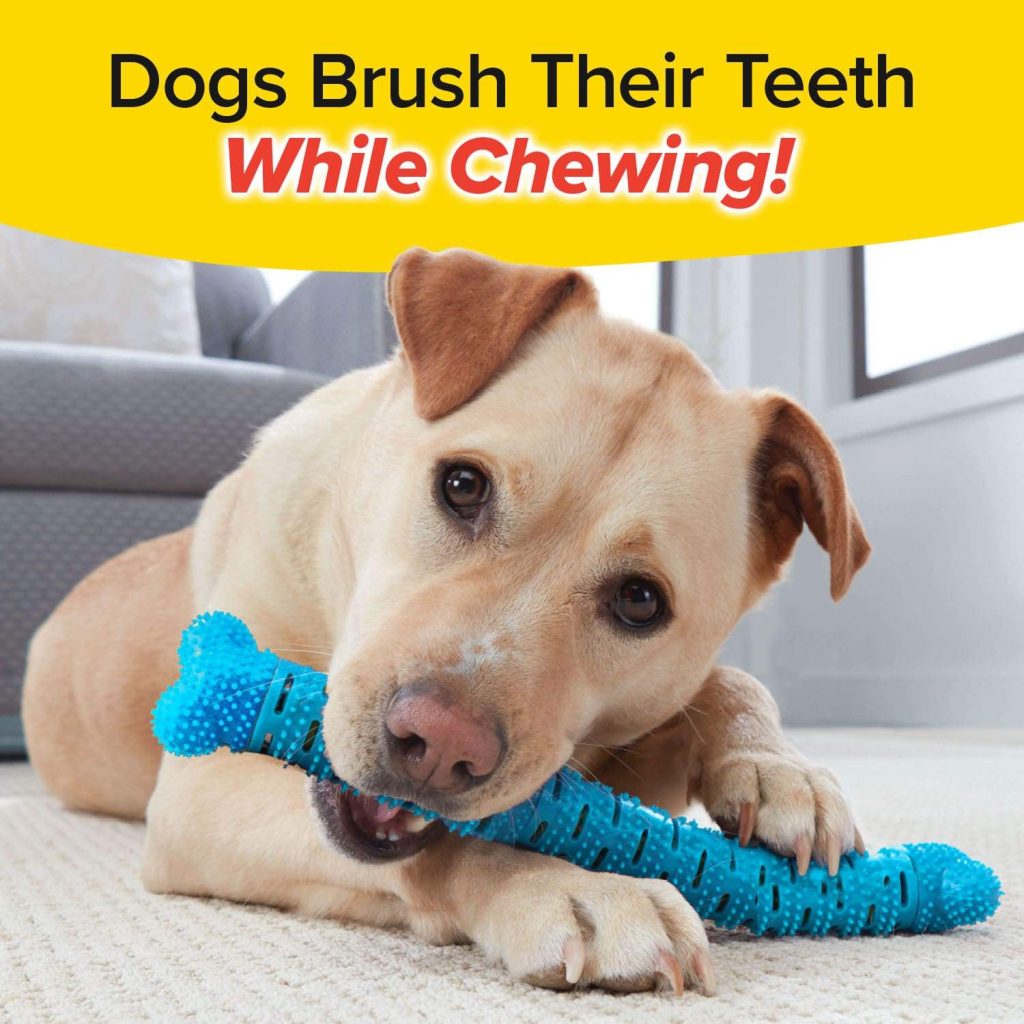 What makes this product so clever? It's designed to look just like a dog bone, but it brushes your dog's teeth while they chew on it, making dental care a breeze for even the most skittish dogs. The unique design of the BrushBone carefully mimics the shape of a dog's teeth, with flexible bristles that are gentle on the gums while still being able to remove even the toughest of stains. 
We found that BrushBone is also incredibly versatile, making it perfect for anyone who wants to maintain their dog's oral hygiene without the need for multiple dental tools. Whether you're looking to floss, clean your pet's teeth, or massage their gums, BrushBone can do it all. It's perfect for those hard-to-reach areas in your dog's mouth, and it's ideal for dogs of all sizes.
How Do I Use the BrushBone? 
Using the BrushBone to take care of your dog's oral hygiene couldn't be easier. The bristles and exterior nubs on the BrushBone scrape away plaque and debris as your dogs chew, so all you have to do is introduce it to them as a new toy. Your dog does the rest!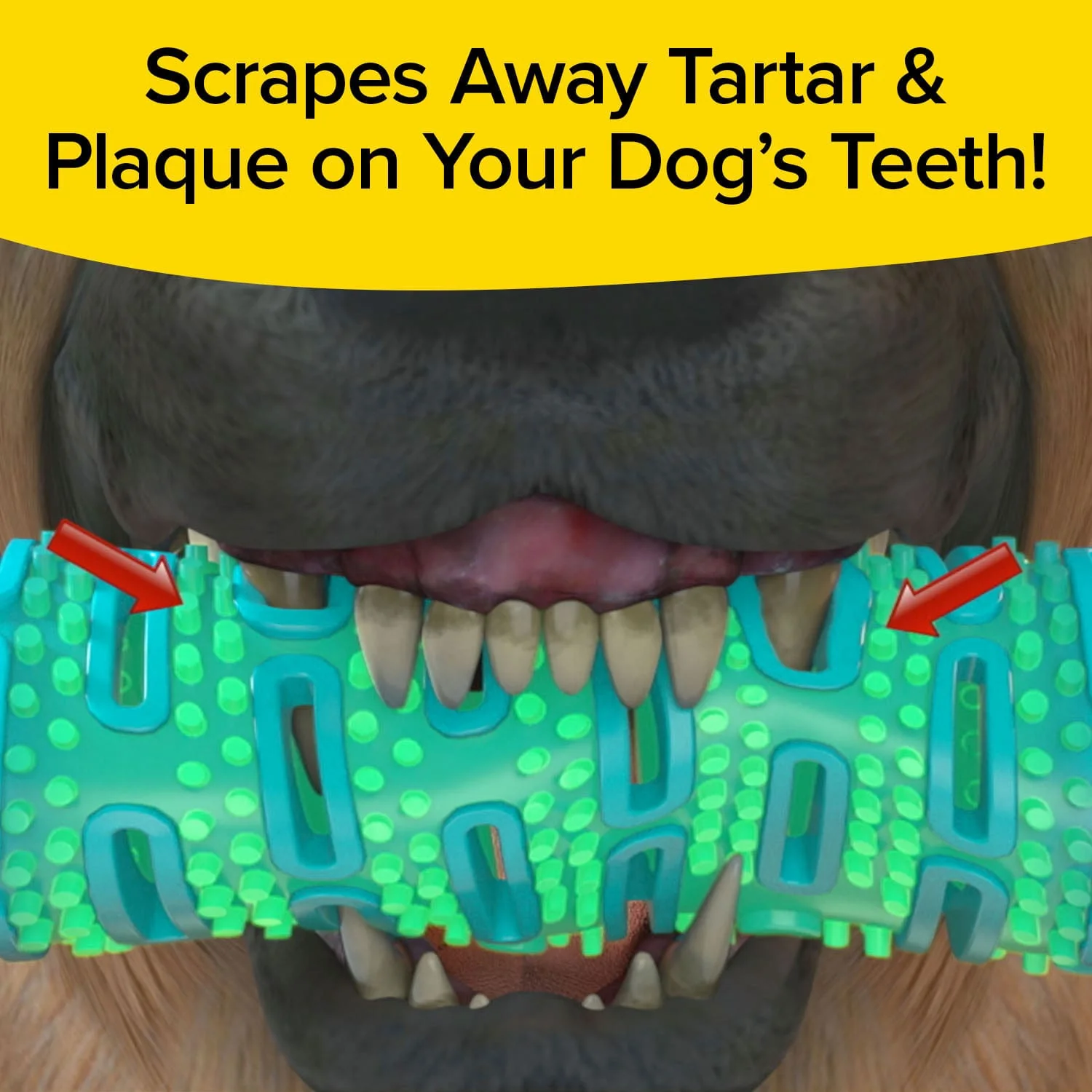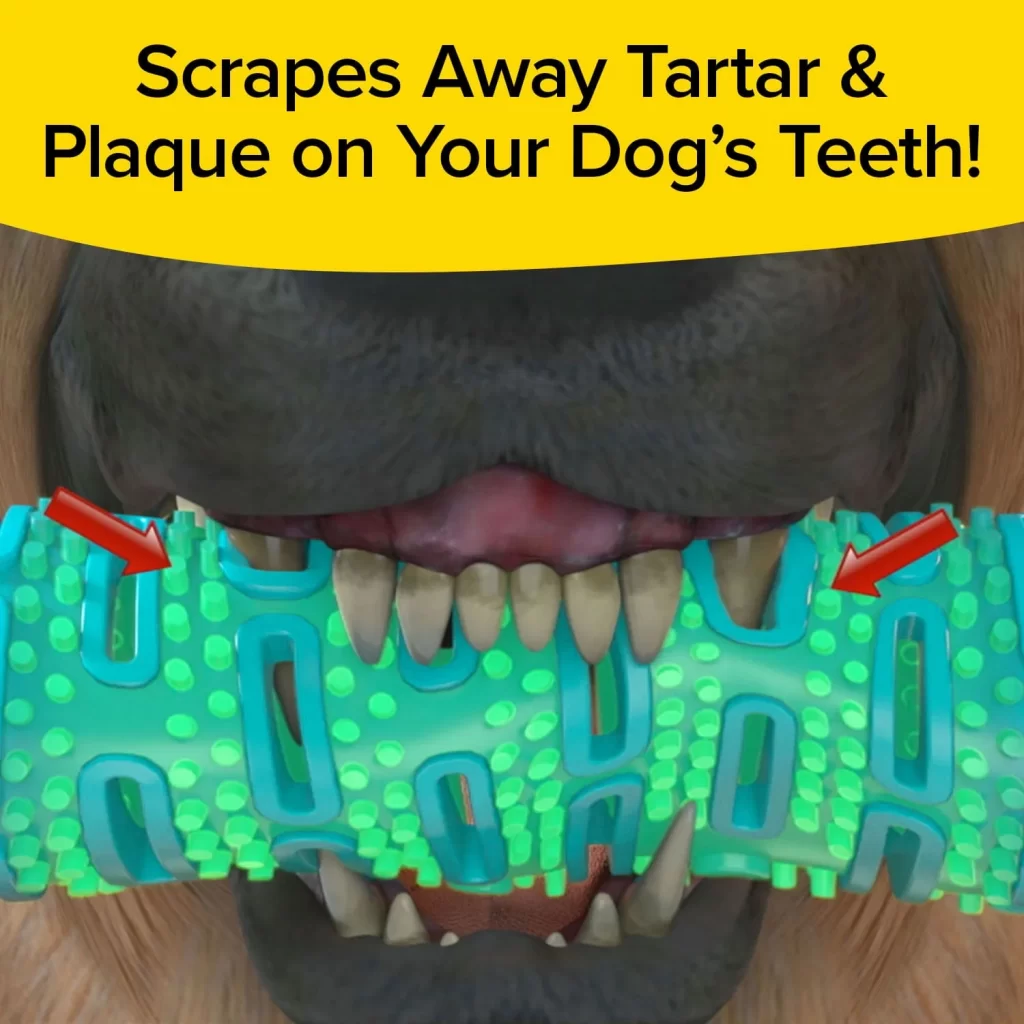 The BrushBone keeps your dog's teeth clean through three different mechanisms. The tooth-shaped openings scrape away tartar and plaque, interior bristles brush their teeth, and the exterior nubs massage their gums — it really is like giving your dog three different dental treatments in one. 
And if at first your dog isn't keen on the BrushBone, simply pull out the interior treat dispenser and add your dog's favorite snack to it – a bit of peanut butter, some cheese, or even a dental stick will do the trick. In our experience with the BrushBone, your dog will be so desperate to get to the treat at the center of the bone that they'll keep chewing until their teeth are squeaky clean. 
BrushBone Durability
This product was designed with intense chewing in mind, so the ultra-strong rubber material is super durable (although it isn't advised for aggressive chewers). It's also dishwasher safe, which makes cleanup a breeze, and the rubber is phthalate and BPA-free. Phthalates and BPA are potentially toxic chemicals, so we love seeing products that leave them out of their materials.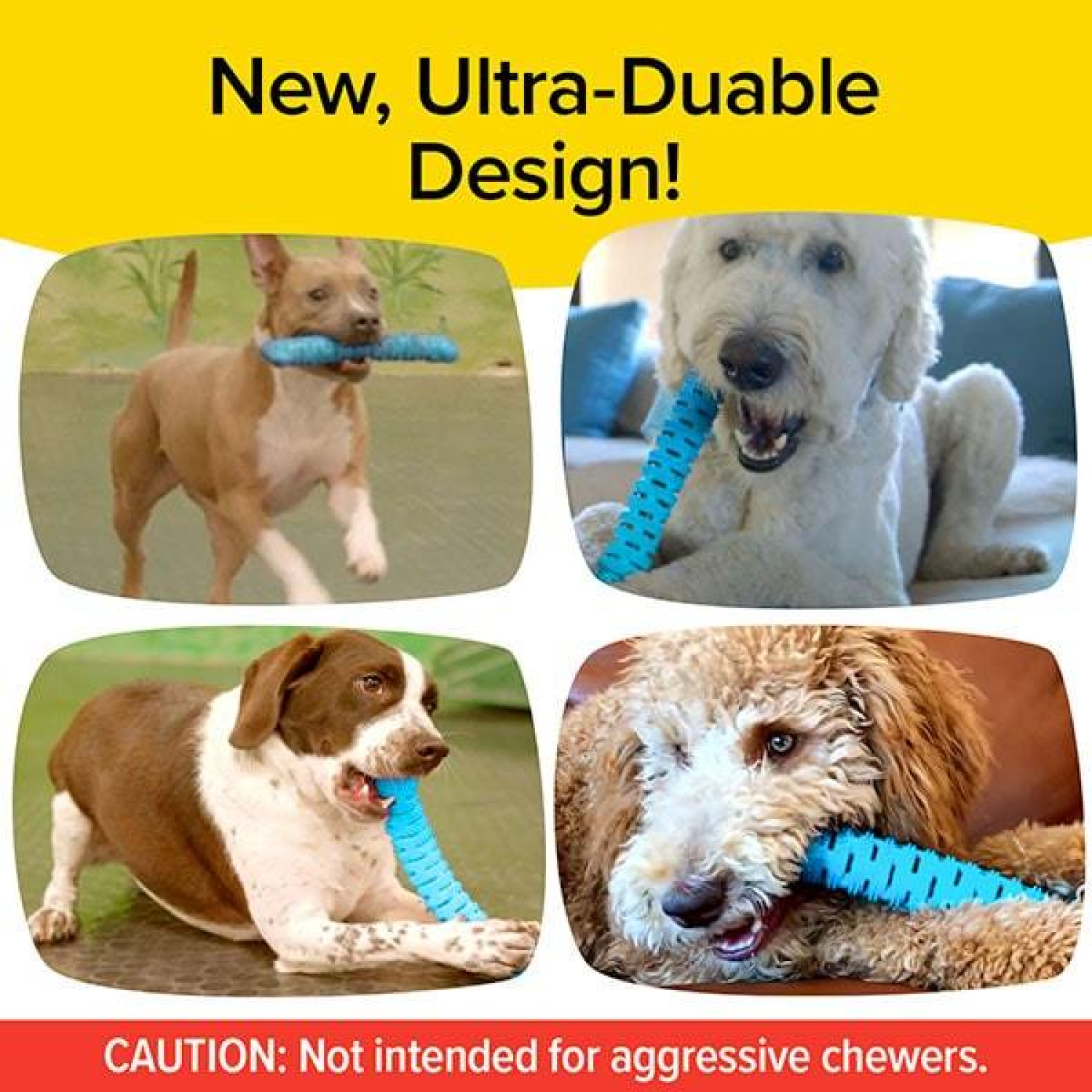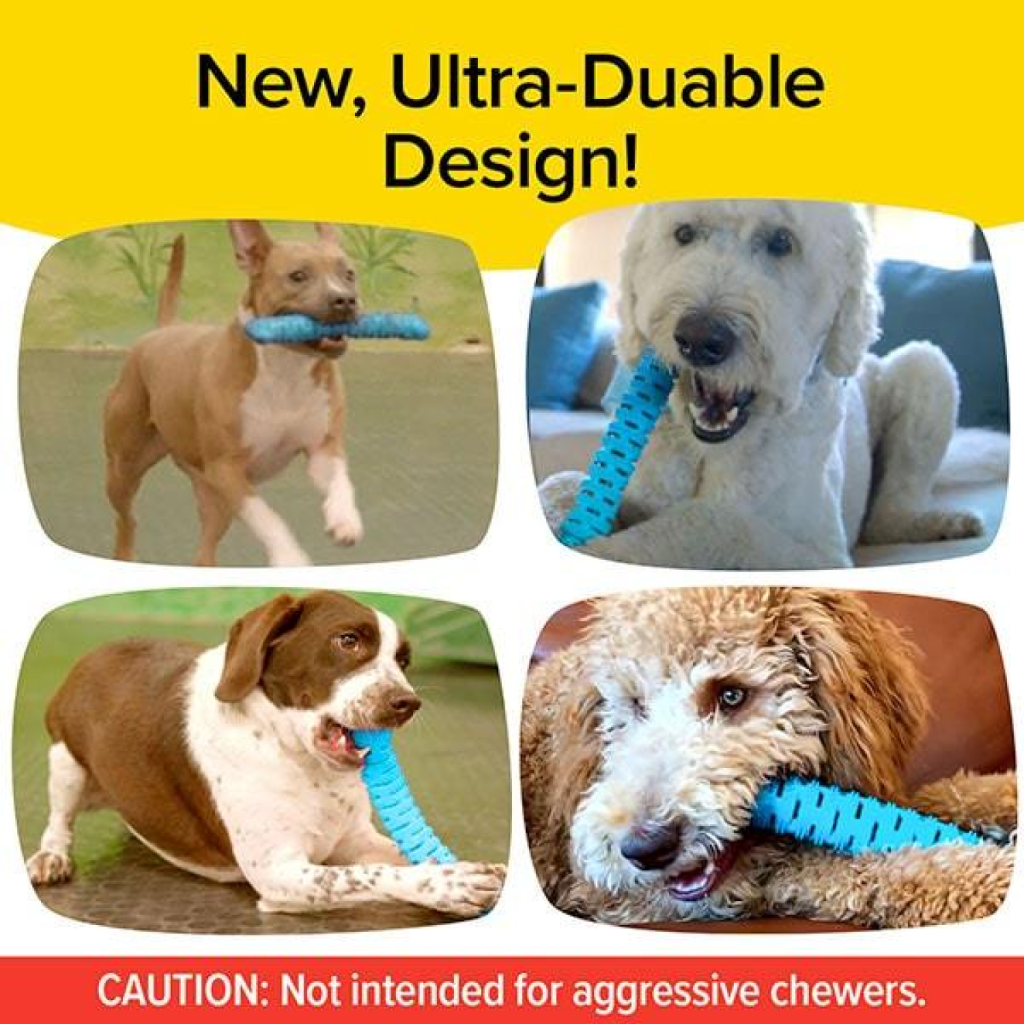 Due to the nature of the product, though – the more your dog chews it up, the more use you'll get out of it – the BrushBone will need to be replaced approximately every month or whenever it starts to show intense signs of wear. Luckily, BulbHead has made replacing the BrushBone super easy with high-value packs of three, six, and twelve BrushBones that can save you up to $78 in the long run. 
In fact, you can get a year's supply of BrushBones for just $8.99 each, which is a pretty good deal in comparison with the single-unit price of $14.99. Plus, you have the guaranteed peace of mind of knowing that you won't have to worry about reordering BrushBones for a full year. 
What Do Other Customers Have to Say? 
Our test run of BulbHead's BrushBone left us thoroughly impressed, but don't take our word for it – 100% of reviewers on the product site would recommend the BrushBone to a friend. One reviewer wrote that they put a tiny bit of peanut butter in the interior treat dispenser, and washing up afterward was easy. Another gave it five stars, noting that their dog loves it. 
Still another customer wrote that the BrushBone is great for any size dog and noted that they appreciated the BPA-free feature. Clearly, we aren't the only ones impressed with this doggy dental care solution. The BrushBone has made a positive impression on every reviewer on the site and is almost certainly worth the investment. 
BrushBone FAQs
You may have some questions about this product, and we're here to answer them. You may think your dog won't be interested in the BrushBone, or you may not be sure how to introduce this new toy in a way that will get them coming back over and over again. BulbHead recommends rewarding your dog for chewing on the BrushBone, so they learn to associate it with positive reinforcement. You can also try using the interior treat dispense to make the BrushBone even more alluring – a spot of peanut butter was enough to make our dog go crazy for this toy.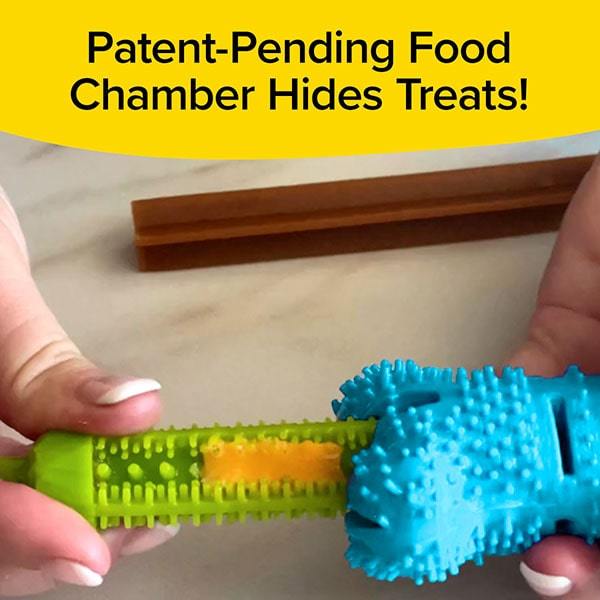 If you're concerned that the BrushBone isn't doing enough for your dog's dental care, you can even add a small amount of dog toothpaste onto the outer sleeve or interior dispenser as well. This product is meant to complement regular dog dental care, so don't skimp on those vet appointments even if your doggo has become obsessed with their newest toy.
Finally, pay attention to your dog's chewing when they use this product – like any dog toy, it could become a potential choking hazard if your dog cracks or chews off a small piece of the bone. Unlike other dog toys, though, the rubber material of the BrushBone is soft enough that you won't have to worry about it cracking your dog's tooth. 
Is the BrushBone Right For Your Dog?
It's no secret that dogs need entertainment and stimulation throughout their day. They also need dental care, just like us – why not address both of those needs at once? With the BrushBone, you can do just that, giving your canine companion an entertaining new chew toy that will simultaneously clean their teeth, massage their gums, and promote great oral hygiene with little to no work on your end. 
Even if your dog doesn't love to chew, it will be easy to entice them to use this dental care tool with the interior treat dispenser. Give yourself the peace of mind of knowing that your dog's oral hygiene is being taken care of, and give your dog a fun new toy that they won't be able to put down. Trust us, you won't regret it.