As Seen On TV Review:
BulbHead's Ruby Space Triangles
Do you feel like you're constantly losing items in your closet because it's so jam-packed? No matter how many times you clean it out or reorganize, somehow, you're out of room again, and all of your favorite clothing items get swallowed up in the chaos. It's enough to drive anyone insane!
If this sounds all too familiar, perhaps you need to invest in a better closet storage strategy. Enter Ruby Space Triangles – the clever hanging device that will have your closet organized before you know it and give you back your sanity as well. 
What Are Ruby Space Triangles? 

Ruby Space Triangles are the closet solution you didn't even know you needed. Picture a small plastic triangle that slides onto any hanger, no matter if it's made of wood, plastic, or metal. A loop on the triangle allows you to attach other hangers, and an ingenious slipcover design ensures that the hanger will remain perfectly vertical, no matter how much jostling and shifting occurs in your closet.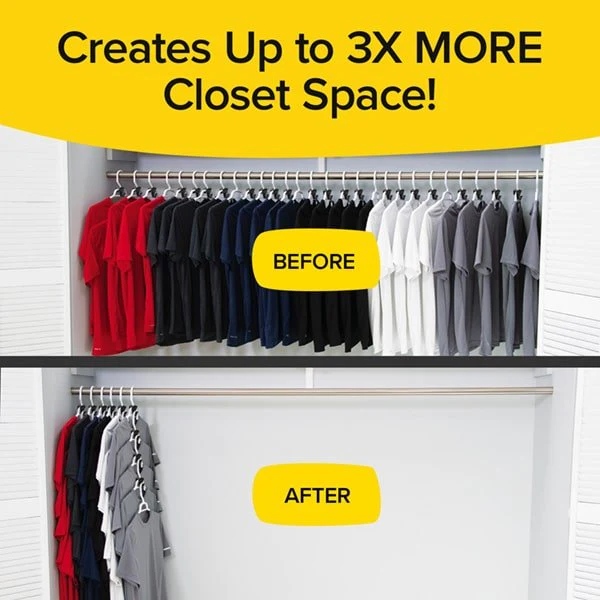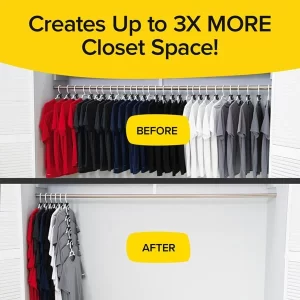 This simple yet brilliant design can save you three times the space in your closet. Picture your closet with a third of the belongings, or three times its current size. That's the type of organization and space savings you'll have with Ruby Space Triangles. They work with any type of clothing – blouses, jeans, dresses, slacks, sweaters, and more – because they work with any type of hanger.
Even specialized hangers, such as velvet-wrapped hangers or hangers with clips for pants, can hang off of a Ruby Space Triangle. You can use them to organize your belts, bags, and other accessories – anything that goes on a hanger can hang on a Ruby Space Triangle. Consider your closet officially conquered.
How To Use Ruby Space Triangles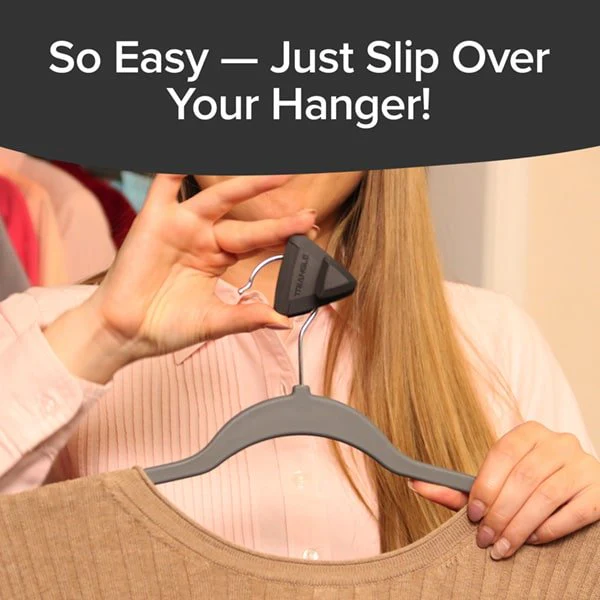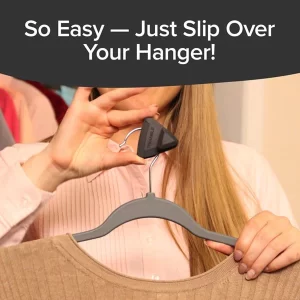 Our favorite way to use these clever closet organizers is to hang up whole outfits ready to go in the closet. For instance, we'll use a Ruby Space Triangle to pair button-ups with slacks, or hang a pencil skirt, blouse, and blazer together. No need to think about what you're going to wear to work in the morning when the outfit is already put together for you! 
You can use these triangles to organize your closet by outfit, like we mentioned above, or by clothing type. For instance, you could easily daisy chain up to six shirts with this nifty product. If you've ever dreamed of having a perfectly organized closet, now is your chance. Why not store all of your skirts together or all of your collared shirts? Finding the clothes you're looking for as soon as you need them has never been easier with Ruby Space Triangles. 
How Many Ruby Space Triangles Do I Need?
We think anyone could benefit from using Ruby Space Triangles – but exactly how many is enough? One pack contains 18 units, which is great for organizing, say, all of your bottoms or all of your T-shirts. But if you want to organize an entire closet, we recommend getting at least six packs, which is just over 100 units. Want to organize the entire house? Then the three-closet bundle – 18 packs – might be the right solution for you. 
As a general rule of thumb, you should get a Ruby Space Triangle for every hanger in your closet. But buying them in one of the bundles they come in (one pack, six packs, 12 packs, or 18 packs) tends to make the most sense strategically, and will save you a lot of money – the pack bundles are significantly discounted in comparison to buying packs individually. 
Other Benefits of Ruby Space Triangles

The benefits of having a clean closet extend much further than simply being organized. For one thing, having a cluttered space can create stress and anxiety and make it a challenge to unwind at night. We know that we can't fully relax until our space is clean and clutter-free, and having a decluttered closet contributes greatly to our overall peace of mind. You aren't just investing in a clean closet – you're investing in the sense of well-being that comes from walking into a clean and organized room.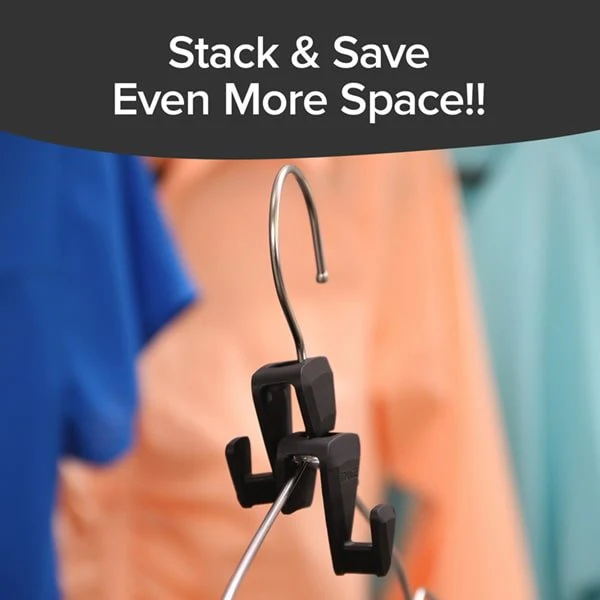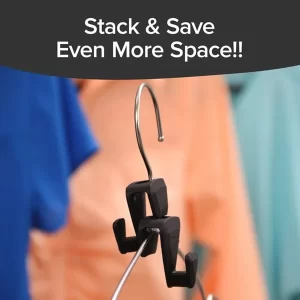 Plus, the organization provided by Ruby Space Triangles creates a cumulative decluttering effect. Once you have more room in your closet, you can use it to store other items that may be taking up too much room. For instance, you could use the extra space to put in a shoe rack or storage baskets, which will make other parts of your room that much more clean and organized.
Plus, setting up Ruby Space Triangles requires minimal work. You can remove and add clothing items to the hanger without adjusting the triangle, which means that once you slide it onto the hanger, there's no need to ever take it off. Invest in a bunch of Ruby Space Triangles and organize your closet once, and you'll never need to organize it again – the Ruby Space Triangles will do all of the work for you. 
Who Can Benefit From Ruby Space Triangles?
Maybe there are some super-organized neat freaks out there who like their closet exactly as it is and wouldn't benefit much from using Ruby Space Triangles. However, we feel that almost everyone can benefit from using Ruby Space Triangles to keep their closet organized. It seems like "if there is a closet, it must become jam-packed" is a law of the universe – and without an innovative strategy like Ruby Space Triangles to keep things in check, chaos will always reign in the closet. (Trust us – we've been searching for a closet-organizing hack for years, and this is the best thing we've found so far.)
Ruby Space Triangles also make the perfect gift for anyone in the process of moving, a friend who needs help decluttering their space, or your bestie with a shopping addiction. Don't just keep this decluttering hack to yourself – spread the knowledge to everyone you know.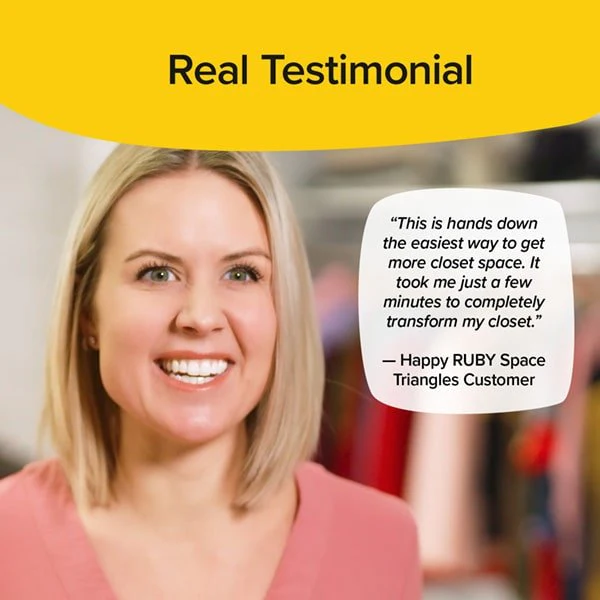 Ruby Space Triangles, Recapped
Whether you tend to be disorganized by nature or you just love buying clothes, it's all too easy for a closet to quickly go from "messy" to "completely overwhelming." If you're constantly losing your favorite articles of clothing in your closet, have no sense of organization, or are simply running out of room, trust us – it doesn't have to be this way. Ruby Space Triangles might be exactly what you need to get your closet under control. 
They'll work with any type of hanger, and therefore any article of clothing – even your favorite designer dress or handbag can be securely stored with a Ruby Space Triangle. And when your closet is under control, so is your sense of sanity and peace of mind. Your bedroom (and really any room in your home) should be an oasis from the outside world. Don't let your unruly closet take that away from you. Let Ruby Space Triangles do all the work instead.