As Seen On TV Review:
Bulbhead's Yummy Can Potatoes
As we enter the coldest part of the year, few things sound more appealing at dinnertime than America's favorite baked side dish: a steaming hot baked potato. But if you're anything like us, the work of preheating the oven, preparing the potato, and waiting 40+ minutes for it to bake is the last thing you want to do when you're hungry. 
Fortunately, there's an easy way out! BulbHead's Yummy Can claims to be the perfect solution for baking potatoes in the microwave, so we decided to test it out – and found that this product is worth ALL the hype. Keep reading for everything you need to know about the BulbHead Yummy Can Potatoes.
What Is the Purpose of the Yummy Can Potatoes? 
Picture the Tupperware that you use to meal prep and pack leftovers for lunch. Now imagine something very similar, but rather than store leftovers, it's designed to perfectly cook potatoes in the microwave.
That's what the Yummy Can Potatoes device is in a nutshell. It incorporates features to bake the perfect fluffy potato in the microwave, saving you a ton of time in comparison with traditional oven-baked recipes.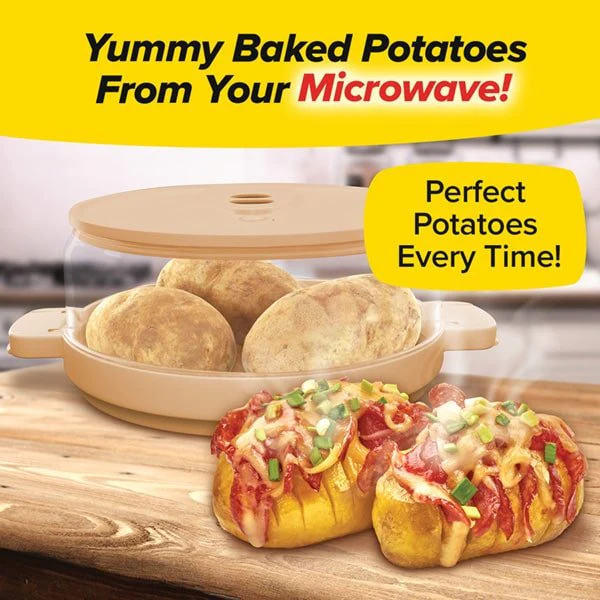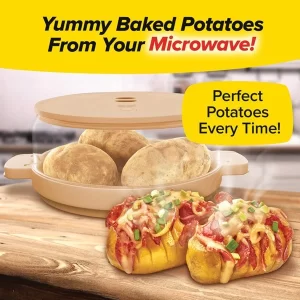 We're suckers for a really great baked potato, especially around the holiday season. We weren't sure that anything could beat the quality of a lovingly prepared homemade baked potato, but the BulbHead Yummy Can Potato honestly rose to the challenge.
Of course there's something satisfying about putting a lot of time and effort into a meal, and when you're in the mood for that, go ahead and bake your potatoes the old-fashioned way.
But for those nights when you just need something hot and tasty in ten minutes or less, the Yummy Can Potatoes is going to be your new best friend. 
Yummy Can Potatoes Features
Although the Yummy Can looks very similar to a Tupperware, it incorporates a few features that make it really ingenious when it comes to baking potatoes. 
Steam Valve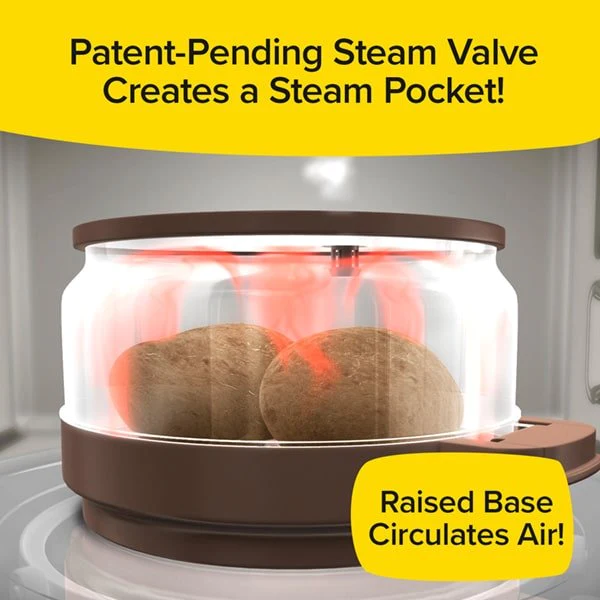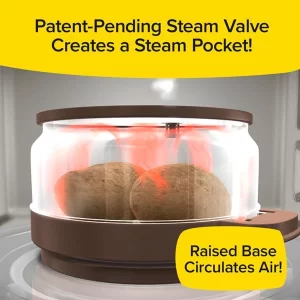 First, the patent-pending steam valve allows this product to lock in steam and moisture while the potatoes are cooking, which is really crucial for a nice fresh, buttery texture. We all know what a bummer it is when your potatoes come out of the oven too crackly and dry!
Advanced Circulation
Second, the Yummy Can has a raised base at the bottom, which allows for air circulation while the potato is cooking. Good air circulation is critical for an evenly cooked potato, and while we weren't exactly sure how much this feature really impacted the cooking of the potato (vs. simply putting it on a dish in the microwave), our test batch of potatoes certainly came out of the microwave as evenly cooked and yummy as promised.
Rubber Handles
Another feature that we really liked about this product was the rubber handles, which allow for easy transport of the piping hot potatoes once they come out of the microwave. We know all too well the frustration of dropping a hot plate out of the oven or microwave and causing a massive mess, so this lightweight and easily portable product was a breath of fresh air. 
Compact Design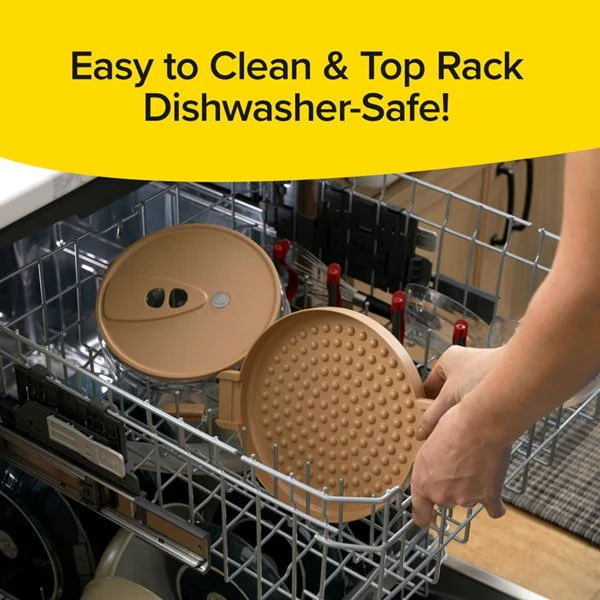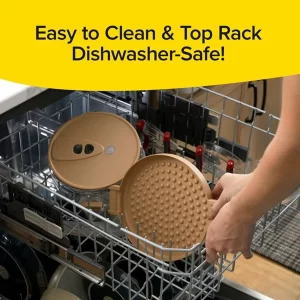 The compact design also makes it super easy to store and clean – this product will take up very little space in your cabinet, and can stack well with Tupperware and other dishes for even more storage convenience. It's also safe to wash in the top rack of your dishwasher, which if you're anything like us, can make or break your decision to buy a product. Being able to clean this nifty device with minimal effort is a huge win. 
Size
It's also a decent size. Based on the website's product information, these bad boys can fit a few potatoes at once, which just levels up the convenience even more. If you frequently cook for a significant other, kids, or just like meal prepping in advance, it's nice to be able to cook more than one potato at a time, just like you'd be able to do in the oven. 
The BulbHead Yummy Can Potatoes is, in a nutshell, all about convenience – and we're here for it. Buying a little container to more efficiently microwave your potatoes might not be the most pressing item on your shopping list, and may even seem a bit silly. But now that we've started using this, we're seriously never going to go back. 
It's good for both regular potatoes and sweet potatoes, and generally cuts down on the amount of time you'll need for any potato-based dish, whether you're making a plain baked potato or an elaborate Thanksgiving sweet potato casserole. Plus, it ensures that you'll never have to worry about all of the possible room for error when baking potatoes the traditional way: overcooked and dry, too mushy, or not quite cooked enough – all of that is in the past when you use the BulbHead Yummy Can.
Is It Worth the Price?
Price is one of the most important factors in any product. Luckily, BulbHead's Yummy Can Potatoes is priced at $19.99 per unit, which is a steal, considering the many features and benefits of this kitchen gadget. This product is a lot more than what it looks like, and the convenience it provides is a huge bonus.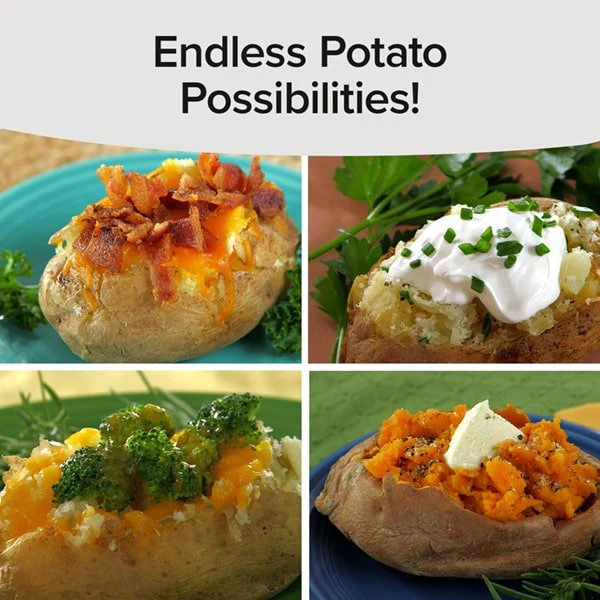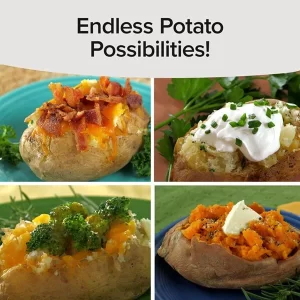 BulbHead provides free shipping on orders over $50, so it could be worth getting the three pack for that reason alone (it's just about time to start holiday shopping!). Plus, sometimes it's nice to be able to grab another dish out of the cabinet rather than having to wait for the dirty one to get scrubbed or go through the dishwasher. We enjoy having multiples of everything in the kitchen, so the three pack was a no-brainer. However, you can also buy the Yummy Can individually, in a two pack, or even a four pack if you want to get one or two as gifts. 
The Bottom Line
If you're a frequent potato eater, the Yummy Can Potatoes can save you time and energy in the long term. Instead of waiting for your oven to preheat and your potatoes to cook, which can take quite a while, then you'll be able to enjoy this tasty food in no time. Not to mention, the raised base and patent-pending steam technology incorporated into this product means that you'll never have to worry about drying out or undercooking potatoes again. 
For its price point, portability, ease of use, and nifty features, we found the Yummy Can to be well worth the purchase. Grab a two pack, or even three or four of these if you're shopping for someone else who gets a kick out of a nifty kitchen tool! Using this product all but guarantees the perfect fluffy, moist, evenly cooked potato – and with the winter months approaching, we just can't get enough of it.