Emeril's French Door AirFryer 360: A Chef's Perspective – Our Review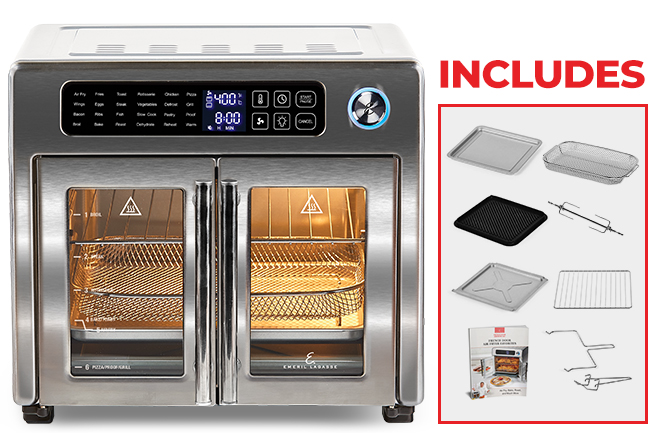 If you've been on the internet at all over the past few years, you probably know about the air fryer craze. Forget your oven, microwave, toaster: An air fryer does it all, quicker and tastier than whatever you've been using to cook. At least, that's what the air fryer fanatics of the internet say.
I was skeptical of their claims for a long, long time — until I tried Emeril's French Door AirFryer 360. I know this is going to sound like an exaggeration, but it changed my life … at least in the kitchen.
How did this seemingly normal air fryer change my life, you say? Well, I'm glad you asked. Let me tell you all about it in my Emeril's French Door AirFryer 360 review.
Who Is Emeril Lagasse? 
Before this air fryer came into my life, I had no idea who Emeril Lagasse was. As it turns out, he's one of the best-living American chefs and restaurateurs, known primarily for his TV shows and cookbooks.
To me, though, Lagasse is best known for creating the greatest kitchen tool ever, the French Door AirFryer 360. (To be clear, I would swear by this thing no matter who created it. Still, I have to admit it does add a little bit of street cred, knowing it's espoused by such a well-regarded chef.)
Clearly, I didn't go out and buy this air fryer because I was such a huge fan of Lagasse or even because I knew who he was. I just saw people raving about this product on the internet. Now that it's taken over my whole life, I know who he is — and I'm a fan for life.
What Is the French Door AirFryer 360?
Like most air fryers, this nifty gadget can do a lot of tasks. Specifically, it can defrost, bake, toast, slow-cook, roast, reheat, keep warm, and cook on ribs, pizza, pastry, or chicken mode. (If you've lost track, that's a 10-in-1 versatility.)
It's called the AirFryer 360 because it utilizes "360-degree superheated air circulation" to get the job done, meaning the food is cooked on all sides. Say goodbye to uneven temperatures!
In fact, because of that air circulation, I was able to properly cook salmon for the first time in my life. (Usually, I either undercook it or end up charring one side.) It's also ginormous inside. According to the box, it's 26 quarts, which means you can fit a 12-inch pizza inside, no problem. I've yet to run into a situation where I don't have enough room in the air fryer for whatever I need to cook, even feeding myself and two kids.
Bonus Items
So, the AirFryer 360 itself is amazing. In addition to that, it also comes with a ton of bonus items that make using it even easier. These items include a baking pan, crisper basket (for fries and veggies), a rotisserie spit set (I can't stop making kabobs with these), a grill plate, wire rack, drip tray, fetch tool and grill plate handle, AND a copy of Emeril's recipe book.
So, once you purchase the AirFryer 360, you're basically done buying tools for the kitchen — everything you'll ever need to grill, roast, heat, or fry is included. For someone like me, who tends to be a bit lazier in the kitchen, this was exactly what I needed.
Performance
Sure, the French Door AirFryer 360 has a ton of great features, but how well does it actually WORK? I can tell you right off the bat that I've never received more compliments on my cooking. My bacon has never been crispier, my chicken never so perfectly cooked. Baked potatoes, French fries, roasted veggies — all of it with the perfect amount of done-ness, the perfect satisfying crispy finish, without the added fat of traditional frying methods.
I was so floored by the performance of my air fryer that I had to sit down and reevaluate everything I thought I knew about cooking. I think it comes down to the fact that this tool was designed by not just a professional chef but one of the best living chefs in the world. It's clear that every feature has been designed not just to be gimmicky or aesthetically appealing but to actually make your cooking easier and better.
As long as you use the appropriate setting for whatever you're trying to accomplish (i.e. don't set it to bake when you really want to defrost)m this air fryer will get the job done quicker and more efficiently than any other method.
I don't think I will ever use my toaster, oven, or microwave again. This air fryer has taken over my kitchen in the sense that I never look to any other product besides it.
What Makes Emeril's Air Fryer Different? 
What really sets Emeril's apart from the air fryers and kitchen tools I've used in the past is the thought that has clearly gone into every detail.
The grill plate is nonstick, which makes cleanup a million times better. (The included drip tray helps with that as well.) The LED display is super clear and easy to figure out. The compact design means that, unlike the oven, it doesn't heat up my entire kitchen while I'm using it, making cooking SO much less sweaty.
Basically, every concern I had about cooking with an air fryer has been taken care of by this one's thoughtful design. Plus, it's not a major eyesore in my kitchen! If you're anything like me, you can't stand to have your kitchen counter cluttered and messy. I was so worried an air fryer would look terrible and take up so much room on my counter, but the stainless steel and sleek French door design actually look…. stylish? It's the kitchen product I never knew I needed.
The Only Air Fryer I'll Ever Need
I know I've been going on and on about this Emeril air fryer, but I'm simply obsessed!
I feel so much less pressure and stress around mealtime. Figuring out what to have for dinner night after night is kind of exhausting, especially with kids. I can't explain how much less work it is to be able to throw nearly any type of food into my AirFryer 360 and know that it will come out so much better than I could have done on my own.
It takes such a weight off my shoulders throughout the day — and I think it might have taken some weight off my scale, too. Traditional frying methods require so much oil that I actually think I've lost a pound or two since I started using this air fryer just from consuming less fatty oils.
So, that's another reason why I feel so good about cooking with this awesome air fryer. Not only does it do all the work for me and taste much better than I could accomplish by myself, it also produces healthier food. Are you kidding me? It's hands-down the best thing I have in my kitchen right now, and maybe even the best thing in my house.
Even (especially) if you aren't a huge fan of cooking, I would really recommend investing in this product. It's made my life easier and genuinely makes me happy to use it every day.
How many people can say that about their kitchen tools?