As Seen On TV Review:
Red Copper 10 Piece Cookware Set
If one of your New Year's resolutions was to improve your cooking skills, or if you're interested in cooking even a little bit, you know the importance of having good cookware in your kitchen. Cooking without the right equipment is like trying to fish without a pole, or paint without brushes – you just can't get the job done. 
But shopping for pots, pans, and cooking utensils can be extremely overwhelming. Not only are there a ton of different brands and price points to choose from, there are also different materials with different uses – do you need non-stick or cast iron? Stainless steel, or ceramic? 
If expanding your set of cookware (and skills in the kitchen) feels overwhelming, you aren't alone. Lucky for you, we're here to make your life just a bit easier. Let us introduce you to the ultimate cookware set, BulbHead's Red Copper 10 Piece Set.
What Is Red Copper?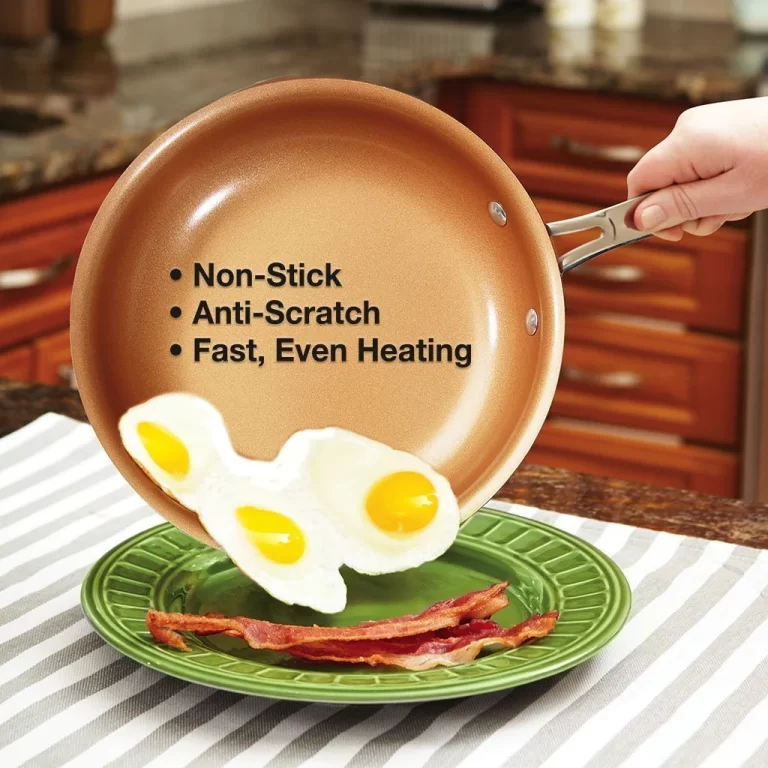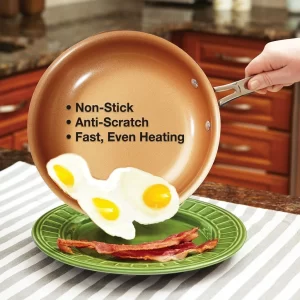 You might be wondering what, exactly, Red Copper is. Besides being your new best friend, Red Copper is a trademarked type of cookware known for its strong ceramic-infused copper coating. This coating gives the cookware its characteristic red coloring as well as the qualities that make it so useful: non-stick, scratch-resistant, and high quality. 
Switching to Red Copper cookware made our life easier in so many ways. First of all, it's so much easier to cook healthy meals with a nonstick pan because you need less butter and oil to grease the pan. It also cuts cleaning time in half – no need to scrub away with the iron wool when that nonstick coating means all your food scraps slide right off. 
Plus, these pans actually make the cooking part a little bit easier. The signature ceramic nonstick coating of a Red Copper pan is bonded to aluminum rings, which helps evenly distribute weight across the pan. So no matter how finicky or uneven your stove is, with this cookware, you'll be able to evenly cook meals like a pro. 
What Is Included in This Set? 
The ten piece Red Copper Cookware set from BulbHead includes everything you need to get started in the kitchen: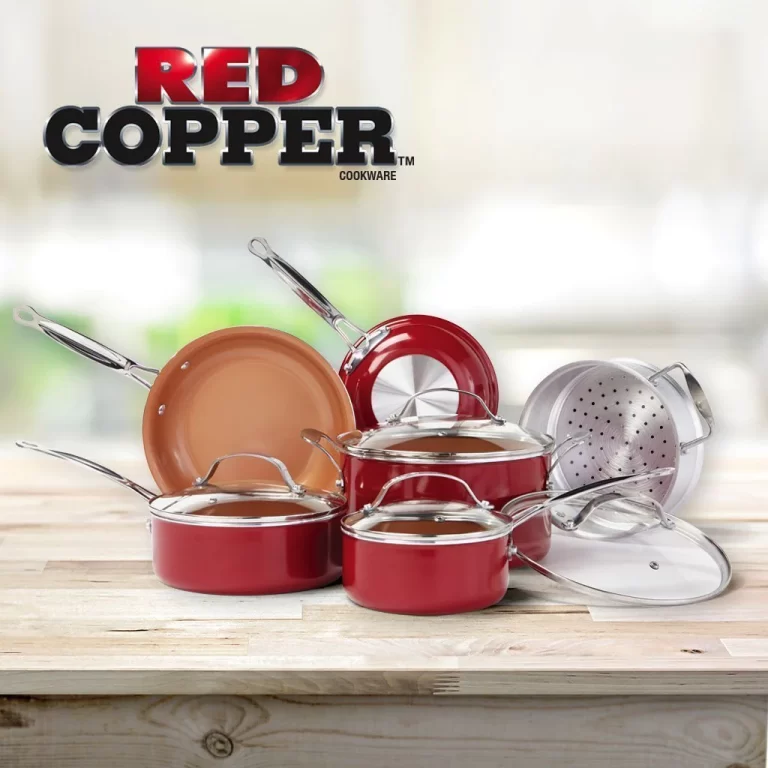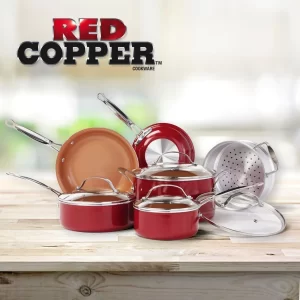 An eight-inch frying pan 

A ten-inch frying pan with a matching lid 

A 1.5-quart sauce pot with a matching lid

A 2.5-quart sauce pot with a matching lid

A 6-quart sauce pot with a matching lid

An aluminum steamer inset
The tempered glass lids feature metal handles and steam vents, and everything is 100% dishwasher safe – now THAT'S what we like to see in our cookware! The pots and frying pans are also oven-safe up to 500 degrees, so you can bake and broil without worrying about whether the oven will damage your equipment. (We don't recommend putting the aluminum steamer inset or the tempered glass lids in the oven.) 
But perhaps our favorite feature of the Red Copper cookware in this set is that it's PFOA and PTFE-free. PFOAs and PTFEs are chemicals frequently found in nonstick cookware, but they tend to disintegrate at high temperatures and can flake off and be consumed along with food. Red Copper is made without these toxic chemicals, which adds peace of mind that we really appreciate. 
How To Use the Red Copper 10 Piece Set
This cookware set comes with instructions in the box that explain how to initially season the pots and pans for optimal nonstick coating. For best results, we recommend following these same instructions to season the pans every 6-12 months, which is pretty standard for nonstick cookware.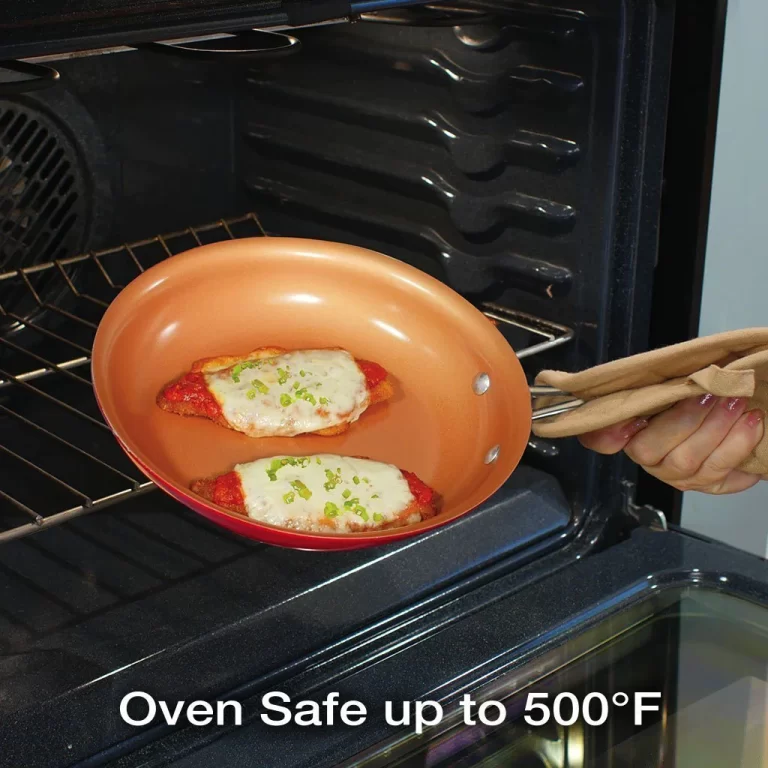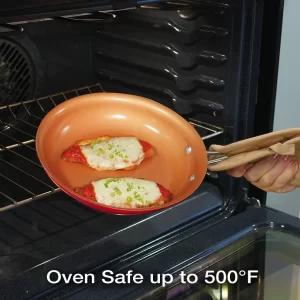 Other than that, the cookware is completely ready for use – and you can use it to make almost anything, including three meals in one day. For example, you might start your day off by chopping up veggies and sauteing them in the eight-inch frying pan before adding scrambled eggs for a complete breakfast. For lunch, cook tomato soup in one of the sauce pots, and toast grilled cheese to perfection with the ten-inch frying pan.
Top the day off by making your favorite pasta recipe in the six-quart sauce pot and straining the pasta or complementary veggies in the aluminum steamer inset. 
This cookware set is clearly useful in the kitchen as you can do an entire day's cooking with the items included in the set. Having this matching set also provides a sense of aesthetic cohesion to your kitchen. All of the pans are the same color pattern and made in the same style, which is pleasing to the eye; plus, they all feature similar care and use instructions, which is just one less thing for you to think about. 
An Unbeatable Price Point
The last aspect of this cookware set that we would be totally remiss not to mention is the unbeatable price point. If you've spent any amount of time browsing the aisles and shopping for cookware, you know that it can get pretty pricey – but with Red Copper, quality and affordability go hand-in-hand. This set of ten items is only $99.99, and BulbHead features free shipping on purchases over $49, so shipping on the set is free. 
Who Is the Red Copper 10 Piece Cookware Set For?
Although we believe the Red Copper 10 Piece Cookware Set is useful for anyone who frequently uses their own kitchen, it's especially beneficial to cooking beginners, or those hoping to expand their repertoire in the kitchen. First of all, the low price point means that it's a reasonable purchase for beginners in the kitchen who aren't exactly ready to shell out hundreds and thousands of dollars on cooking supplies. 
Second, it has almost every basic cookware item you need in one package, with items that are designed for convenience and ease. When you don't have to worry about scrubbing residue from your pans or whether they're going to crack from the high heat of your oven, you can spend more time thinking about the recipes you want to cook. 
Finally, the simple design and cohesive color scheme make it a great start to building out a larger cookware set. Rather than having a bunch of mismatched pots and pans, you'll have ten items that belong together.
Cooking, Conquered
Investing in cookware might not be for everybody, but the Red Copper 10 Piece Cookware Set sure is. Dishwasher safe, nonstick, scratch resistant, nontoxic, and welded to aluminum rings for even heat distribution? And all for less than $100? Yeah, it doesn't get much better than that. You don't have to be a master chef to know that this cookware set is a steal. 
So whether you're working your way towards cooking mastery or just want to use your kitchen a little bit more, look no further – BulbHead's Red Copper 10 Piece Cookware Set has got you covered.