Our Review
Mopping is possibly one of our least favorite chores. Scrubbing away at a dirty floor can be so gross! That's why we were so excited to review BulbHead's Floor Police Mop Motorized 2 Pack. This product promises to take away the work of mopping, so we tested it out. Here are all of our thoughts on this clever motorized cleaning product.
The Main Draw: It Cleans 10x Faster
The main draw of the Floor Police Mop is that, according to the product website, it cleans ten times faster than an average non-motorized mop. That's a lot of time saved from doing one of our least favorite tasks! While we can't say if the cleaning rate was literally ten times as fast as with a normal mop, it definitely worked very quickly and efficiently, and was much easier than mopping the normal way. In fact, now that we've seen what it's like to clean with a motorized mop, we'll be hard-pressed to return to our older tech-free ways.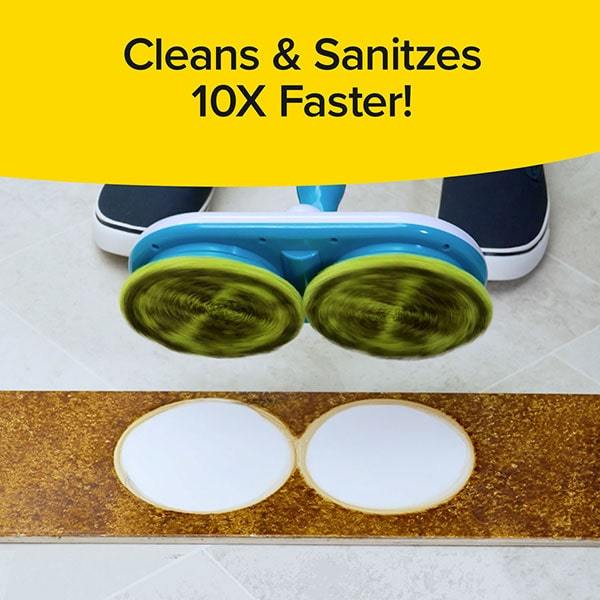 The Floor Police Mop isn't designed like a normal mop. It has dual spinning heads, which spin next to each other at a high speed that allows it to clean much faster than a normal mop. In fact, according to the product website, the powerful motor behind this product spins the dual mops at a whopping 100 RPMs. There's simply no way we'd be able to get that kind of force and coverage on our floors manually, and from the first few minutes of using this product, it's obvious why you're able to clean so much faster with it.
The motor is powered by a rechargeable lithium ion battery, which can run for 90 minutes at high speed before needing to be recharged. After testing the mop out, we can confirm that that is more than enough time for this super efficient product to do its job! In fact, if your experience using the Floor Police Mop is anything like ours, you'll probably need just a fraction of that time to get your floors sparkling again.
The great thing is that the rechargeable lithium ion battery comes with the mop, meaning you don't need to worry about shopping for expensive batteries beforehand or dealing with a cord while you mop. Just charge it up before you use it and you're good to mop (or, really, let the Floor Police do the mopping for you).
Great Features
One of our favorite features of this product were the three different kinds of mop heads it comes with, each with a different cleaning benefit. You can use the microfiber mop head to loosen and lift dirt without damaging any high-quality materials, such as marble or porcelain; use the scrubbing heads to tackle the stickiest or toughest stains; or use polishing pads to gently spin the sparkle back into your floors, or any other material you choose to use this mop on. We found that these pads were high-quality and useful at their designated tasks, although we did wish that the mop came with more than two of each style of pad.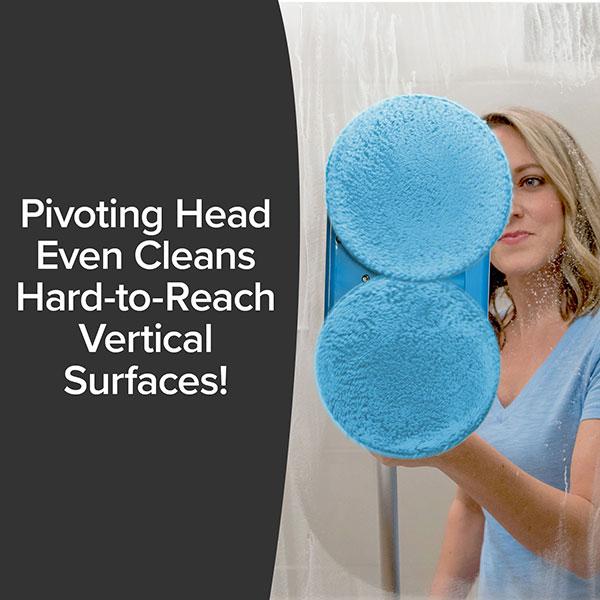 Another great feature of the Floor Police Mop is the swivel head that allowed us to reach under chairs, cabinets, and other furniture. If you've ever used a Swiffer before, you probably have any idea of what this is like – the swivel head makes it really easy to clean in hard-to-reach places, without requiring you to lift and move heavy furniture. It's the type of thoughtful detail that just makes your life that much easier while cleaning.
The Floor Police Motorized Mop is also self-propelling, which makes it even easier to mop with ease. Like self-propelling vacuum cleaners, this feature makes it easier to navigate around furniture and against the friction of the floor, and was definitely something we appreciated about this product.
How to Use
The Floor Police Mop is also fairly lightweight, so this in combination with the swivel head and variety of pads means that you can use this product in more places than just the floor. In fact, we applied the microfiber pad and lifted up the mop to gently wipe down windows with Windex; cleaned off hard-to-reach cabinets; and even cleaned out the grime from the far back corners underneath a couch. In our opinion, the versatility of this mop is one of its great selling points.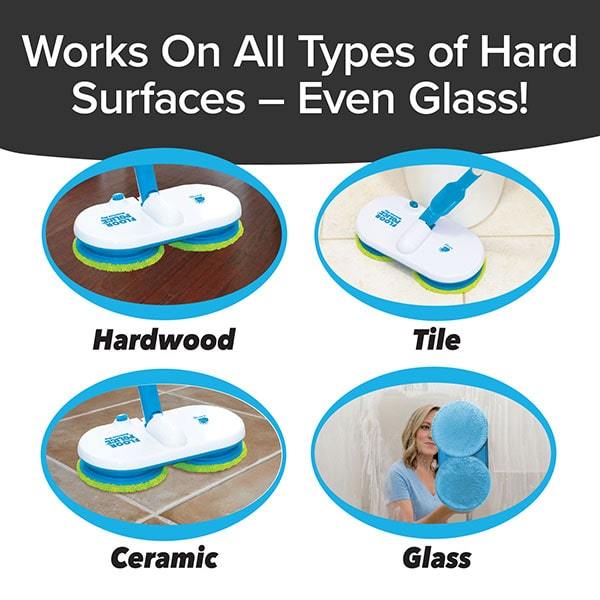 One potential con of this product, and something you should definitely be aware of, is that it's a bad idea to dunk it in a bucket of water, the way you might do with a regular non-motorized mop. Doing so can short out the motor, and it's a better idea to spray cleaning product onto the mop pads or directly onto the floor before using.
You should also avoid using this product outdoors – such as on your patio or in a swimming pool – in order to protect it from excessive wear and tear and preserve its lifespan for as long as possible.
Is the Price Worth It?
We'll be blunt: This mop is a little pricey. It's $59.98 for a single unit, or $119.96 for a two pack (which we recommend). This is definitely more than we'd typically be willing to pay for a cleaning product, especially one that we don't even like using, and at first we were on the fence about whether this price point is worth it.
However, the motorized features and time saved by using the Floor Police Mop ended up being well worth the cost, in our opinion. In fact, we'd argue that it pays itself off in time saved cleaning after just a few uses. If this mop is a little out of your budget, spend some time thinking about it – it's definitely an investment. However, for those who mop frequently – or just have a deep-seated hatred of this chore – the Floor Police Motorized Mop could be well worth the investment.
On the other hand, if you mop only very rarely, or don't mind a bit of extra manual labor, perhaps this product isn't for you.
The Floor Police Motorized Mop, In Conclusion
After spending some time thinking about the price point and the time saved by using this product, we had to conclude: it is DEFINITELY worth the purchase. Mopping the floor is one of the most labor-intensive and gross chores, and being able to complete this task in a tenth of the time with much more ease was definitely worth the price tag to us.
While we do wish it came with more mop pads, the ones it did come with were high quality, and it was nice to have several different pad options to choose from. The battery we tested out was great, the mop was easy to use, and overall it was a total game changer having a motorized mop rather than one that fully relied on our manpower.
Although we aren't usually so enthusiastic about cleaning products, the Floor Police Mop Motorized 2 Pack is an exception. Order yours today – we guarantee it's a decision you won't regret.