Our Review
In the days of Peloton bikes and assault-style bikes, it seems like the home stationary bike has never been more popular (or come in more varieties). There's a good reason for that, too! Having a stationary bike allows you to reap all of the exercise benefits of a long bike ride, without having to worry about the weather, logistics, or actually leaving your home. 
Many stationary bikes incorporate more than just cardio into your workout. For instance, BulbHead's Slim Cycle Breakthrough Bike adds arm resistance training to an already calorie-burning bike workout for a two-for-one workout that will have you shedding pounds like nobody's business. In fact, this stationary bike may be one of the best ones we've seen – and for a much lower price point than many other at-home stationary bikes on the market. 
If you're interested in shopping for a stationary bike and want to know all of the details about the Slim Cycle Breakthrough Stationary Bike, you've come to the right place. Keep reading to learn more. 
Two Workouts in One
Gym memberships might be one of the best ways to get yourself in a regular workout routine and have access to both cardio and weight training, but they can be expensive, not to mention the added motivation required to get yourself out of the house and to the gym can be enough to derail even the most motivated fitness fiend.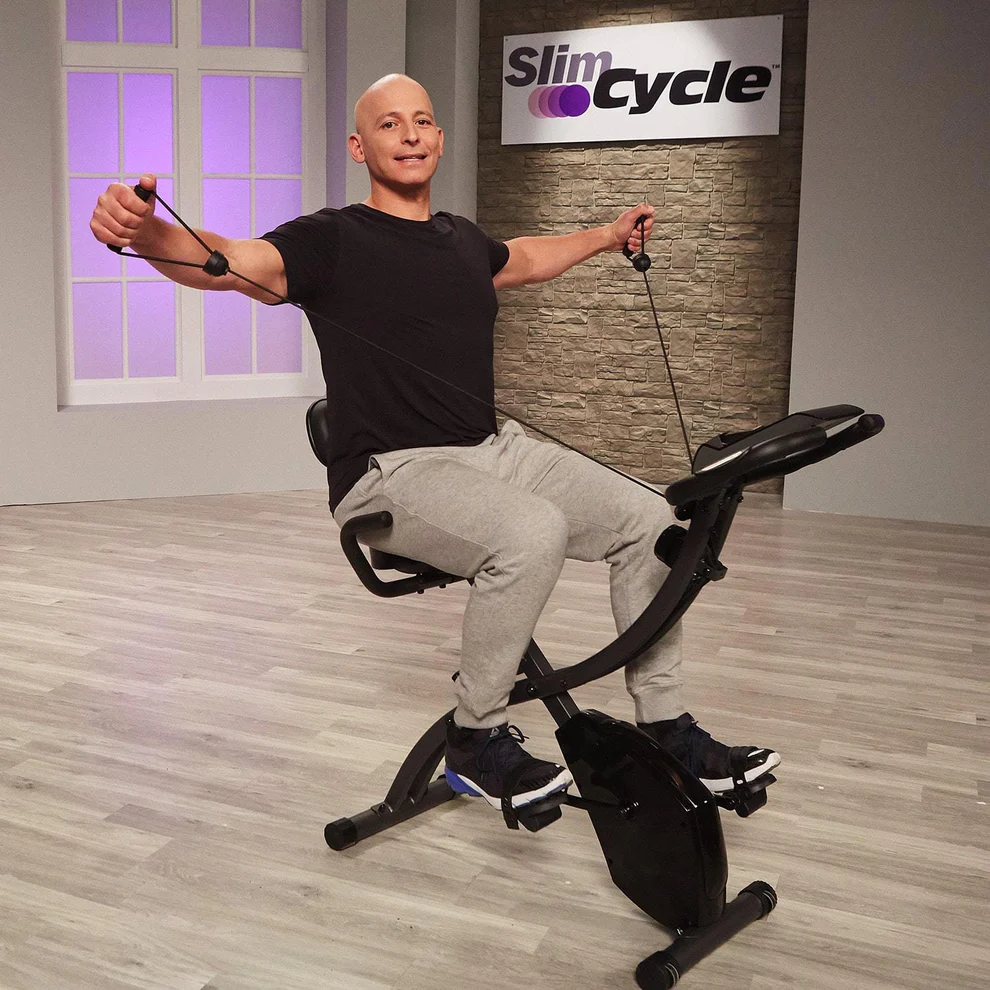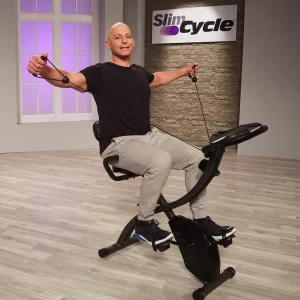 Just like a good gym workout, the Slim Cycle Breakthrough Stationary Bike gives you more than just one type of workout – it combines an intense cardio workout with arm resistance training to strengthen your muscles while also carving away fat. This bike might just give you twice the results in half the time of a typical stationary bike. 
Having the Slim Cycle is like having two different bikes at once. You can use it as an upright bike for a high-intensity cardio workout, or you can adjust it to be recumbent for a more relaxed workout – whatever you're in the mood for that day. We tested out both styles, and found them to be both comfortable and effective. 
Essentially, there are four different ways you can use this bike – relaxed like a normal stationary bike, relaxed while biking and using the arm resistance feature, upright and biking alone, or upright biking with the arm resistance as well. Having this many options was truly freeing in a way that many stationary bikes and at-home gym equipment just doesn't accomplish. It made us feel like we were reaping the benefits of a gym from the comfort of our own home. 
Great Features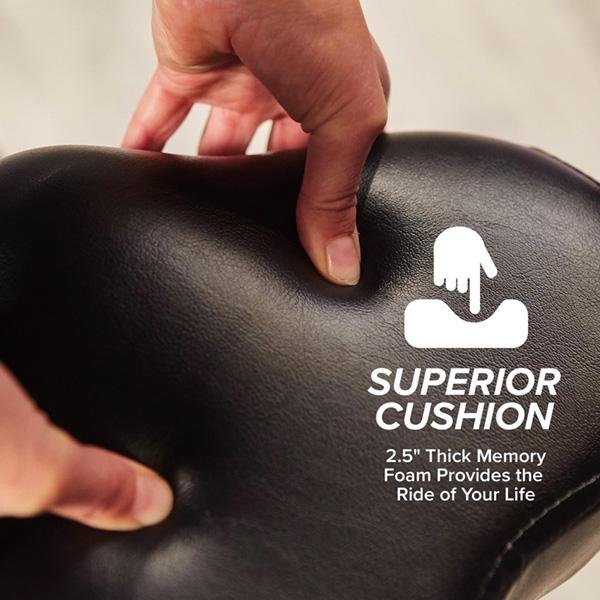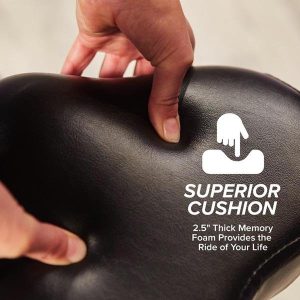 Speaking of comfort, one of the things we loved the most about the Slim Cycle Breakthrough Bike was just how comfortable it is. This bike has a plush 2.5 inch seat cushion, a memory foam backrest, and a huge, easy-to-read digital display – meaning that however uncomfortable and out of breath you get while working out, you'll still feel comfortable perched on the bike.
Aside from these features, the Slim Cycle has eight levels of magnetic resistance, meaning you can adjust your workout intensity to whatever you feel like at the moment. We're suckers for interval training, so being able to adjust the resistance through the workout was a huge plus for us. The bike also features a large display that tracks calories burned, distance biked, speed, duration of the workout, and even your target heart rate, thanks to a built-in heart monitor. These high-tech features really elevated this book to the next level. Far from a simple home stationary bike, the Slim Cycle Breakthrough Bike can really aid you on your fitness or weight loss journey.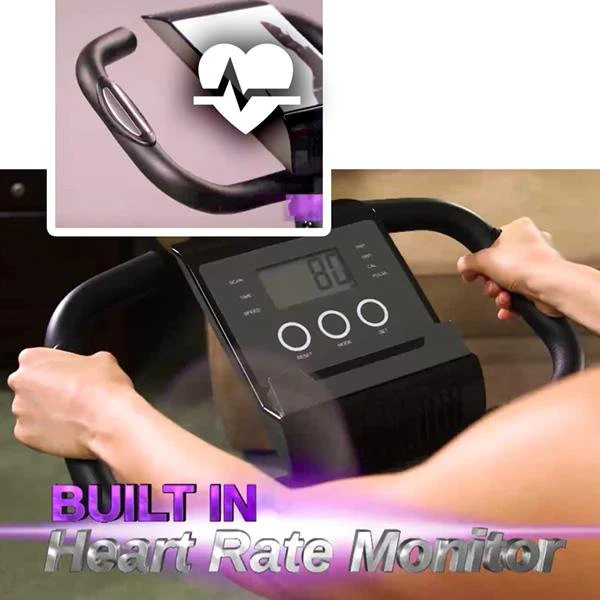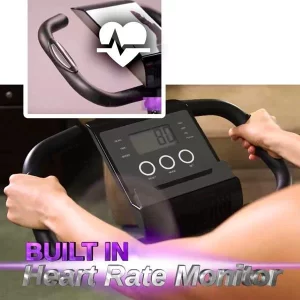 The most notable benefit of the Slim Cycle Breakthrough Bike is how portable and easily stored the bike is. Despite its sturdiness and functionality, the Slim Cycle folds in half like an ironing board, and wheels away effortlessly to fit in a closet or under your bed. If you're short on space in your home, live in an apartment, or just like the idea of easily being able to put away your stationary bike, this is a game-changer.
Other features of this bike include foot pedals with comfortable safety straps, high-grip handlebars (this is where the heart rate monitor is located), and an easy-to-use adjustment knob to switch between the upright and recumbent positions.
Workout Classes Provided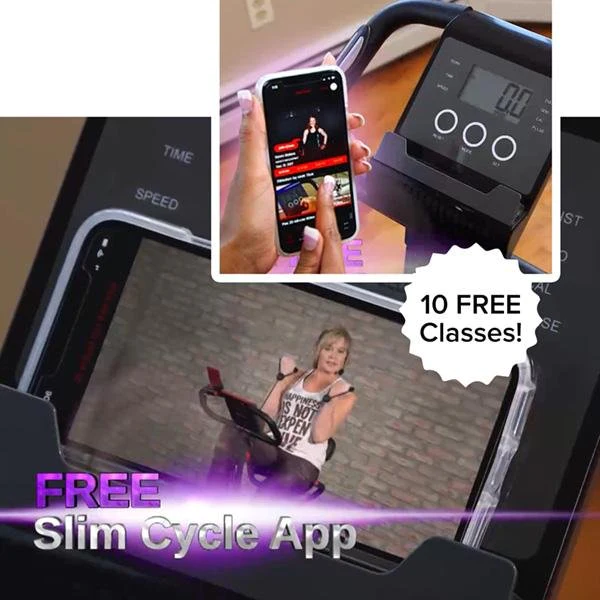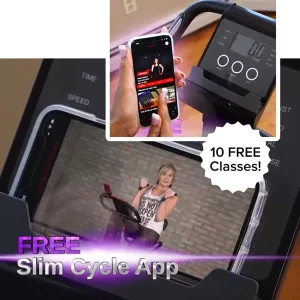 A common perk among many stationary bikes (such as Peloton) is access to virtual fitness classes to take you through a home workout on the bike. Buying the Slim Cycle bike gives you access to the free Slim Cycle app as well as ten workout classes with professional trainers who will coach you through an intense workout from the comfort of your own home. 
This is a huge bonus feature for a product that's already stuffed with them. Motivating yourself to really give your best effort and burn those calories can be hard without the surroundings of a gym or a personal trainer to fire you up, so having access to virtual fitness classes is an excellent perk with this bike. 
The Price Point
The Slim Cycle bike is $199.95, which, compared to other stationary bikes on the market, is an excellent price point. With access to ten professional workout classes for free, this bike can save you a lot of money in the long run.
We definitely get that this bike might be out of the budget for many consumers – but if you're looking for a high-quality budget stationary bike, BulbHead's Slim Cycle Breakthrough Stationary Bike honestly knocks it out of the park. 
The Bottom Line
Even after just testing out this bike a few times, we felt like we could notice the results of the two-in-one workout. It's not every day that you get your cardio and strength training in simultaneously, and it was really nice to spend thirty minutes on the bike and get off feeling absolutely wiped. And although the features of the Slim Cycle might not compare to the luxury that products like the Peloton have to offer, for less than $200, you really can't beat the Slim Cycle.
You might be wary of making such an investment into an online bike that you've never tested out before. But that's what we're here for – and take it from us, the Slim Cycle Breakthrough Bike is the real deal. Whether you're a biking novice or have been shopping for stationary bikes for years, don't be afraid to give this product a try – we loved it, and we think that you will, too.