Our Review
If you're anything like us, you love getting festive for the holidays. Warm cozy sweaters, pumpkin and turkey-themed meals, and beautiful light displays on every home in the neighborhood are just a few of our favorite things this time of year.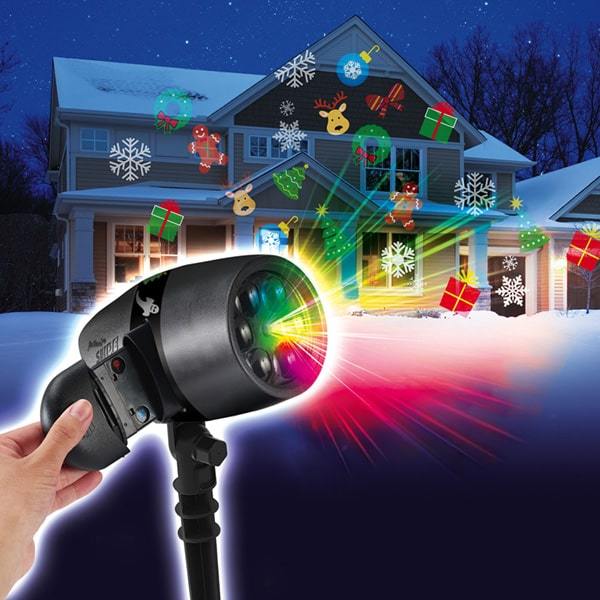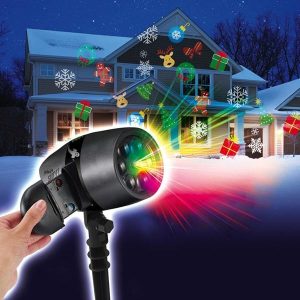 Going the traditional route and hanging up Christmas lights on your home and surrounding shrubbery might be what you're used to, but it can also be a hassle. Who really wants to spend hours climbing on and off a ladder to hang up countless strands of lights? Plus, all you need to do is break a single bulb, and the entire strand is out of commission. Enter holiday-themed light displays.
We spend a lot of time comparing different holiday light displays, so we were thrilled to test out BulbHead's Star Shower Slideshow and compare it to other festive light displays on the market. It's safe to say that this option definitely takes the cake, and we'd recommend it to anyone looking for the most dazzling and beautiful way to decorate their home this holiday season. 
Keep reading for our full review of BulbHead's Star Shower Slideshow.
A Beautiful Light Display
You might be hesitant to replace your traditional Christmas lights with a light Slideshow, and that's understandable – there's definitely something charming about the good old string lights standby. We felt the same, until we plugged in the Star Shower Slideshow and saw just how vibrant and dazzling the display is that comes out of this deceptively small projector.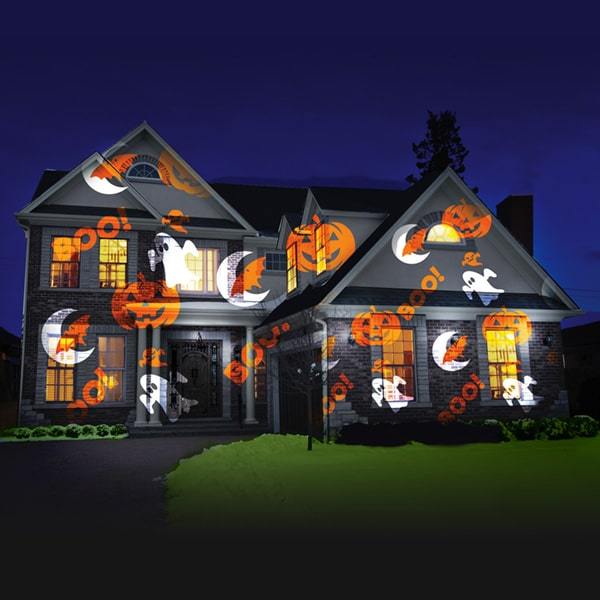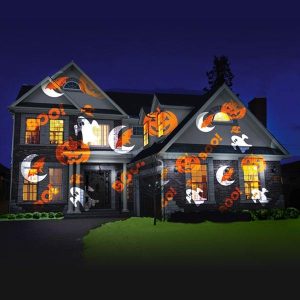 The Slideshow utilizes LED lights to display reindeer, snowflakes, presents, gingerbread men, and Christmas trees in vivid color. You can watch the Slideshow dance across your home at three different speeds – slow, fast, and freeze – depending on what mood you're in. Plus, although Christmas is on our minds at the moment, this nifty product can also project a Halloween-themed Slideshow featuring ghosts, pumpkins, bats, and the word "Boo!". It's nice knowing that you could get more use out of this projector than just one holiday's worth. 
The dazzling colors of the LED display weren't the only part that impressed us, though – the size of the area you can cover with the Slideshow was also impressive. This Slideshow can cover an area of up to 3200 square feet, including high up in the eves of your home, or hard-to-reach treetops. It actually was crazy to watch such a small and lightweight device turn such a huge area into a beautiful holiday display. 
How to Use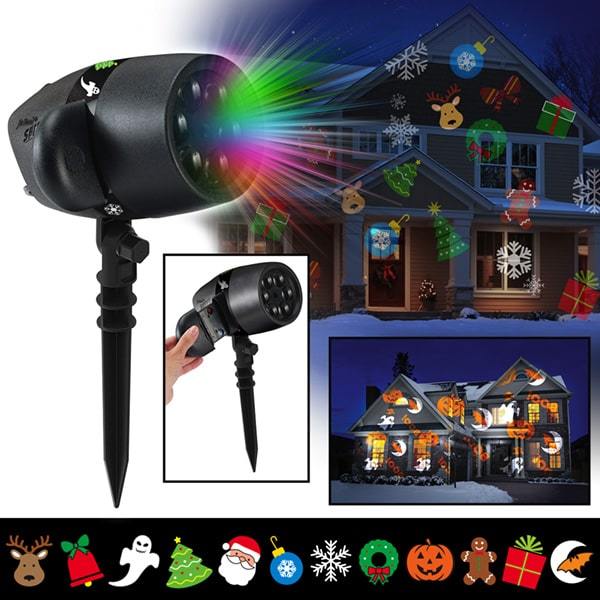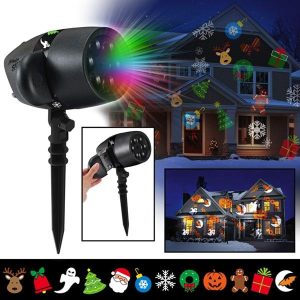 We found a lot to love about BulbHead's Star Shower Slideshow, but one of the best selling points to us was the ease of use. All you have to do to use this product is stake the unit into the ground, choose the slide that you want projected onto your home, and insert it into the unit.
It has a water-resistant casing and an extra-long stake, meaning once you've set up the display, you likely won't have to worry about maintaining or adjusting it until the holiday season is over.
We left it outside in a few days of rain, and it still functioned totally as normal – pretty impressive.
Although we can't speak on its performance in the snow, the website claims that the projector can withstand both rain and snow. No fair-weather Slideshow performances to be found here!
Is It Worth the Price? 
When you need more than one or two strands of Christmas lights to decorate your home, the price tag can start adding up, so you might be (justifiably) wondering what the price point is on this projector. The Star Shower Slideshow is $29.99, a price which we honestly found shockingly low considering what you're getting here. In fact, that price point is so low it made us a bit worried that this projector would just be a cheap gimmicky product. Fortunately, after testing it out, we were able to confirm that's not the case – the projector is just very reasonably priced! At $29.99 for an entire month (or more) of a dazzling light display, we believe that yes, this product is definitely worth the price. 
Versatility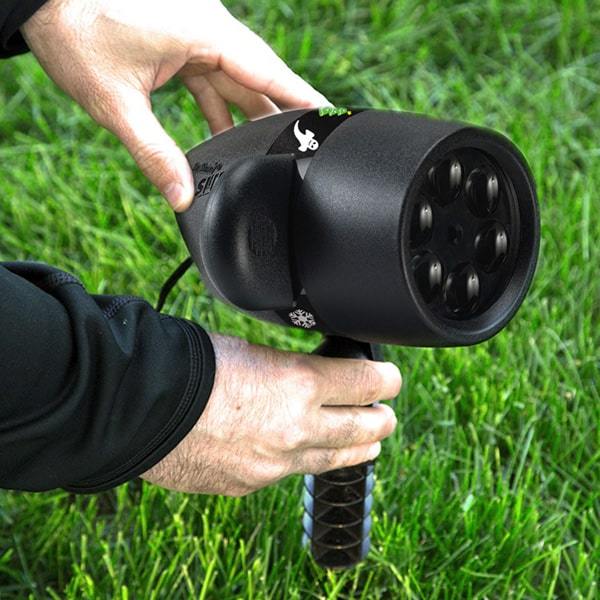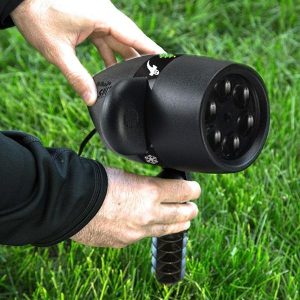 The Star Shower Slideshow is designed to be projected onto a home (or the surrounding shrubbery) during the holiday season. However, we believe that this product can be much more versatile than that. You could use it to project festive patterns onto interiors, as well – it's perfect for apartments, basements, rec halls, parties, or really anywhere with a flat surface. 
Although we'd certainly get plenty of use out of this projector using it to decorate our homes during the holiday season, it's nice to know that it can easily serve more than one purpose, if needed. Plus, thanks to how little and easily portable the projector is, it would be easy to move it to a new location.
Star Shower Slideshow Compared to Other Light Displays

Like we mentioned earlier, there are plenty of other light displays and holiday decorating options on the market. We found that BulbHead's Star Shower Slideshow stood out in comparison to those, mostly thanks to the vibrancy of the LED light display. The projector comes with six slides to choose from – four Christmas themed, two Halloween themed – and each one has a cheery combination of holiday symbols, each of which showed up brilliantly when we tested them out on various surfaces. 
The one limitation to this projector is that we would not recommend trying to project it from a distance of more than 100 yards. This far away from your home (or whatever other surface you'd like to project onto), the display will be much less vibrant and dazzling than it could be at a more appropriate distance. 
The color and vibrancy of the Star Shower display is excellent, but when we considered that in combination with the low price point, it was clear that this product is one of the best light display options on the market. If you enjoy going all-out for the holidays and decorating your home in lights and colorful displays, BulbHead's Star Shower Slideshow may be the perfect option for you.
The Bottom Line
This product checks three of our most important boxes when it comes to online shopping: it's high quality, it's inexpensive, and it's super easy to use. Once we waited for night time and set up the projector in the front yard, we were honestly amazed by the quality of the light show, considering how little money it costs. 
Plus, it took all of two minutes to stake the projector into the ground an appropriate distance away from our target, and we could just as quickly remove the projector from the ground and bring it to another location. Lightweight, portable, and easily set up = the perfect product for us. 
The holidays are rapidly approaching – don't get caught without fun decorations on hand! We loved BulbHead's Star Shower Slideshow, and we bet that you just might, too.