Rotorazer Saw: A Handy Tool for DIY Projects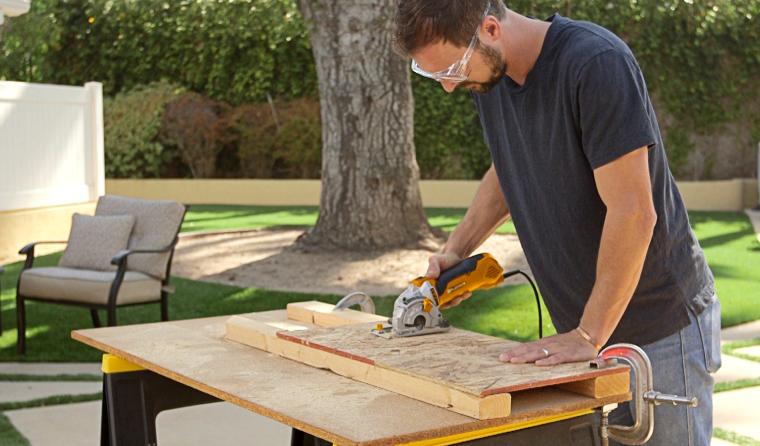 I'm in a little bit of a DIY phase, and when I first stumbled across the Rotorazer Saw online, I knew that I needed it. And now that I've actually had a chance to test it out, I can confirm that this product is as good as it looks. Let me explain what makes this saw so amazing.
As I mentioned, I'm somewhat new to the DIY scene. I don't know everything there is to know about power tools, During past projects — cabinet installation and bathroom retiling — I found myself making frequent trips back and forth to the hardware store to make sure I had the right tools and equipment. Let me tell you, turning around to head back to Ace Hardware for the third time in one day because you got the wrong type of caulk can really deter a guy from home-improvement projects.
That's the first thing that makes the Rotorazer Saw so helpful. It can cut almost any material in any direction, meaning no matter what task I need a saw for — trimming plywood sheets, cutting off rebar, whatever — the Rotorazer Saw can handle it. The simplicity of this all-in-one approach has saved me so many headaches even in just the past few weeks. For someone who doesn't necessarily know the fine differences between saw types and techniques, the Rotorazer is a lifesaver.
What Materials Can the Rotorazer Saw Cut Through?
Let me run you through the basics of this tool. It's a high-powered handsaw that cuts at 4,200 RPMs and comes with three blades: diamond, tungsten, and steel. One is for cutting wood, one is for cutting metal, and the third is for tile, marble, and travertine.
I'm not exaggerating when I say that these blades are INSANELY sharp and can cut through pretty much any surface, including brick, metal, wood, plastic, tile, marble, and stone. There are few situations I can think of where the Rotorazer Saw wouldn't be able to get the job done, and most of those would pertain to industrial-grade projects only anyway.
It's also a 7-in-1 saw, meaning it has the functionality of seven specific saw types:
A jigsaw
A hand saw
A circular saw
A band saw
A tile saw
A hack saw
A miter saw
If you aren't sure what all these different saw types are used for, then the Rotorazer Saw is probably for you, because with it you won't ever have to worry about figuring out the specifics. Whatever task you need a saw for, I'd almost guarantee the Rotorazer Saw can handle it.
How Do I Use the Rotorazer Saw?
It's also super easy to use. The power switch is thumb-controlled for super easy accessibility, and the safety switch ensures the blade is guarded and locked until you're ready to use it. (I'm by no means a professional, so I really appreciated this safety feature.) The blade depth is adjustable, meaning you can cut as deeply or as shallow as you need, depending on your project.
Another thing that I really like about this product is that it makes cleanup so easy. I'm kind of a neat freak, and I hate leaving a project half-finished with dust, dirt, and detritus all over the place. (My wife hates it, too.) The Rotorazer Saw has a dust extraction system that can attach to a vacuum and suck up all of the debris left from sawing, which — depending on the material you're cutting — can sometimes be excessive.
Aside from how easy it is to use and clean up, I also like the design of the saw. The chassis is supposedly construction-grade, and although I'm no expert on exactly what qualifications it takes to meet that criteria, it certainly looks the part. I've been using it for several weeks and it still looks brand-new. It's also fairly lightweight, considering how much functionality is packed into one tool.
Is the Rotorazer Saw Safe?
I will say that although the Rotorazer Saw is advertised as being able to cut horizontally, vertically, upside down, and along curved cuts, I didn't feel 100% confident using it in all those ways. Safety is the most important thing when using a saw, and in my opinion, just because it CAN be used upside-down doesn't mean it SHOULD be used that way, especially by an amateur like me.
In this regard, I think that the accessibility of this product is actually a detriment that could potentially lead to injury. I also wish it came with more safety signage or thoughtful safety features aside from the blade guard, since it is such a perfect intro power tool.
But as long as you take the proper precautions (wear gloves and eye protection, use caution), I think this is a GREAT tool for home redecorating, beginning DIY hobbyists, and even professionals. So far, I've used it to cut driftwood into custom wall art, trim cabinet wood to size for an install project, and cut rebar for mounting plant hangers and a swing on our porch.
My wife might not love the mess, but she is THRILLED with my Bob-the-Builder energy right now. Plus, with how much we're saving on not hiring subcontractors or professionals to do these things, it's really a win all around.
How Much Does the Rotorazer Saw Weigh?
I'm the type of person who needs to know every single detail about a product before I commit to buying it. So in case you're wondering about the specifics of the dimensions of this bad boy, I measured everything. It weighs a little over two pounds — super light for how powerful it is — and the cord is almost seven feet long, which I've found to be just the right amount of length for efficient use. It reaches all my outlets without me having to worry about tripping over it, in other words. The hose (for sucking up dust and debris) is a little over five feet long, which I also felt was just right.
I actually like this saw so much that I'm considering buying more to give to some of my friends. Safety features aside, I feel like it's a great power tool for people who might not quite know what they're doing yet and want to get started DIYing and renovating their homes. It's a really great price point for what it offers — especially right now with the sale price of half off! — and has already paid itself off multiple times for me, based on how much money we've saved from hiring professionals.
Which Rotorazer Saw Model Is Best for Me?
Although I bought the 7-in-1 saw model and can't comment on how the Platinum 3000 compares, I did want to note that Rotorazer does offer this other model. The Platinum 3000 comes with a 500-watt motor and cuts with 4,500 RPMs, rather than a 480-watt motor and 4,200 RPMs.
If you're a professional looking for a more heavy-duty saw, the Platinum 3000 model might be better for you. But if you're more of a hobbyist like me, I can guarantee you that the 7-in-1 is a great option and will most likely be able to do everything you need it to.
Don't get this saw if you've never done a home DIY project before. It's pretty high-powered and the blades are extremely sharp, and I'd definitely recommend a much more basic handsaw to get you through the initial learning curve of using power tools.
But for everyone else, I can't recommend the Rotorazer Saw enough. It's completely changed my approach to DIY projects.