As Seen On TV Review:
BulbHead's PedEgg Power
How many times have you longed to slip your feet out of your shoes or show off your new stylish sandals, only to be totally embarrassed by calluses and rough patches? Perhaps you're a runner, or maybe you're just prone to dry skin. Whatever the case may be, you need a safe and easy way to remove those rough patches and show off your fancy footwear without worrying about the condition of your feet. 
Enter BulbHead's Pedegg Power. This nifty tool will solve all your footwear problems. And if you're anything like us, this product is going to be a total game changer for your self-care routine.
What Is the PedEgg Power?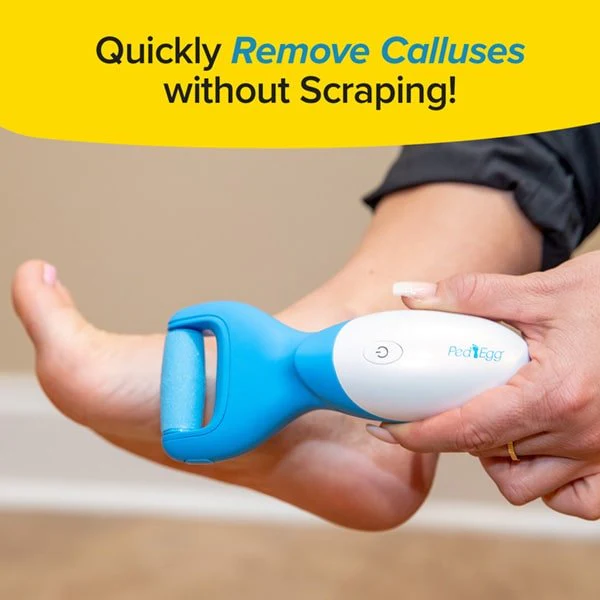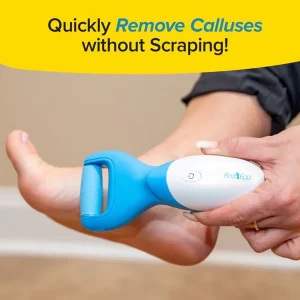 Put simply, BulbHead's PedEgg Power is a cordless electric callus remover. But speaking from experience, it's so much more than that. It's a revolutionary device that will keep your feet looking and feeling their best, increasing your overall confidence. We think this is possibly the best foot care tool we've ever used, thanks to how easy it is to use and how much of a difference it makes in the appearance and feel of our feet. 
The PedEgg Power is designed to remove dead skin and calluses from your feet, leaving them smooth and soft. The device comes with two different roller heads – a coarse one for tough calluses and a fine one for more gentle exfoliation. The coarse roller head is perfect for removing tough calluses and rough skin on the heels and balls of the feet, while the fine roller head is great for smoothing and softening the skin on the tops and sides of the feet or removing dry skin anywhere on the foot. 
What Makes PedEgg Power Different? 
One of the things we love most about the Pedegg Power is that it's cordless and battery-operated. In other words, it couldn't be easier to use. We can bring it anywhere without having to worry about finding an electrical outlet or long cords and plugs. Just slip it into your travel bag or purse, and voila – you have an easy foot care solution at your fingertips.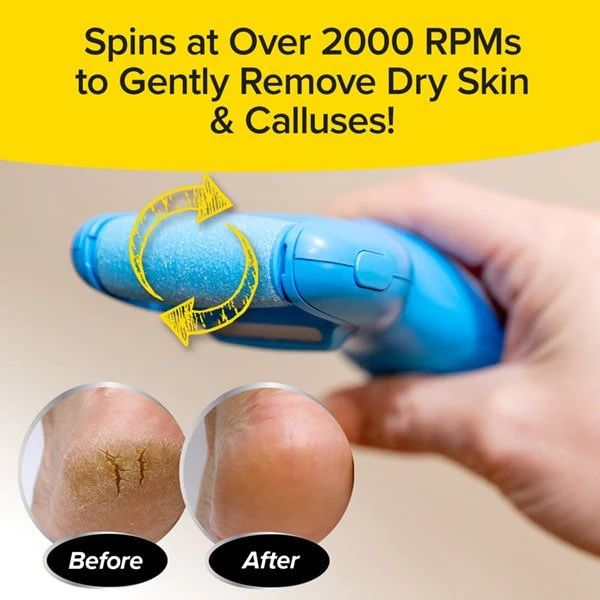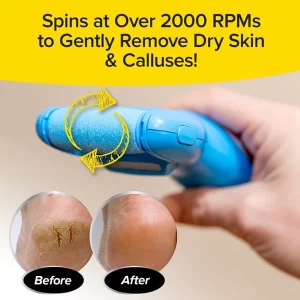 The PedEgg Power roller spins at 2000 RPMs – fast enough to get rid of those rough spots, but not so fast that it becomes abrasive or painful. In fact, we found using the PedEgg Power to be quite relaxing. It also comes with a smoothing roller so you can smooth your feet after exfoliating for the ultimate foot care experience. We never thought taking care of the calluses on our feet could be so relaxing until we invested in this nifty product, but it's able to get the job done and promote self-care and relaxation all at the same time.
PedEgg Power Results
This tool completely changed how we cared for the rough patches on our skin. Not only does it transform our feet from rough and dry to smooth and soft, but it works on other areas of the body, too. Try this tool for the calluses on your hands or the dry patches on your elbows or knees. Just be sure to avoid more delicate skin, like the skin of your face – those 2000 RPMs may be a bit too tough for those areas of the body.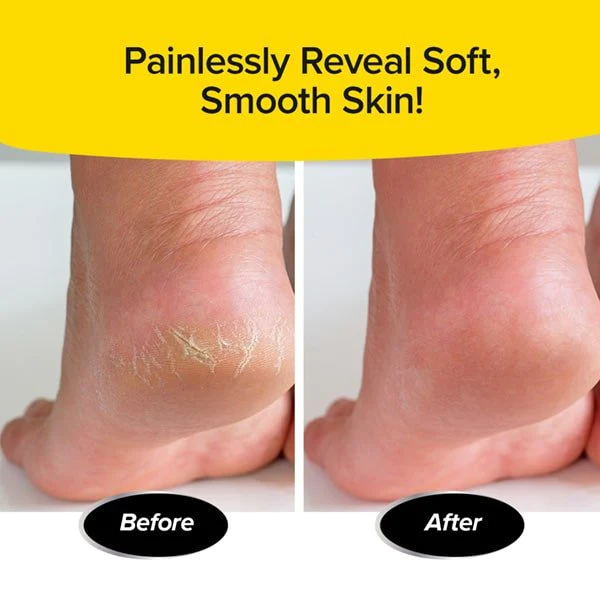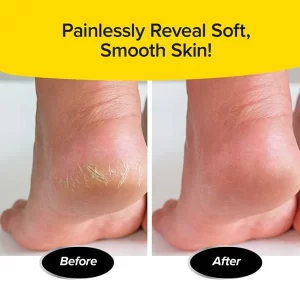 One aspect of this tool that makes it so effective is the 2-for-1 feature of the exfoliating head and the smoothing head. First, you can exfoliate and buff away calluses, and then you can smooth off dry skin. It's like an entire spa package in one handy little tool. 
But what we love the most about the PedEgg is the fact that it buffs away dead skin with such speed and efficiency.
Using a nail buff or similar tool to slough off calluses can be messy and slow – you can't exactly do that on the go.
Because the PedEgg Power tool is electric, it's much faster and more efficient than the other options at your disposal, making it by far the best option we've ever tried.
Who Is PedEgg Power For? 
Perhaps spas aren't quite your speed, or you don't have time for a full-blown self-care routine. We believe the PedEgg is for everyone who walks, regardless of gender, occupation, or previous grooming habits. All of us spend time on our feet, and you don't have to be a marathon runner to have calluses, rough patches, and dry skin.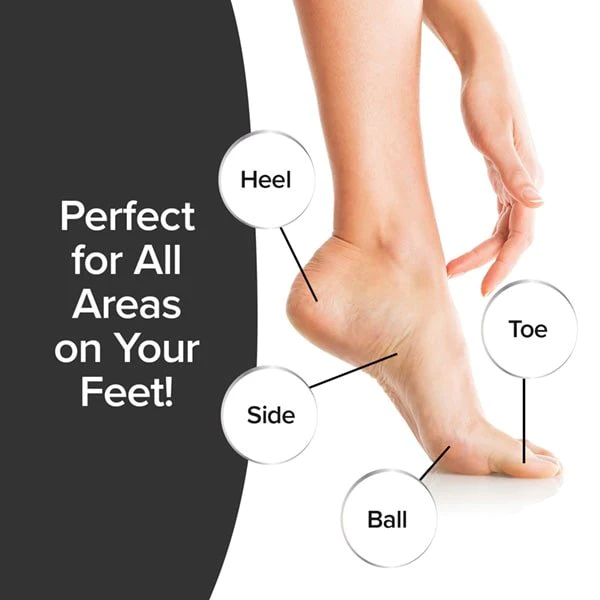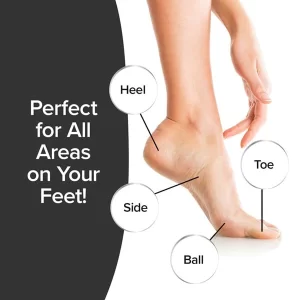 With the PedEgg Power, all it takes is a few minutes, and you won't have to worry about grossing out your family members or other beachgoers with your crusty feet. Plus, self care is for everyone – even if you've never practiced it before, it's never too late to start!
The PedEgg Power tool now comes with a built-in LED light as well, making it great for older folks or anyone who may struggle with vision. It also has a newly designed ergonomic handle for easy grip and maximum comfort. Both of these thoughtful features make it easier than ever to buff away calluses on the bottoms of your feet, elbows, or any other hard-to-reach places. 
What Do Other Customers Have To Say? 
We aren't the only ones who can't stop raving about BulbHead's PedEgg Power. Other customers claim this product saved them from having to constantly replace socks from their rough heels, saving them money in the long run. Others say that, although they were worried about the 2000 RPMs being too rough, it was actually the perfect speed. One customer wrote that they can now care for their feet in a faster yet safer way, while another said that they saw results right away. 
One man even commented that he and his wife work in asphalt and that they both use this product to keep their previously rough feet in great shape. Overall, 100% of reviewers would recommend this product to a friend. So don't just take our word for it – PedEgg Power is an excellent foot care product and might just be what you need to take care of your calluses and rough patches. 
The Bottom Line
You may not think of yourself as someone who needs foot care or even self-care. But we'd be willing to bet that the PedEgg Power will change all of that. This device is ergonomic, cord-free, and efficient and makes foot care easier than ever. Plus, the additional smoothing tool and built-in light make it even more functional and convenient, no matter where you need to do a little maintenance. 
Whether your runner's feet are looking a little worse for wear, you want to clean up your feet before a beach vacay, or you're looking to give the gift of self care to a friend or loved one, BulbHead's PedEgg Power is the tool you don't even know you've been looking for. Don't let your calluses and dry skin hold you back – instead, let the PedEgg Power do all the work for you.