King Kanine: Pampering Your Pets – Our Review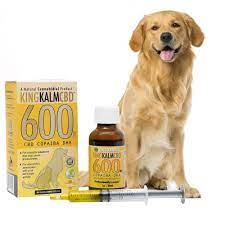 Owners of anxious dogs, this is the brand for you. I thought nothing would help my German Shepherd chill out and learn to relax around other dogs (and people!) until I found King Kanine. It's made my life as a dog mama so much easier, and I'm going to spread the word to as many people as I can.
What Is King Kanine?
The short version: King Kanine is a brand that creates wellness products for dogs, including CBD products. If you aren't familiar, CBD is an oil that's often used to ease pain and stress.
Although it comes from the marijuana plant, CBD and THC are not the same. THC is a psychoactive drug, and CBD is a non-psychoactive legal supplement often added to lotions, hair oils, different food items, and even aromatherapy products.
What Does King Kanine Sell?
King Kanine sells a TON of different products, and I've tried tons of them. I'll walk you through which products I've bought specifically so that you can find the right option for your pooch.
The In Between Bath Spray
I was first hooked by this brand when I tried their pet odor-eliminating spray. My Shepherd loves to play outside in the mud, and he often gets so filthy he still smells like outside that even after I shower him off. Sometimes, I don't mind that – it's the price you pay for living with an animal. Other times, I wish I could snap my fingers and make him smell clean and fresh.
With the King Klean In Between Bath spray, I basically can. It's a natural pet deodorizing spray that smells like lemongrass, an amazingly fresh citrus scent I can't get enough of.
This spray smells great to begin with, but what really provides its deodorizing power is the fact that it's been professionally formulated to kill the germs and bacteria that create odors in the first place.
Think of it like hand sanitizer that's safe to spray on your dog and actually smells good. It's amazing. Once I tried this product, my obsession with King Kanine began.
The Klean Paws Nontoxic Foaming Cleaner
After buying the In Between Bath spray, I bought the Klean Paws Nontoxic Foaming Cleaner (and King Kalm CBD Treats — but more on that later).
The Klean Paws product is basically the same thing as In Between Bath spray but for your pup's paws instead of their fur. It kills 99.9% of bacteria and viruses, including ringworm and roundworm, which are pretty easy for dogs to pick up.
I've also found that my dog's paws are super soft immediately after I use it, so I think it has a conditioning effect as well. I love to have a mini spa day with my dog by wiping down his paws with this and fluffing up his coat with In Between Bath spray.
The King Kalm CBD Treats
The King Kalm CBD Treats took two tries before I found the right kind. They have a few flavors to choose from: Blueberry, Apple Cinnamon, and Grass Fed Beef.
At first, I bought the blueberry flavor, which my dog hated.
(He's kind of a picky eater, so I honestly don't think it's a bad flavor — I think that's just my dog being a diva. He tried one and wouldn't touch them again.)
On the other hand, he did like the Apple Cinnamon flavor, and I've noticed that he generally seems to be so much happier and less stressed since I've started using them. I give him one when I'm going to be out of the house for an extended period.
They're also helpful when we're going to be in a situation that's typically stressful for him, such as a long car ride, a party with guests at my home, or a trip to the vet. Thirty minutes after eating them, he becomes a much more mellowed-out version of himself. Suddenly, I don't have to worry about any reactive behaviors like growling at other dogs or giving a side eye to people he doesn't like.
The King Kalm 600mg CBD Oil Product
Once I realized how well the CBD treats worked, I bought the King Kalm 600mg CBD oil product too. It's basically a more powerful version of the CBD treats, and King Kanine makes a range of them designed for pets of different sizes.
The 600mg product is only meant for dogs 65 pounds and bigger, but they have a version for pets 20 pounds and under, 20 to 45 pounds, 45 to 65 pounds, and, of course, 65 pounds and up. I love having different options at my disposal!
The Green Plus+ Strong Plus+ Combo Pack
Finally, the last product I bought more recently was the Green Plus+ Strong Plus+ Combo Pack. This is a two-pack of two different supplement powders that collectively provide important vitamins and minerals, omega-3 fatty acids, antioxidants, and supplements for gut and intestinal health.
I take my supplements with breakfast in the morning, and so does my furry BFF. It's our little wake-up ritual! I've only been doing this for a couple of weeks, which I don't think is long enough to really see a difference. Still, I honestly think I sleep better at night, somehow, knowing I'm doing everything I can to give my dog's immune system, skin, digestive health, and joint strength a boost.
Is CBD OK for Dogs?
I'm not going to lie: When I was first researching these products, I was a little nervous about giving my beloved fur baby something containing CBD. I didn't realize that CBD could be safe for dogs if manufactured correctly.
Once I dove in and started researching King Kanine, I learned about all of their certification processes and the testing they do to make sure all of their products are super safe. It was extremely reassuring.
I feel like I'm putting my pup in safe hands with King Kanine since they aren't just an extension of CBD products meant for humans that have been reformulated for animals. Their entire brand is just focused on creating high-quality products for cats and dogs, which is exactly the kind of ethos I need in a brand.
They also provide dosing charts for all of their products, displaying the batch number and direct lab information with the current year for every CBD product. I don't think I've ever seen a CBD brand do this for CBD brands designated for people, let alone cats and dogs. That really boosted my confidence and my faith in King Kanine.
Are These Products Expensive?
I feel like the price point on all of these products is super fair for two reasons:
 They're effective
You get a lot of bang for your buck.
The volume of product you receive with the supplements and CBD treats is enough to last for a long time and makes them super cost-effective per each individual use. I'm used to spending a lot of money on my GS. In comparison to our vet bills, the amount of food he goes through, and doggy daycare costs, this is just a blip in my overall spending. It's well worth it for the peace of mind and ease that these products have brought me.
My King Kanine Review: Coming Back for More
If you have an anxious or reactive dog — or you're just a proactive pet owner, like me, who wants to make sure they're doing everything possible to take care of their fur baby — I can't recommend King Kanine enough. I will continue to be a loyal customer long into the future!