As Seen On TV Review:
ID Police Identity Protection Roller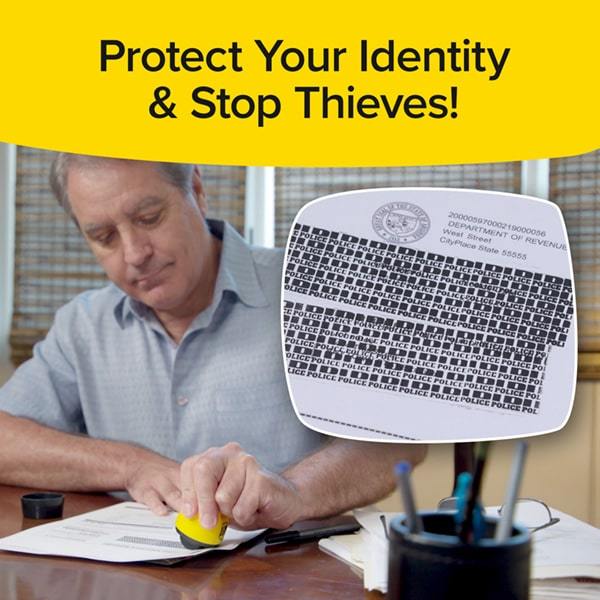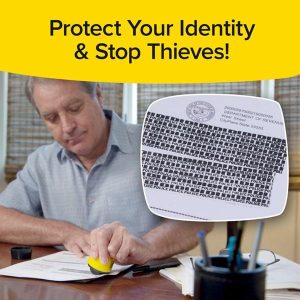 Fact: Someone becomes a victim to identity theft every two seconds. Having your identity stolen might sound like a fake crime, but believe us, it's real, and it affects millions of Americans every year. Identity theft occurs when someone else uses your information for legal and financial purposes, like filing taxes, opening a credit card, or getting medical services. This can ruin your credit score and burden you with unfair debts. 
Luckily, there are some easy steps you can take to protect your identity, including concealing personal information on documents once you're done using them. Enter ID Police, our new favorite tool to keep ourselves safe from identity theft. Using this simple identity protection tool helped us protect our personal information and provided invaluable peace of mind.
How To Use the ID Police Identity Protection Roller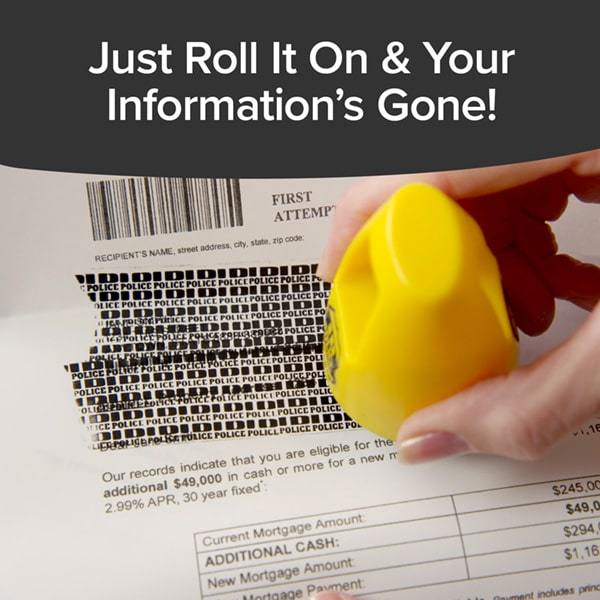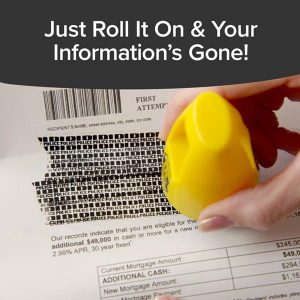 One common method of identity protection is to put personal documents through a paper shredder once you're done with them. And sure, this will work, but at what cost? Messy paper scraps everywhere, the hassle and noise of plugging in and running the shredder – with the ID Police Identity Protection Roller, there's a much easier way.
To use this roller, you simply undo the cap and roll it over the information you want to conceal – that's all! There's no mess, no fuss, and no need to fret about your identity being stolen. The protection roller features a wide-roller cartridge that can conceal lines of text with just one stroke, covering up information on all kinds of documents, from credit cards and bank statements to postcards and even prescription pill bottles. 
What Makes ID Police Different?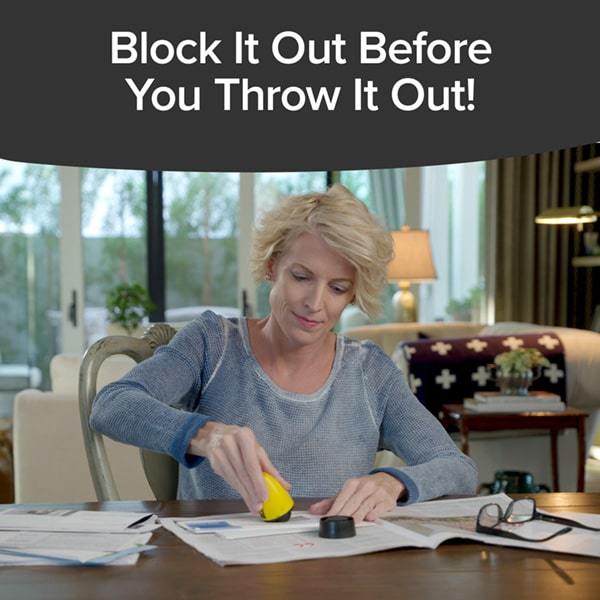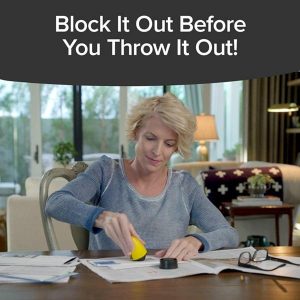 The ID Police Protection Roller is especially useful for covering up vital personal information thanks to a unique pattern that blocks out all printed information, regardless of angle or lighting. Unlike other protection rollers we've tried, ID Police is also self-inking, so there's no need to stamp the roller every time you use it. 
It's no secret that life is complicated. So, what we really loved about this product is that it made our lives a little bit easier. Keeping an ID Police Identity Protection Roller on hand everywhere we handle important documents – one at the office, a couple at home – made it so easy to conceal important personal information without messy paper strips or any fear that someone would be able to steal it. 
Who Should Use This Product?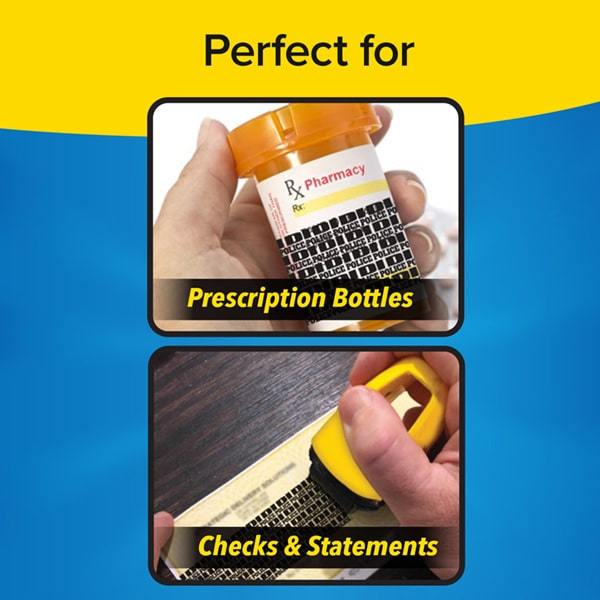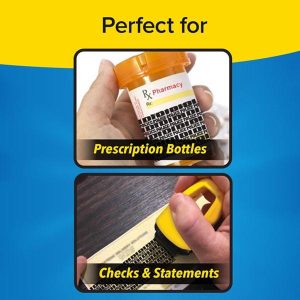 Although people who handle a high volume of personal documents could most benefit from using a protection roller, quite frankly, we think everyone should be using this product. Identity theft can be devastating in so many ways – it can cause a ruined credit score, thousands of dollars of false medical debt, and thousands more in legal fees trying to get out of the mess. That's not even mentioning the psychological toll of having your sense of security and stability totally shaken by the actions of a complete stranger. 
The unpleasant truth is that all of us are at risk of identity theft – it happens to thousands of Americans every day. For that reason, all of us should be using an ID Police Identity Protection Roller or something similar. Taking a few extra steps to protect your important personal information might be the difference between your security and having your life totally upended.
How Many Protection Rollers Do I Need?
We recommend buying a protection roller for every location you handle personal information. For instance, you might keep one at your home office and regular office, and perhaps one in your car as well. The true purpose of these protection rollers is to protect your peace of mind, so you should buy as many as you need to achieve that.
There's another good reason to buy more than one protection roller at a time – BulbHead offers value packs at a discounted rate. One protection roller is $14.99, but with the value pack of three, they're only $12.99 each, saving you almost $10 in total. For the super value pack of six, each protection roller is only $9.99, and for the ultra value pack, you get twelve rollers for $8.99 each, saving you a whopping $78. 
In other words, think about how many protection rollers you'll want in total – and how many you may want to give away as gifts – and strongly consider buying one of the three value packs for deep discounts. 
ID Police Identity Protection Roller FAQs
If you still aren't convinced the ID Police Identity Protection Roller is right for you, let us answer some more of your questions. The roller is slightly less than four inches tall and two inches in width, making it an ideal handheld size. The stamp itself is 1.125" in width – we usually roll it multiple times to cover up relevant information. 
As we mentioned earlier, this protection roller is self-inking – no need to mess around with an ink pad or conduct any maintenance. As of right now, it just comes in black ink. This ink works on most glossy surfaces, and nearly any personal document or item you may want to cover up. It's safe for all ages to use. You can give one to your child, niece, or nephew as a gift to get them used to protecting their information! In fact, the ID Police Identity Protection Roller makes a great gift for anyone because it provides the peace of mind you don't even think about until it's been compromised. 
Your Peace of Mind Is Priceless
The best products serve more than one purpose. Your favorite winter jacket doesn't just keep you warm, it also displays your amazing sense of style. Your car doesn't just take you from place to place, it also provides an intangible sense of freedom you didn't even realize you were missing until you had it.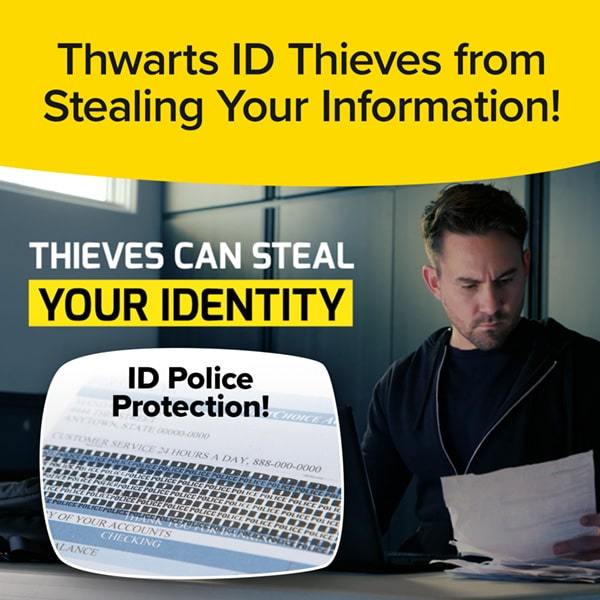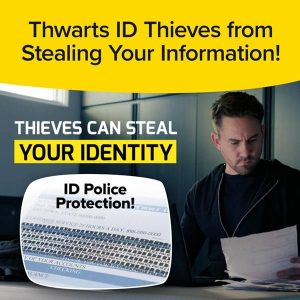 And the ID Police Identity Protection Roller doesn't just cover up your personal information, it provides the peace of mind of knowing that you're prioritizing your safety and taking steps to protect your identity. Keeping a protection roller on hand anywhere you handle personal documents will make protecting your personal security second nature.
You won't even have to think about it before covering up your personal information on gas station receipts and personal mail, expired credit cards and prescription pill bottles, or anything else that may contain compromising information. When working to protect your personal identity, you should always cover anything that includes your: 
Once you get used to having a roller on hand, taking the extra steps to hide this sort of information from prying eyes will become muscle memory.
Don't Wait – Act Today!
Having an ID Police Identity Protection Roller in our back pocket (sometimes literally) has been a total game changer for our overall peace of mind and security. So what are you waiting for? Identity thieves certainly aren't waiting for tomorrow to act, and neither should you.