Emeril's French Door AirFryer 360: A Chef's Perspective – Our Review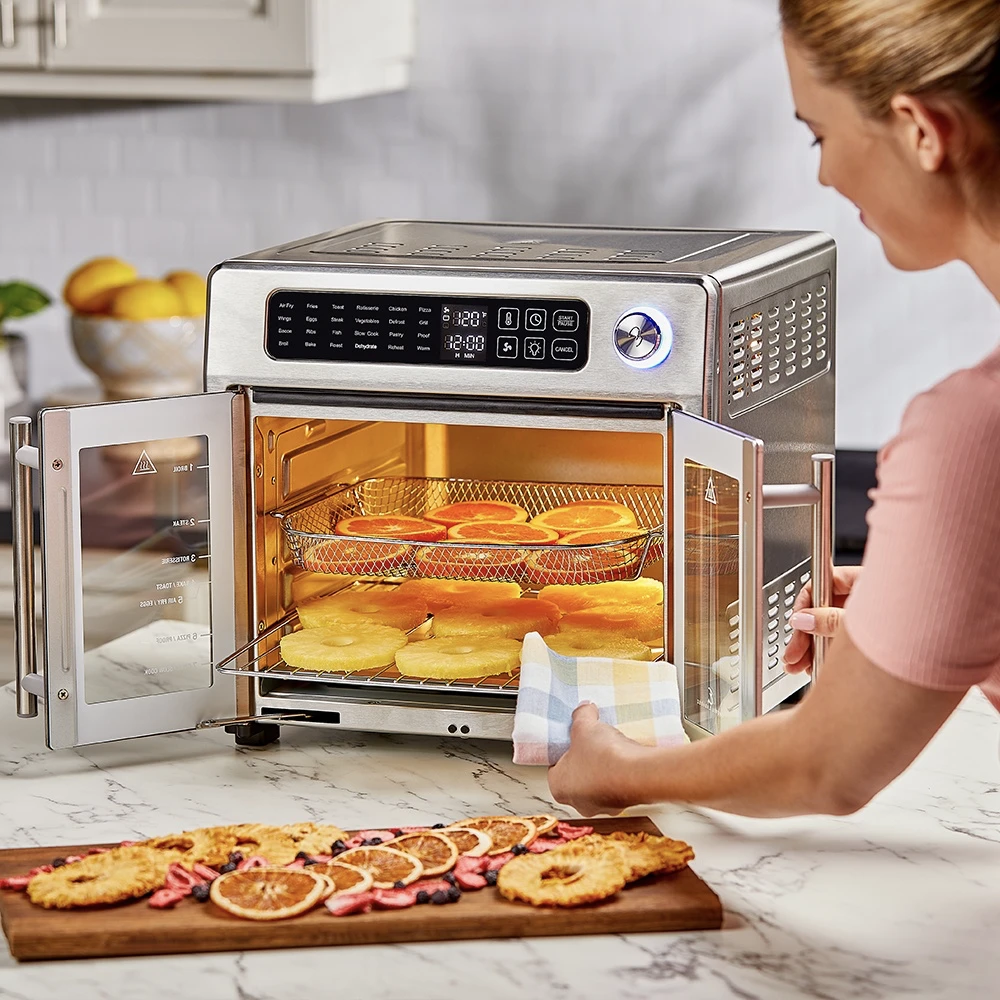 If you spend any amount of time in the kitchen, you have probably heard the hype about air fryers. According to the air fryer devotees of the internet, air fryers reign supreme over the oven, toaster, microwave, and even the stove. Personally, I wasn't convinced — until I experienced firsthand the wonders of Emeril's French Door AirFryer 360.
I know this is going to sound like an exaggeration, but as soon as I set up this thing in my kitchen, my culinary world was TRANSFORMED. Why, exactly?? I'm glad you asked. Let me tell you all about it.
Overall Impressions
If you hear the name "Emeril Lagasse" and think, "Who???" then we're in the same boat. Before buying his air fryer, I had no idea who Emeril Lagasse was. Now, of course, I know that he's one of the best living American chefs (which explains why his product is so good).
I have to admit, using an air fryer that was designed by a top-notch chef makes me feel a bit more proud of my cooking skills and strategies in the kitchen. You can tell that it was designed with high-quality cooking in mind rather than trendiness. And Mr. Lagasse clearly knows what he's doing, because everything I've made with this fryer is SO GOOD. I'll explain.
First of all, despite the name, it doesn't JUST fry food. It can bake, slow-cook, roast, reheat, defrost, keep food warm, and toast. I've made everything from mini-pies to toast to baked salmon in mine.
And everything that it does, it does super well — it makes the BEST toast, the BEST baked salmon, and the BEST pies I've ever made. Even if I don't change the recipe at all, cooking in the air fryer just takes everything up a level in terms of quality. It's insane. I've gotten so many compliments from my friends, and the truth is I've barely changed anything about my cooking — I just cook with my AirFryer 360!
It also has specific settings for specific kinds of foods — there's a setting for chicken, a setting for ribs, another one for pastries, and a fourth for pizza. That cuts down on your work even more because the air fryer will adjust the heat and circulation to match the best cooking settings for these specific types of food. Don't get me wrong — I take pride in my cooking, but the simplicity and ease of using this air fryer is a godsend.
Let me tell you a story. Recently, I was throwing a dinner party for my new neighbors and a few other people in the neighborhood. I needed to feed seven people in total. I was able to cook everything — I mean EVERYTHING — in the air fryer.
First were the buffalo wings as appetizers. I fried those up right away in my AirFryer 360. Next, I roasted vegetable kabobs and then baked four 12-inch pizzas for the main course. The air fryer preheated quickly, didn't fill the kitchen up with heat, and cooked everything as if I had a professional chef in my kitchen doing the work for me.
I can't tell you how many compliments I got. The quality of the food prepared by Emeril's French Door Air Fryer is just stupendous.
What Equipment Does the AirFryer 360 Come With? 
You might be wondering how I'm able to cook all of these different food types with one air fryer. Emeril's air fryer comes with a ton of equipment so you can maximize its potential.
For instance, I made the kabobs using the rotisserie spit set with the included drip tray underneath. Meanwhile, I roasted the wings in the crisper basket. I haven't even tried all of the bonus items it comes with yet, but trust me — I'll be testing them all out as soon as possible.
The full list includes:
A baking pan
A crisper basket
A rotisserie spit set
A grill plate
A wire rack
A drip tray
A fetch tool
A grill plate handle
Emeril's recipe book (It's amazing — trust me on this)
As I mentioned earlier, I take pride in my cooking, and oftentimes, I prefer taking the long route to cook the perfect meal. But what I appreciate about all of this equipment is SIMPLICITY.
All of these tools come with the air fryer and work together perfectly to get the job done. I don't need to worry about the drip tray not fitting properly in the fryer or having to get a separate product with a rotisserie function. It's like having 10 tools in one, and the ease of that has actually made me a much BETTER chef.
360-Degree Air Circulation: A Must-Have
I think one of the reasons this product is just so good is the air circulation. It's called the AirFryer 360 because the design allows it to circulate superheated air 360 degrees around the food, ensuring that one side isn't over or under-cooked.
This design makes it so much easier to cook meats and reheat and defrost food evenly, which not only saves me time but also makes the food genuinely turn out better. God forbid my AirFryer 360 break — I will never go back to using a non-360-degree circulated air fryer again. It makes SUCH a difference.
Five-Star Design
Another thing I love about this product is the design. It's called the "French Door" Air Fryer 360 because the front features two see-through French doors set into a stainless steel design. You can actually see your food as it's roasting, baking, toasting, or rotisserie-ing (is that a word? It should be), which makes it that much easier to ensure it's all done to perfection.
It also just LOOKS good. Unlike other air fryers, which tend to be blocky and an eyesore in the kitchen, this one looks professional and elegant. The stainless steel frame is sleek, and the French door design just screams, "I know what I'm doing." It blends in seamlessly with the other products in my kitchen and allows me to cook with style.
Healthy Cooking Made Easy
One of the things I generally like about air fryers is that they allow you to cut down on the amount of fat that you cook with. Traditional frying requires a lot of oil, which, as we all know, contains a lot of fat.
With air frying — well, I suppose it's in the name. You fry your food in the air rather than oil. Now that I'm using an air fryer for cooking rather than frying food items in oil, I feel much healthier and more satisfied with what I'm eating.
Aside from aesthetic value, the details of Emeril's French Door AirFryer 360 are all thoughtfully designed. The display is LED, super easy to figure out, and visible in the dark. (Late-night snacks are my weakness, alright?)
The Bottom Line
Okay — I think I've gone on for long enough. I'm usually not one to ramble on and on in my product reviews, but Emeril's French Door AirFryer 360 is the real deal. It made cooking healthy meals so much easier and enjoyable (not to mention much easier to clean up after), and was WELL worth the price. I can't imagine cooking without it.
If you do one thing today, order an Emeril's air fryer. I promise you won't regret it.