Crepe Erase Ultra: Real Results or Hype? Our Unbiased Review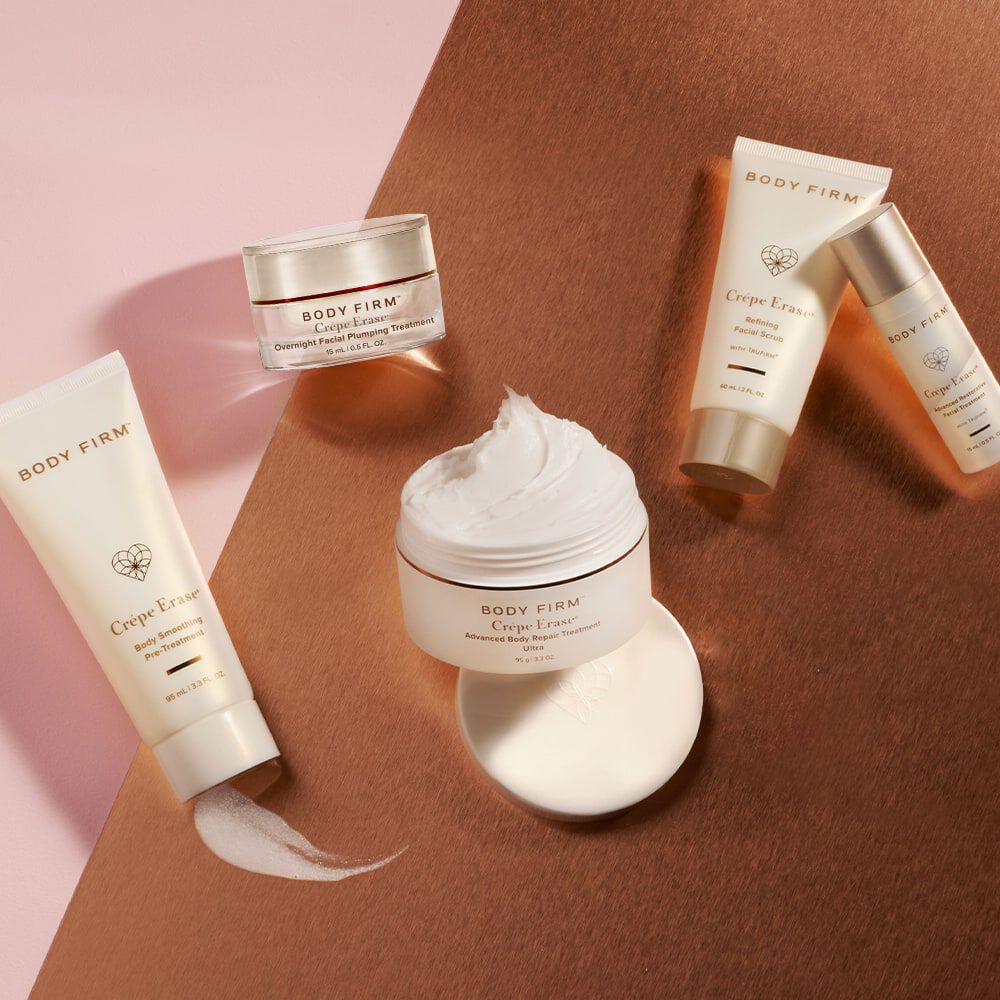 It seems like every year I get older a new facet of aging shows itself on my skin. First, it was wrinkles. I doubled down on retinol and SPF to slow them down as much as possible. Next, it was varicose veins, which run in my family. (Those I actually had laser therapy for because they can occasionally cause medical issues.) And now it's crepey skin.
If you haven't experienced the joys of crepey skin yet, let me tell you, it's no picnic. From what I understand, sun damage + aging = thin, papery, crepey skin. Basically, over time the sun breaks down the elastin in your skin, which normally allows skin to stretch out and return to its normal size and placement over your muscles. As elastin breaks down, your skin begins to thin out and hang looser on your body. It's like when you stretch out an elastic waistband past the point of no return.
I've been looking for a solution to my crepey skin problem for a while, and I think I finally found one in Crepe Erase Ultra. At first I was skeptical, because this seems like the kind of problem that can only be covered up, not actually fixed. But I've been convinced. Let me explain why.
What Is Crepe Erase Ultra?
Crepe Erase Ultra is a thick cream that feels much like moisturizer or a night serum. It targets the causes of crepey skin by supporting elastin and collagen production, which allow your skin to bounce back from normal wear and tear like stretching, movement, and sun damage.
It also felt super moisturizing and hydrating, which I realized is due to the hydrating ingredients. I'm the type of person who slathers her whole body in lotion the second after stepping out of the shower because I just HATE the feeling of dry skin. I use an overnight moisturizing serum on my face once a week. So I LOVED how this product doubled as an effective solution to my crepe-skin problem and a moisturizer. Even if it hadn't worked so well on eliminating the crepiness, I probably would've kept it just for how hydrating it was.
But, I didn't have to face that conundrum, because this product did its job (and did it WELL). After just a few weeks of using Crepe Erase Ultra I noticed that my hands and neck looked so much smoother and firmer than before. I felt so much more confident and happy in my skin that I rushed to write this review. To be honest, I kind of expected this product to do nothing, and I've been so pleasantly surprised by how well it works.
What's in Crepe Erase Ultra?
There are three main ingredients that do a lot of the heavy lifting of Crepe Erase Ultra. First is dill. I didn't realize this, but dill (REAL dill, not imitation dill diluted by other ingredients) actually promotes elastin production in your skin. This makes your skin smoother and firmer.
The second important ingredient is apple extract, which supports the structure of your skin cells to prevent sagging and thinness. (It also makes the Crepe Erase serum smell really, really good.) Finally, sage — specifically Moroccan sage, which contains phyto-active ursolic acid (according to the label) that targets UV damage and other effects of skin aging.
I'm sharing all of this information not because I knew about it before I bought this product, but because this product worked so well that I needed to know what was in it. And now that I know, I feel the need to tell the whole world. I thought I was going to be stuck with my wrinkles and crepey skin for the rest of time. It's not true! There's a solution, and it's this product!!
If you think these promises are too good to be true, I get it — I felt the same way at first. But an actual clinical study proved that after eight weeks of use 97% of women showed improved elasticity in the skin on their decolletage, knees, and arms. There's an unretouched photo of it on the product website. I might be biased now that I've used Crepe Erase Ultra and seen how well it works, but those clinical trial results are not. There's no arguing with science.
Is There a Return Policy?
If you're still feeling unsure about how well Crepe Erase Ultra will work for you, maybe you'll be reassured by the awesome return policy. You can try out Crepe Erase Ultra for 60 days, and, if it's not working out for you, return it for your money back — even if the bottle is completely empty.
Although I (obviously) didn't end up returning mine, I have to admit I was initially super impressed by this policy. I don't think I've ever seen one so generous before, and to me, it just speaks to how much confidence they have in their product. Based on my experience, this confidence is well-deserved.
How Do You Use Crepe Erase Ultra?
You might be wondering how you're supposed to use this product to maximize the results. Based on the instructions, you should apply it to clean and dry skin "where crepiness is present." Massage it into your skin using circular motions, and use it up to twice a day, preferably after their Body Smoothing Pre-Treatment for best results.
I'm going to be honest, I don't use it after Body Smoothing Pre-Treatment, which I actually don't own. However, even without this first step, it still worked super well for me. I use it every time I get out of the shower, right after drying off. If I shower in the morning and my skin is feeling dry in the evening, sometimes I'll mix a little bit in with my body lotion and apply it again — it just depends how I'm feeling that day.
I definitely noticed an immediate effect within the first few days of using the product — my skin just looked more moisturized and firm. It took several weeks, though, for the majority of the crepiness to fade away, which makes sense to me. It takes time to rebuild the structural integrity and elasticity in your skin, and I would be SHOCKED if it only took a few days for the majority of the beneficial effects to kick in.
Who Can Use Crepe Erase Ultra?
So, who is this product for? I would recommend it to anyone with thin, loose, and crepey skin, even if you aren't particularly self-conscious about it like I was. It's just so simple and easy to use, and firms up your skin without the expense and drama of a procedure like Botox.
Plus, the process of smoothing it into your skin is so soothing, and it smells so good, that it's inspired a little self-care ritual for me. I get out of the shower, put my hair up in a towel, moisturize my face, and then do my Crepe Erase routine. It's so relaxing and makes me feel like I'm taking care of myself in more ways than one. I would absolutely recommend this product to others for that aspect alone.
The Bottom Line
Overall, this is an absolute holy grail for anyone seeking to minimize their crepey skin. I can't overemphasize how much this did not just for my appearance but for my confidence in exposing my skin in public again. It smells great, feels great, and really works. Just be warned — coming from someone who thought they would end up ultimately returning this product, once you use it, you'll never want to go back.