Grotrax: Simplifying Lawn Planting – Our Review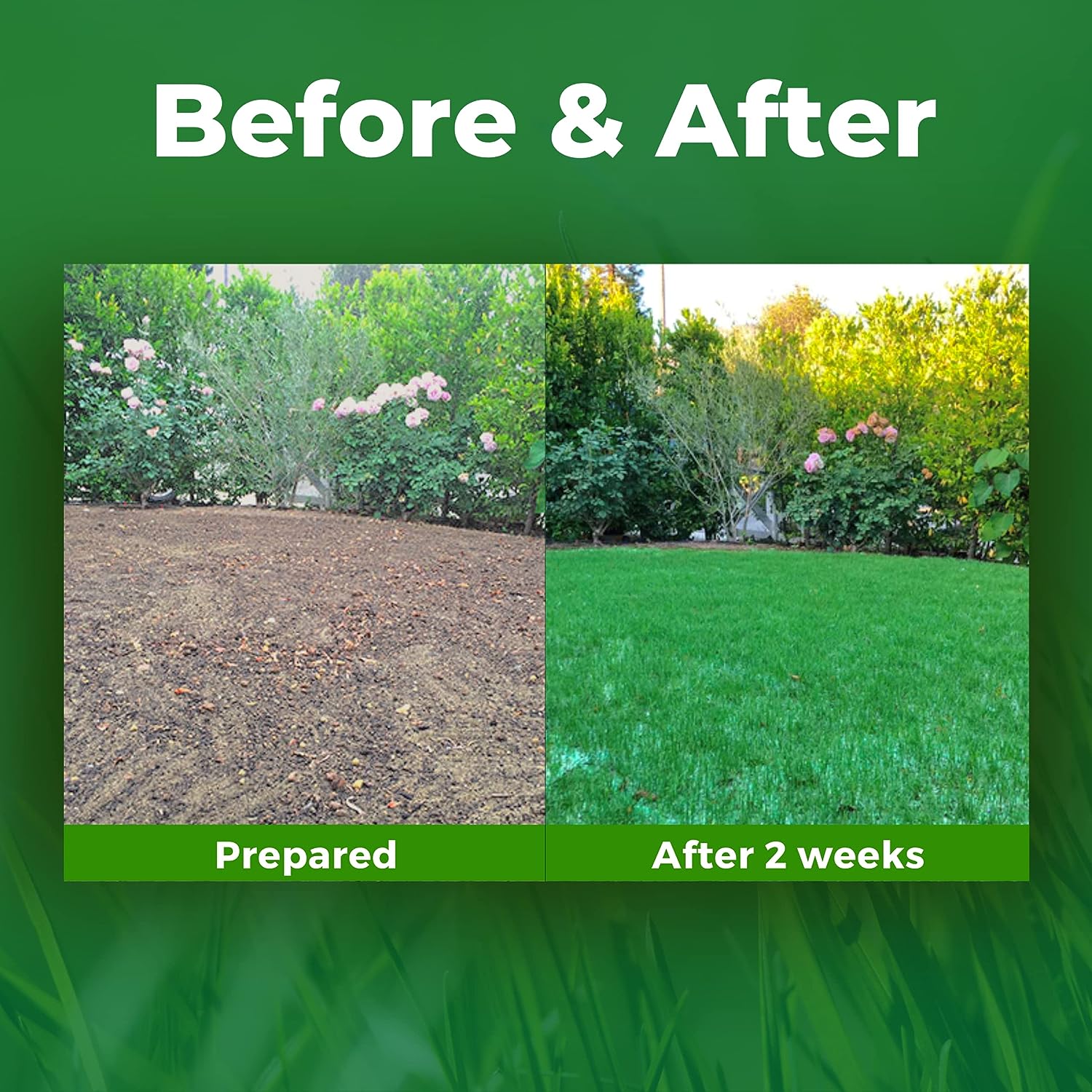 My wife and I recently bought our first home. It was a huge accomplishment for us, and the house we found is perfect — it has the right balance of kitschy charm and modern amenities. Plus, it has a huge yard, which was a major selling point for us since we plan on having kids. My wife has already shed multiple happy tears, envisioning our future kids playing in that yard.
Unfortunately, the backyard vision was a bit spotty at first, thanks to the huge bald patches in the yard. It was the one major bummer in what was otherwise our dream home. We moved in at the end of February, and all spring, I tried every seeding option I could think of — different seed mixes, fertilizers, and spot treatments. Nothing worked. The yard was supposed to be my domain, and I started to feel like I was failing my wife.
That is, until one night when I was flipping channels on the couch. (Streaming platforms have gotten so expensive these days that my wife and I decided to go back to cable.) I stumbled upon a commercial for Growtrax Grass Seed Rolls, and as soon as I understood what the product was and how it works, I got on the phone and ordered enough rolls to cover the bald spots in our lawn. Boy, am I glad that I did. My wife is also glad I did because our lawn has never looked better.
What Is Growtrax and How Does It Work?
I've never seen a lawn care product like Growtrax before, and I would highly recommend it to anyone hoping to either spot-check their lawn or grow a new lawn from scratch. It comes in rolls of paper-like seed and fertilizer fabric that almost feels like paper mache or a super thin layer of wool.
If you're starting your lawn from scratch, you can roll Growtrax out to cover the whole area. It's like rolling out the green carpet, so to speak. If you're focusing on bald spots, like I was, you can tear or cut the fabric to the size and shape of your bald spots. Then, you pat the Growtrax down so it secures itself to the soil, and you finish off the whole installment process by watering.
What's so unique about Growtrax is that the seed-fertilizer fabric adheres itself to the ground. All it takes is one good water, and it's basically glued onto the ground exactly where you laid it out. I was so curious about how and why this happens that I did some research. Apparently, Growtrax was originally designed to help with erosion control. On hillsides and slopes that are eroding into, say, a stream or a highway, ecologists could lay down Growtrax to prevent that soil from washing away during rainstorms. The natural adherence of the Growtrax helps keep the soil together, but the real power comes from the grass roots that anchor into the ground 7-10 days after planting.
Here's How I Used Growtrax
Everything this product promises is legit, and I can back that up with my own experience using Growtrax in my backyard. I ordered two rolls of their "Patch and Repair" product — each roll is 50 square feet, so I figured 100 square feet would be more than enough to cover the bald patches in our yard.
I followed the instructions to a T. I cleared all debris (leaves and sticks) from the surface of the bald patches and used a rake to loosen up the top two inches of soil. The key is to make sure the Growtrax is touching the soil rather than mulch, existing grass, or any loose debris.
Once the Growtrax was installed, I soaked it with the hose and continued watering it two to three times per day until the first little seedlings popped up. According to the packaging, the key to successful planting is to err on the side of overwatering at first, so I didn't skimp on showering the little seedlings. Once they looked a bit stronger and blended in with the rest of the lawn, I returned to my normal watering schedule.
Early on, I made the mistake of mowing one of the new patches right after it had rained when the grass was still wet. I immediately noticed that the new patch was all torn up, like the roots weren't strong enough to hold in the fresh grass.
Luckily, since I saw this right away, I didn't tear up all the new grass patches. I had to do an even smaller spot check on the torn-up section, but it recovered nicely. I learned my lesson, and hopefully, you can learn from me rather than experiencing it yourself. Don't mow the new seedlings when they're still wet!
Why Do You Need Growtrax?
What I love about this lawn care solution in comparison to other products I've looked at is that it's everything you need to grow your lawn rolled up (literally) into one fabric. It contains the seed mix, fertilizer, and protective layer to keep squirrels and birds out of the seed all in one.
Compared to other solutions I tried this past spring, Growtrax was by far the lowest effort since all I had to do was install it and water it. Although I wasted a lot of money trying other products, if I had discovered Growtrax first, it would have been extremely cost-effective since you don't need to buy fertilizer or any other products to go along with it.
One thing I will say that was a bit of a nuisance early on was that a few of my Growtrax patches got swept away in a storm. I don't think there would've been any way to prevent this, aside from staking the Growtrax into the ground, and it was just unfortunate timing — a big storm hit about three days after I planted the Growtrax. I think the high winds were just too much for a few of the patches. I replaced the missing patches the next day, and everything worked out fine, but if you live in an area with frequent storms or high winds, I'd recommend staking down the Growtrax to prevent it from blowing away until the roots have taken hold.
Growtrax offers a few different seed varieties, so I'd recommend researching which type of seed is best for your needs and local climate. I chose the Year Round Green mix, and it's been exactly what my wife and I wanted — that classic, all-American green lawn. But definitely check out their website to see what other varieties they offer.
Get Yourself Some Growtrax
Overall, I could not recommend this product more. My wife and I are so happy with how our lawn looks — the thick green grass was the final touch on a home where we can picture starting and raising a family. We've also gotten a ton of compliments on the grass, so I know we're not just biased! If you need to spot-check your lawn or start from scratch, I would definitely recommend checking out Growtrax. It was exactly what we needed for our yard, and I'm sure it will check all your boxes, too.