Emeril's Forever Pans: A Chef's Review for Long-Lasting Cookware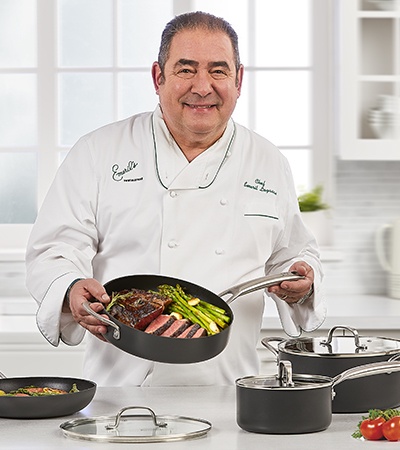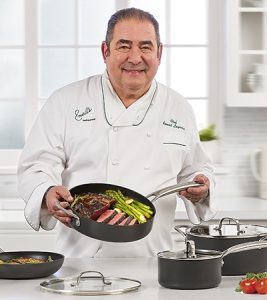 I've spent a LOT of time in the kitchen. I learned to enjoy cooking from a young age, and since then, I've been cooking for friends and family members as much as possible. I even briefly worked in a few kitchens (although that is not my current career). Suffice it to say that I know my way around a good set of pans.
Well, it's been a long time since any pans have impressed me as much as Emeril's Forever Pans. Emeril Lagasse is a world-renowned American chef, probably most famous for his TV shows and cookbooks.
I've greatly admired him for a long time, so I was eager to try out his pan collection. I was hoping they wouldn't disappoint me, and they didn't. These pans are top-notch.
What Makes a Good Pan?
Before I really began cooking, I assumed that all pots and pans were fairly similar in quality. Sure, some were nonstick and others cast-iron, but other than that, what was the difference?
In truth, there is a TON of variation of quality in pots and pans, and the difference can mean an okay dish, a phenomenal dish, or a terrible one. It all depends on how well the metal carries heat, how evenly it distributes it, and how long the pans can last. These traits can make or break a dish.
Also, different types of pans are better at certain types of things. For instance, cast iron is better at caramelizing, while stainless steel is better at searing. That's why it's important to have a nice variety of pan types and to keep them in decent quality.
What Are Emeril's Forever Pans Made Of?
With that in mind, let me share my thoughts about Emeril's Forever Pans. Using his experience as a professional chef, Emeril has basically combined the best traits from these different styles of pan into one design.
At the center of each pot and pan is a stainless steel induction plate, which evenly distributes heat so that one side of the pan isn't significantly hotter than the other. The next layer is double anodized aluminum, which makes the cookware much more durable and allows it to withstand high temperatures and heavy use daily.
According to a third-party lab, this double anodized coating will allow the pans to withstand approximately 80,000 abrasions, which is more than enough strength for a home kitchen (and is pretty darn impressive). Finally, the third layer is triple layer nonstick, which we all know and love because — hello! — it makes cleanup time so much easier.
How Many Emeril's Forever Pans Come in a Set?
The essential design of these pots and pans is wildly impressive. Here's everything the full set comes with:
An 11-inch high-side fry pan
A versatile 10-inch fry pan
A 5.5-quart stock pot
A 1.5- quart saucepan
An 11-inch tempered glass lid
A 10-inch tempered glass lid
A saucepan tempered glass lid
A stainless mesh crisper basket
Emeril's professional chef knife
A grill plate insert
Emeril's Favorite Recipe Cookbook
In other words, the full set includes two frying pans, a stock pot, and a saucepan plus their matching lids, a crisper basket, a grill plate insert, a cookbook, and a chef's knife.
Bonus Items
If you're unfamiliar with a chef's knife, all you need to know is that it's basically the most important tool in the kitchen at all times. A good-quality chef's knife will allow you to chop vegetables, cleave meat, and slice cold cuts as cleanly and safely as possible. Even though this is technically a set of pans, to me, the included chef's knife is a HUGE bonus.
As for the other bonus items, the grill plate insert allows you to grill burgers and steak on the 11-inch high-side fry pan, which is super nice. It leaves characteristic char marks and also makes cleanup easier since you can simply remove and wash the grill plate. A high-side fry pan also makes this easier because it's less likely to let oil splatter over your stovetop.
Plus — this was a HUGE perk for me — when you order the full set, it also comes with a free indoor smokeless grill. So you COULD use the grill insert, but you could also actually grill your burgers and steak, even if you don't have an actual grill. Or even if it's raining or freezing outside. I'd normally drop close to $100 on a similar product, so that was a major selling point.
All of these items can withstand oven temperatures up to 500 degrees. They're also all dishwasher safe. I'm so used to hand-washing pans, especially cast iron pans, and being able to throw these in a dishwasher is a game-changer. It makes cleanup so much quicker and easier.
The handles have clearly been ergonomically designed and stay much cooler than I'm used to, so they're pretty easy to handle even when the pan is nearly overflowing with food.
Quality
Okay, so that's everything included in the set — how's the quality? So far, and I've only been using my set for about three weeks, they have more than lived up to my expectations. All my food has turned out evenly cooked exactly how I want it.
Cleanup is easy; the nonstick coating is nonstick, and the heat distribution is perfectly symmetric, as far as I can tell. The chef's knife is awesome, and so is the indoor grill. Everything is fairly lightweight and easy to use. The only item I haven't gotten around to using yet is the crisper basket, so I'll withhold judgment on that one for now.
Here's the kicker: Even though I've only been using these products for three weeks, I'm not at all worried. Why? Because they come with a LIFETIME warranty. (That's why it's called the Forever Set.)
If one of them chips, wears away, or somehow ceases to function correctly, I can just use my warranty and get a new one. To me, that speaks of major confidence in the product. Clearly, Emeril is confident in what he's made, and I'm confident that I'll always have a working set of pans. It's a win-win.
Also, even if the pots and pans are fine, but you just decide you don't want them anymore, you STILL have options — there's a 60-day money-back guarantee. In other words, you have two months to try out the pots and pans and make sure you like them before you're stuck with them forever. That, too, shows just how much confidence the manufacturers have in what they've created.
Emeril's Forever Pans Are Totally Worth It
I'm no professional chef, but I do know my way around a kitchen. If I were to design a set of high-quality pots and pans, I would want them to be exactly like Emeril's set: nonstick, super durable, dishwasher safe, paired with matching lids, lightweight, and ergonomic. I really can't recommend them enough to anyone curious about beefing up their kitchen supplies.
Plus, the included cookbook is a nice touch. Emeril is obviously a very talented chef, and some of his recipes have become my favorite meals to cook. Using the pots and pans that he designed to cook his recipes has gone a long way toward improving my confidence and skills in the kitchen.
Obviously, not everyone needs an 11-piece pan set. It might be a bit too overwhelming if you're just starting out with cooking. But if you have even the slightest interest in cooking or want to expand your toolkit just a little bit, I cannot recommend Emeril's Forever Pans enough.