Clear TV: Clarity At Its Best – Our Review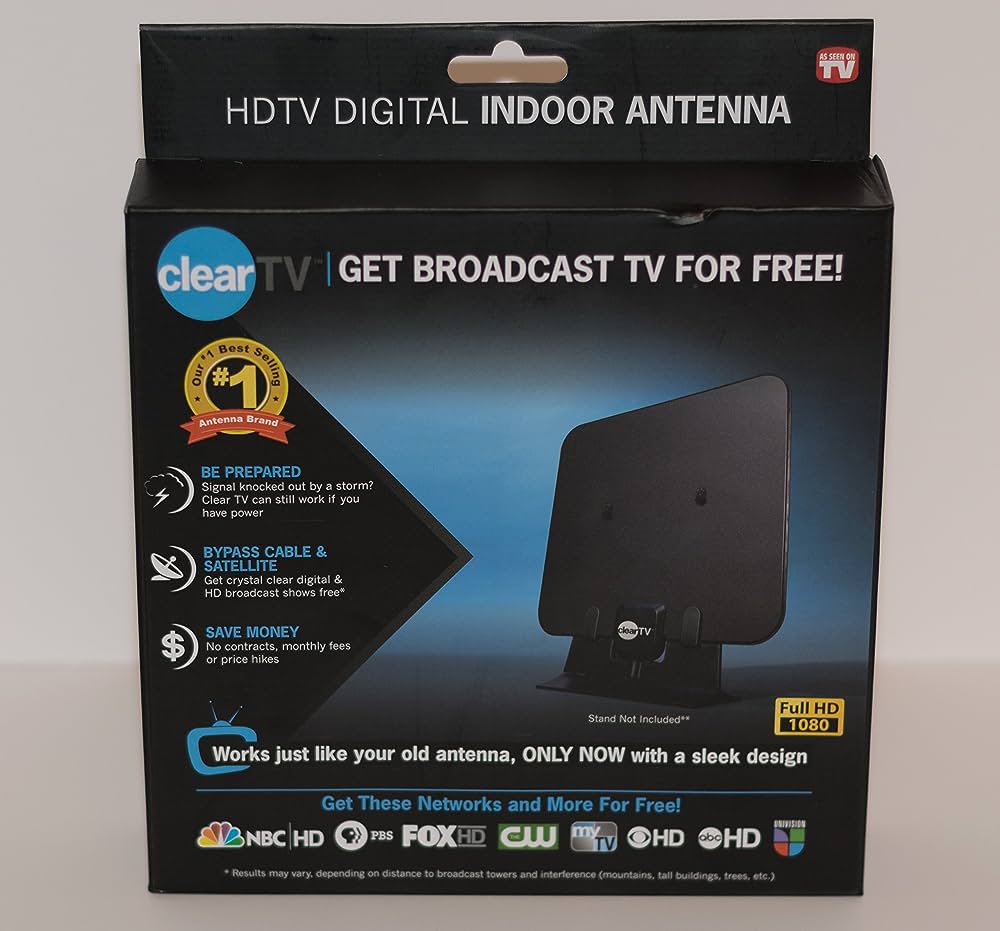 I thought I'd accepted that the days of TV antennas are over: Streaming platforms own the world now, and Apple TVs, Rokus, Firesticks, and Smart TVs were the way of the future.
Until Clear TV.
I have five boys in the house (including my husband — and he can truly be such a BOY sometimes), and one of our favorite family-bonding activities is watching sports together. Sadly, with the advent of streaming, it felt like those days were ending. We either had to pay for what felt like eight different streaming platforms or choose just one sport to watch consistently.
Thankfully, I found out about Clear TV from one of my coworkers, and everything changed.
What Is Clear TV?
Don't know what Clear TV is? Let me explain. It basically looks like a little flash drive with two bunny ears on top. Those bunny ears are the antennae that allow it to pick up broadcast TV channels within a 35-mile radius.
Clear TV works just like any TV antenna, except it's compact, extremely inexpensive, and could not be easier to set up. Unlike streaming platforms, there's no monthly or annual fee, no semi-annual price hike, and no contracts. You just buy your Clear TV antenna, set it up, and have the TV you need forever.
Maybe this is what it was like back in the golden age of television, and streaming has rotted my brain, so I can't remember. TV just feels so easy again, thanks to Clear TV.
Clear TV receives HD, digital, and analog channels, including network shows, news, weather, and SPORTS! That's right, sports are back in our household. Since we've gotten Clear TV, the signal has been crystal clear, even once during a terrible storm.
How Do You Get Clear TV?
Buying and setting up Clear TV could not have been easier. I bought it from the website, and it was on my doorstep in a matter of days. To set it up, all you have to do is extend the ears and set it on a flat surface or wall-mount it. I put ours on the cabinet right behind the TV, so you can't really see it.
Even if you could, though, I don't think I would mind. The sleek design is so different from the TV antennae of the olden days that it blends right in with our flatscreen TV. To mount it, I'd recommend using command strips or a similar non-permanent adhesive so that you can move it around to different spots if needed.
Why Do I Need Clear TV?
Let me give you an example of exactly why this product has had such a huge impact on my house.
For the past year or so, we'd finish up family dinner, and then all drift in separate directions, occupied by our own entertainment. My husband would pick up a book, I might go water my plants in the backyard, my two youngest would play computer games, and my two oldest would go out with friends.
There's nothing exactly wrong with that picture, right? Now, we still do all those things, but a few times a week, we also gather around the TV after dinner to watch a big sporting event.
It is so much fun to cheer on our favorite teams and athletes together, and I love that dinner isn't the only time we're all together as a family. We can also bond over watching sports together. If my coworker hadn't introduced me to Clear TV, I don't know what would have filled that gap of family bonding.
Save Money
Aside from that, I'm also saving money. Streaming platforms started out cheap, but they get more and more expensive every year. Subscribing to just one streaming platform has become cost-prohibitive, let alone the multiple needed to feed our family sports addiction.
Clear TV is also way cheaper than regular dish or cable TV, at least where I live. It's such a relief not to have a monthly cable bill. One purchase of this helpful gadget, and we're good to go.
Try Before You Commit
We ultimately ended up purchasing two Clear TVs: one for our family room TV and one for the basement.
We initially started off with just one to test it out and see how it performed for us. We could try before we made the commitment because we knew we could return it for a full refund within the first 15 days. (I love a good return policy.)
Luckily, it worked out so well that we ended up ordering the second one, which has been functioning totally fine in the basement, even though it's underground.
Get a Ton of Channels
In fact, I've been all around super impressed with how many channels these tiny little flashdrive-sized sticks receive. I live near a mid-sized city; not exactly the country, but also a bit more rural than what I'd describe as suburbs. We get 52 channels, including all four major news networks. They come in crystal-clear, with no delays or service interruptions whatsoever (so far).
Just a few weeks ago, we all got up super early to watch the World Cup finals, and the signal could not have been better, even though it was storming out. I would've absolutely been kicking myself if I'd missed Olga Carmona's goal to win it all. Thanks to Clear TV, I saw the whole thing right next to my sons and husband.
Retract the Antennae
Although we're able to keep our two Clear TV antennas hidden behind the TVs, one really nifty feature is that you can retract the antennas.
Let's say you mounted yours to the wall because that's the best place to get reception. Now you have a birthday party or dinner party coming up, and you don't want the long bunny ears to be an eyesore in your living room.
All you have to do is push the antennas in, and they'll retract down so small that you barely notice them at all. Eyesore gone. (Although, calling it an eyesore is kind of a stretch in the first place, to be honest. The whole design is amazingly sleek, in my opinion. Still, to each their own!)
Clear TV for the Win!
I never thought I'd be the kind of person to write such a lengthy and gushing Clear TV review — or any type of TV antenna review, for that matter. But the way this tiny, inexpensive little product has revolutionized our time together as a family is almost unbelievable.
No price hikes, no monthly bills, no interruptions to TV service — just easy, crystal-clear TV whenever we want it (even at 3 a.m., when the Australian Open airs in our time zone). I thought that streaming was going to rule the world forever. Thankfully, Broadcast TV is back, baby.
I never would've known about Clear TV if my coworker hadn't told me, so now I'm spreading the good news. If you aren't sure about it, just give it a try — you can always return it within that 15-day window. Personally, I bet you'll be obsessed as soon as you set it up and start receiving so many TV channels for a fraction of the previous cost.
I'll stop rambling and leave it at this: Each of my two Clear TV antennas is basically the best $14 I've ever spent. How can you beat that?