Bell + Howell Bionic Spotlight Extreme 360: A Bright Review for Your Home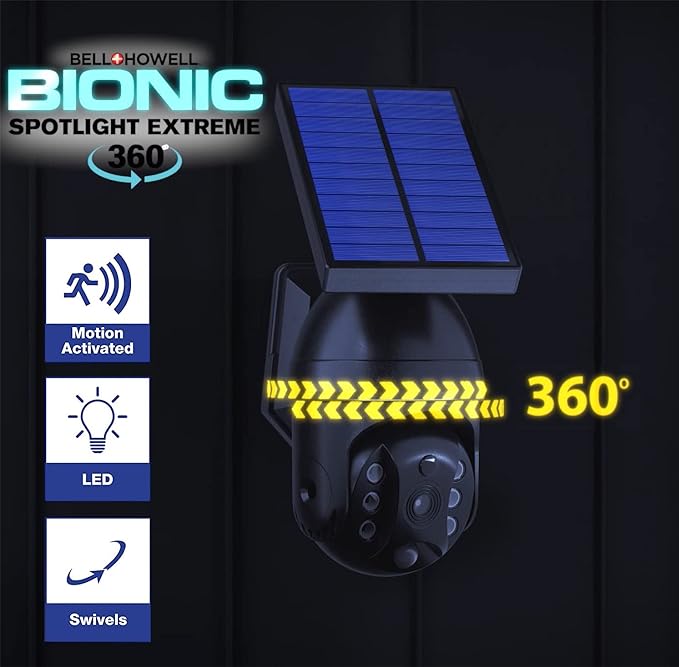 Bell + Howell's Bionic Spotlight Extreme has been a lifesaver for this first-time homeowner. I love this product so much and would recommend it to anyone and everyone. Let me explain why.
I'm lucky to live in a fairly safe community. I've never worried too much about crime of any sort, but within the past six months or so, there have been a handful of carjackings in my town. So, I started looking at security systems for my home. Unfortunately, the majority of what I've seen online and what has been recommended by friends is either wildly expensive or incurs monthly or annual fees that I just can't keep up with.
That is until my sister-in-law told me about the Bionic Spotlight Extreme. She and my brother were also looking into security systems, and someone had recommended they check out this product for a less expensive option. So I started looking into it, too.
At first, I was a little wary — to be clear, this product is a spotlight, not a security system. But as I started reading more about what it does, I became more and more convinced that I should at least give it a try. Plus, Bell + Howell offers a great return policy — I could try it out for a couple of weeks, and should I change my mind or decide it wasn't for me, I could return the spotlight for my money back. So, I bit the bullet and ordered one.
Reader, this spotlight has checked EVERY box of what I was looking for.
How Does the Bionic Spotlight Extreme 360 Keep Your Home Safe?
This is a motion-activated spotlight that mounts onto the siding on your house or fence, casting a super-bright LED light onto the area anytime someone walks into the 25-foot radius.
First of all, I noticed right away that the motion detection system is super sensitive — the second a person walks within that radius, the light is on. (It turns on for my dog, too.) I've tested it out from multiple angles and, as far as I can tell, there are no blind spots. It just works and works well.
What's so amazing about this spotlight is that it's designed to look like a security camera. The chassis of the spotlight is sort of rounded, and a red light blinks on every time the spotlight is activated, which makes it look exactly like a security camera switching on.
The real proof of how effective and convincing this product is came a week after I installed it. I had a few old college friends over for dinner, and two out of the five of them remarked on the "new security system" I now had. They were absolutely shocked when I told them that it wasn't a camera system at all. Believe me when I say I will NOT be returning my Bionic Spotlights!
How Many Bionic Spotlights Do I Need?
I say Bionic Spotlights, plural, because I ended up buying three — one for my front door, one for my back door, and one for the side of my house that borders the bedroom windows. First of all, I think it makes the whole setup look more like a cohesive security system, which makes the ruse more convincing. But I also just wanted to have that extra level of deterrent at all the entry points of my home.
I just imagine that anyone creeping around my home with the intention to rob me, get into my garage, and steal my car would be immediately deterred the second the spotlight turns on. They would be instantly illuminated in super-bright LED light — I mean, this thing makes it look like it's practically daytime. For all they know, they're now being recorded by a camera as well. It's hard to imagine a would-be criminal finding themself in that position and not instantly bolting.
Other Bionic Spotlight Features
Solar Powered
I didn't have to hire an electrician to figure out the wiring, and I don't have to constantly buy batteries — this spotlight simply powers itself! Well, the sun does. It's such a relief that all of the work to set this up took place up front. Once the spotlight was installed, it did the rest of the work for me.
One drawback to being solar powered is that this might not be the right product for you if you live in a location that doesn't get a lot of sun. (Forks, Washington, anyone?) I would say if you get less than three to four sunny days per week, it might not be for you.
You also have to make sure you place it so that the solar panel is in the sun. If you have a front porch overhang, for example, you might have to get more creative with where you locate your spotlight.
Withstands Rain
Bell + Howell claims that this spotlight is weather-resistant, and while I've only had it for a few weeks now, I'm inclined to believe that claim. It's already survived heavy winds and rain from the hurricane that just hit the East Coast, so I know it can hold up to torrential downpours, at least.
The real test will come in the winter when temperatures drop. But I have to say, based on what I've experienced with this product so far, I feel confident that it's going to hold up just fine.
Easy Installation
It was also super easy to mount since the mounting accessories come with it. I was able to mount mine on the siding of my house, but I imagine it could also mount well onto a fence, a column to support an overhang, or even on a gutter or drainpipe.
I was kind of dreading the whole set-up aspect — I'm not really a DIY person — but it was so straightforward and easy that I didn't really need to worry at all.
How Long Does It Take To Charge?
Here are some stats in case you want to know specifics. These are all based on estimates from my own experience with this product. The spotlight illuminates approximately 500 square feet, and its radius of motion detection is 20 to 25 feet. The spotlight stays on for 45 seconds before turning off (unless continuous motion keeps it on).
The one time it ran out of charge and didn't operate (after four days of no sun during the hurricane), it took about 13 hours to fully charge up again. Again, that might be too long of a charge time for folks who don't get regular sunshine every couple of days, so just think about where you live and whether that amount of sunshine is feasible.
Stay Safe With the Bionic Spotlight Extreme
Overall, I would give the Bionic Spotlight Extreme 4.5/5 stars and would definitely recommend it to anyone living in a sunny locale who wants some sort of security system for their home but can't quite afford a legitimate security camera. (It's also just great having that light go on every time I need to take the trash out late at night or use my grill after the sun has gone down.)
It was convincing enough that some of my friends thought I had bought a full security system. That's all I needed to hear to never go back to my pre-Bionic Spotlight days.