Alien Tape: Stickiness Unleashed – Our Review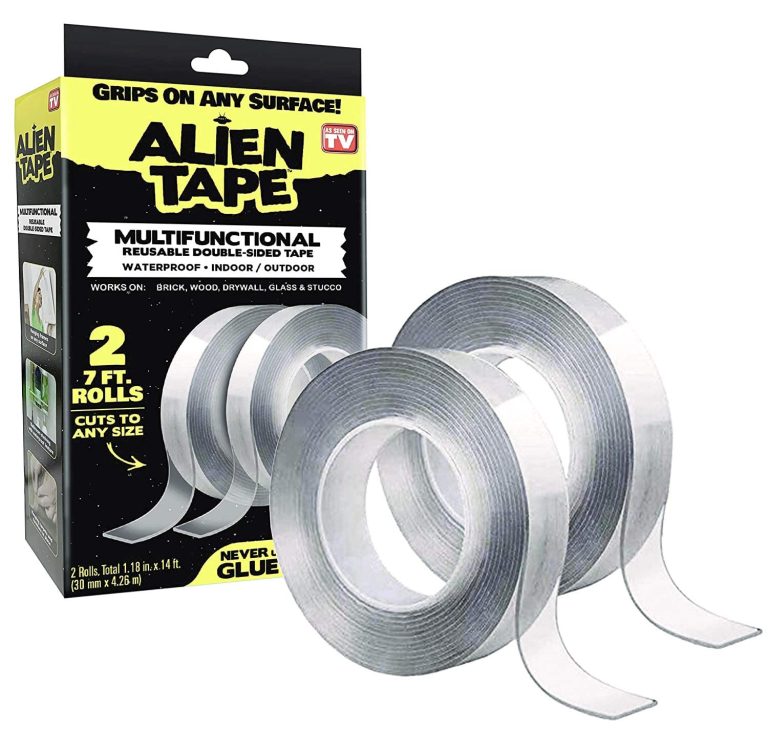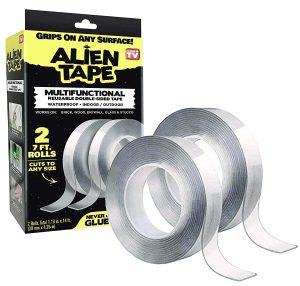 Okay, folks. I hadn't ever used Alien Tape until recently — I usually stick with command strips and nails to hang up all of my art, shelves, and wall decor. But I decided to buy a roll on a whim, and now I've been converted for life. I will never go back. Let me tell you why I love this product so much.
I recently moved apartments, and once everything was unpacked, my immediate priority was getting things up on the walls. (It doesn't feel like home until I have my photographs and art up.) I didn't want to nail a bunch of holes in the wall, and command strips just weren't doing the trick.
That's why I initially decided to check out Alien Tape. Not only was I able to use it to hang all of my favorite paintings and wall art, but I also used it to install floating shelves, support a cabinet, and hang my pothos plant from the ceiling in my bathroom. It actually blew my mind how well this stuff works! Allow me to explain a little more.
As I understand it, Alien Tape works well because of its advanced Nano-Grip technology — it can stick to nearly any surface without adhesives. Unlike command strips, the tape is double-sided, so there's no need to stick two pieces together to use it properly.
You simply use it as normal tape — one side sticks to the wall, the other to the object you're hanging. According to the specifications on the box, it can hold up to 17.5 pounds, which I found to be more than enough for all of my needs, including some reasonably hefty floating shelves.
Plus, it comes off the wall without leaving any residue (which I definitely appreciated when it took me three tries to get a large painting to hang straight!) Once removed, you can reuse the piece of tape again and again.
Just pull it off the wall and rinse it, and it will be as good as new. I've been trying to reduce waste, so I especially love that feature. With three rolls of this stuff, I don't think I'll ever run out.
Alien Tape also works really well for hanging things outside. I sent a roll to my sister-in-law when she was building a patio in her backyard, and she used it to hang up fairy lights and mount a speaker system. The tape is super weather-resistant, so you can use it inside or outside, whatever your needs are. It works on brick, glass, stucco, wood, and drywall.
According to the box, you should only use it on painted surfaces and sheetrock if whatever you're hanging up will be permanent since removing it from painted surfaces risks chipping the paint off. (I told you this stuff is heavy-duty!) But as far as surviving storms, rain, and wind go, you won't find a more durable product.
Another way I've started using this product around my apartment is to prevent furniture from sliding around and scratching the wood floors. I just cut a little piece of tape to match the size of the feet on my couches, chairs, tables, etc., then tape them to the floor. (Obviously, you should only do this for furniture you don't want to move around, like armchairs, not chairs for the dining room table.)
I've used it to stick a couch, two armchairs, and a small side table to the wood floors in my living room, plus my dining room table in the dining room. And so far, it's worked amazingly well! The furniture doesn't move, and there are no scratches on my floors. That's a win-win.
I really can't express how useful this product has been for me through the last few weeks of my moving process. It's the perfect no-assembly-required solution to many decorating needs — hanging things up, mounting shelves, plants, and speakers, and even fixing broken objects in a pinch.
I'm by no means a natural at DIY'ing, so having a heavy-duty tape to do so much of the work for me was a lifesaver. I could hang up my whole gallery wall in just a few hours, and I had plenty of tape left over. All I had to do was cut a few pieces of tape per piece of art — usually one strip for the top of the painting and one for the bottom — and I was good to go.
Tasks that normally take me days to accomplish are done in the blink of an eye, and my whole apartment is nearly put together already. It's convenient, saves me a ton of time, and doesn't do any damage to my apartment walls the way nails or adhesive products might.
A note of warning, though: This tape is STRONG! (Did I mention it holds up to 17.5 pounds?) When I use regular tape, I tend to stick the extra pieces onto the corners of nearby tables or cabinets before using them. I would NOT recommend doing that with Alien Tape.
It's so strong it might be a bit of a hassle to pull off! Instead, I would recommend sticking the tape directly onto whatever you need to mount as soon as possible after cutting it. Plus, that will ensure you're applying maximum stickiness to whatever you're hanging.
If you get the tape stuck on something (or simply need to remove it, for whatever reason), pull at one end the same way you'd pull to remove a command strip. Pull as far out horizontally from the tape as possible, and it should come right off without any residue or fuss. Just watch out; sometimes, when you do this, the tape can snap back and whip your hand a bit.
Initially, I only bought one roll of Alien Tape, but once I realized how useful it was, I ended up buying a three-pack, which I'd definitely recommend. Because this tape is reusable, a three-pack is probably enough to last a lifetime of hanging up and mounting home decor, sticking furniture to the floor, and fixing broken furniture and other objects. (As I write this, I'm thinking about a broken desk drawer in my bedroom… I'll have to take a crack at it with Alien Tape and see if it can't get the job done!)
Maybe you're fine with using nails, screws, and command strips to take care of your decorating. But trust me, if you don't at least try Alien Tape, you're missing out. It's mess-free, double-sided, reusable, durable for outside and inside use, and super customizable since you can cut the tape into strips to suit the size and shape of whatever object you're hanging up or mounting.
I don't know what else I can say to convince you that this product made my life SO much easier, and I'm sure it can do the same for you. Not to be totally cheesy, but Alien Tape is out-of-this-world good.
If you haven't tried it yet, now is your time — you can order it online and have it on your doorstep in just a few days. Whether you're moving, redoing a room in your home, or just simply need to hang up a few things, Alien Tape will get the job done with ease.
Sources: