Bell+Howell Triburst LED Light: Brighten Up Your Space – Our Review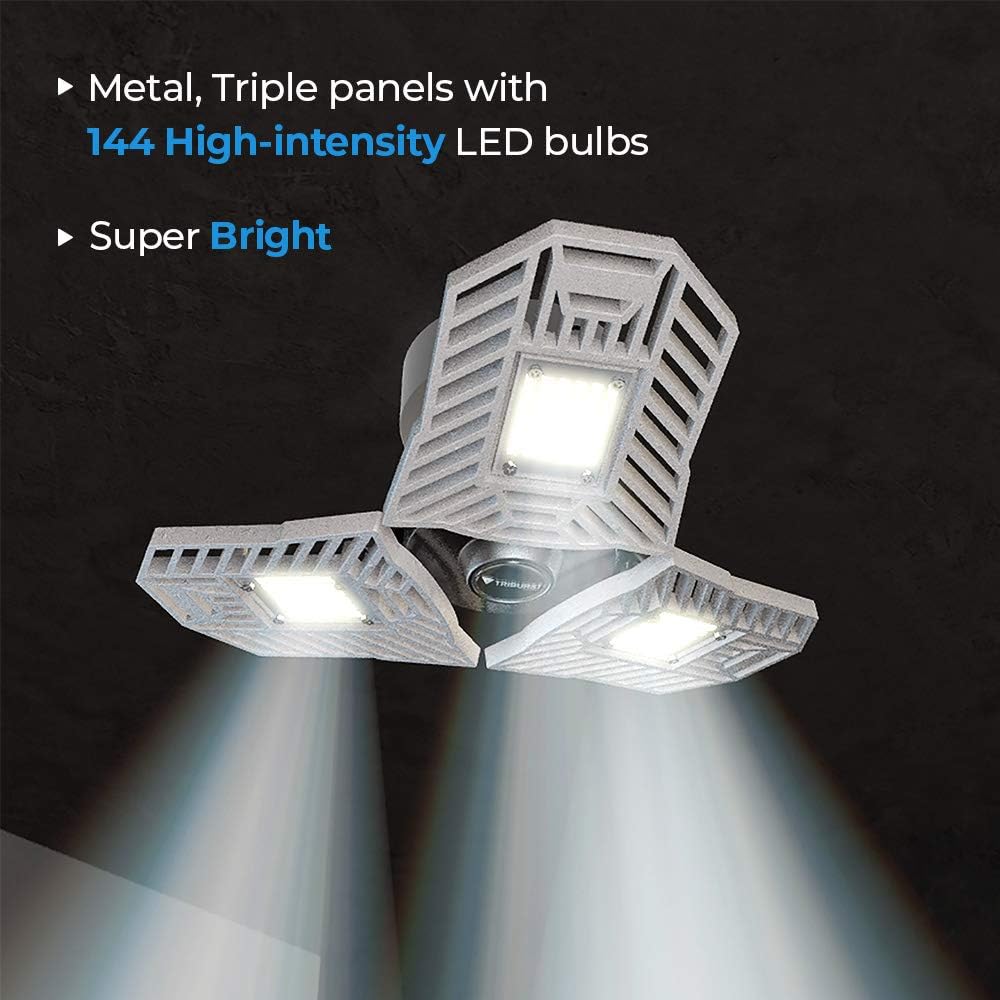 If you enjoy working on projects in your garage as much as I do, this product is for you. Bell + Howell's Triburst LED light totally transformed my garage space, and it's probably been the least expensive yet most beneficial product I've ever bought from them. Sit tight, and I'll explain why I love this light fixture so much.
I'm a big DIY guy, and pretty much every home improvement project starts in the garage. I've built several cabinets from scratch in there, as well as a large bookshelf for my wife (she's a HUGE reader) and several smaller projects — spray painting picture frames, replacing a chair leg, etc.
Recently, my youngest has taken to copying me and working on his "projects" in the garage as well. Right now, he's going through a fishing phase, so those projects have mainly consisted of painting his tackle box, organizing his lures, and making DIY fishing lures from aluminum foil and random crap we have lying around the house.
I love working in the garage, and I'm glad my little buddy does too, but for as long as I can remember, it's been pretty dim in there — almost too dim to work comfortably. Once I had a nine-year-old working with hot glue and fishing hooks alongside me, I knew it was time to improve the lighting.
I didn't want to take the risk of him poking himself (or me) with those fishing lures or generally risking injury because it's too dark to see properly. So, I did some research, and eventually, I found out about the Triburst LED Light. Boy, am I glad I found it. It's improved my workspace SO much, and I no longer have to worry about my son working in the garage, either.
The Bell+Howell Triburst LED light is basically a three-prong light fixture that screws into a normal lightbulb base. To install it, all I had to do was remove my old, dim lightbulb and screw the Triburst in. Voila – let there be light.
The three prongs are composed of 144 LED bulbs, which, according to the packaging, is the equivalent of 4,000 lumens. That's about four times the brightness of a normal lightbulb. Although I haven't measured the wattage myself, I definitely believe it. Working in the garage with the Triburst overhead is like working in broad daylight.
It's so much easier to see all my tools and into every corner of the garage. (Unfortunately for my son, it's also much easier to see the cobwebs and spiders lurking in those corners).
As an example of how well this has worked for me over the past couple of weeks, let me tell you about the chair I've been working on.
One of the springs in our favorite armchair recently popped loose, but before we gave up on the chair entirely, I decided to cut the fabric off from the bottom and see if I could fix the spring myself. Previously, I would tip the chair onto its side and use a flashlight to see into the spring mechanism to figure out what went wrong and how to fix it.
After I installed the Triburst LED light, I tipped the chair onto its side, and that was all I needed to do! No more flashlights required. It makes conducting repairs SO much easier. (And yes, I did end up fixing the chair.)
One of the great things about this product is that the panels are all adjustable. You can adjust them so that the light shines evenly throughout the space or so it's concentrated in one corner or region of the room. I hate getting a light fixture and realizing it doesn't distribute light throughout the space the way I imagined, so I really appreciated this element of the design. I wish all of my light fixtures were adjustable like this one.
One thing I will say about the Triburst light is that it's not very cute. In this case, function, not form, is definitely the priority. That's no problem at all in my garage, and it wouldn't be a problem in an attic or back porch, either. However, if you're looking for a bright LED light that also has a cute or aesthetically pleasing design, this would not be it.
As my wife would say, "It just doesn't really do much for the feng shui of the room." (I'm not sure she's using the term properly when she makes these statements, but I learned long ago not to argue with her about the little things.)
So, if you're making your lighting choices based on style and aesthetics, maybe avoid this one. But if you're looking for an inexpensive, functional, SUPER bright lighting solution, I could not recommend the Triburst more.
Speaking of the price, let's talk about it. When I bought mine, they were going one for $19.99 or two for $27.94. Personally, I think that's an amazing deal, and I ended up buying two — one for my garage and one for my attic. We definitely use the attic light a lot less, but it's still nice to have. So, at about $14 a light, I was really pleased with the quality and results of this purchase.
Obviously, that's a bit more than a regular light bulb, but considering I'm getting the brightness of four light bulbs in one fixture, I feel like I'm practically earning money with every use. Plus, I got free shipping, a 60-day money-back guarantee, and a five-year warranty.
I can't remember the last time I got customer service like this. I think that value for how much it actually costs is super impressive and puts an already worth-it product into the realm of "you'd be an idiot not to buy this."
The five-year warranty also genuinely shocked me. Light bulbs generally last, what, a few years? For something this bright and this high-quality to be guaranteed for up to five years is unheard of.
I'm a budgeting nerd, so I immediately broke that down into cost per year — That's less than $3 per year, and for the amount of lighting you're getting (the equivalent of four regular light bulbs), it's equivalent to less than a dollar per light bulb per year. Very impressive, in my opinion.
So yeah. I'm not normally one to sit down and write such a long product review, but having a Triburst in my garage has made my life so much easier. For so little work and so little money out of my pocket, I just couldn't resist spreading the word. It was the perfect solution to my dim garage lighting woes, and it also gets the job done in our attic. If you're in a similar situation and need a super-bright but inexpensive light, I could not recommend the Triburst LED light more.