Bell + Howell TacLight Max: Brightness Redefined – Our Review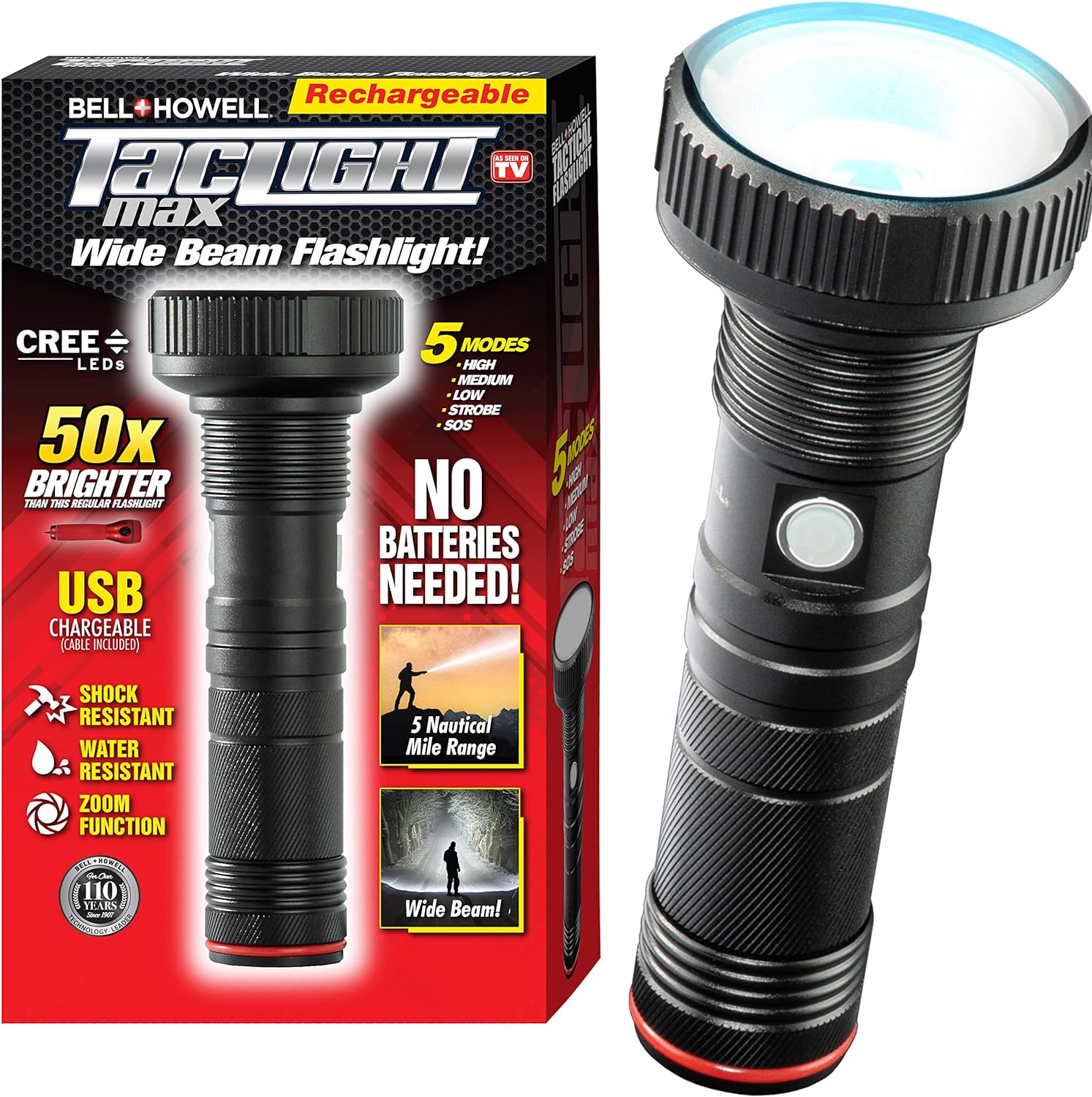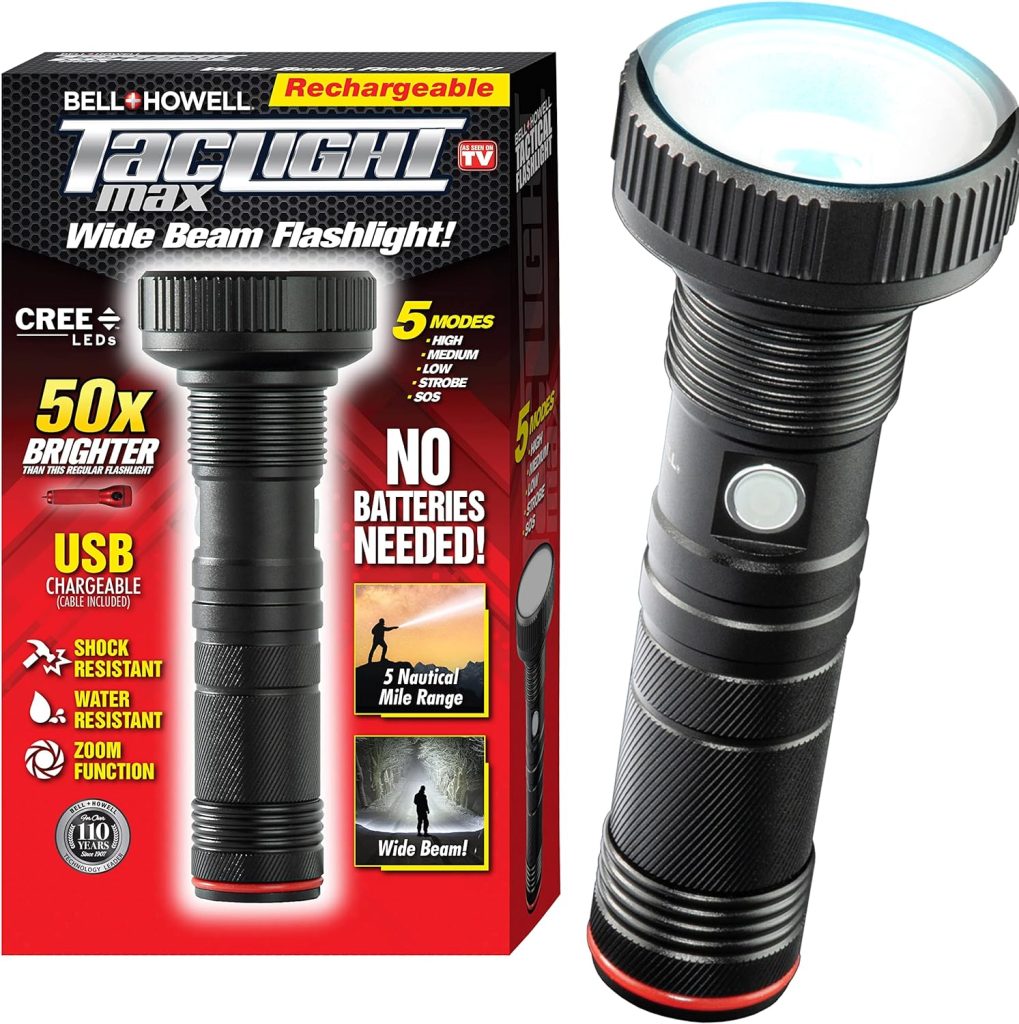 I used to hardly ever think about keeping a flashlight on hand. In the age where every phone comes with a built-in flashlight, why would I? Anytime I needed to peer under a couch or look for lost keys under a car seat, I'd just click the flashlight function on my phone. I think it's been years since I had a real flashlight in my home.
Until a month ago. I live in California, so I'm used to dealing with earthquakes, but once I heard the news of Hurricane Hilary — the hurricane that struck southern California, in case you missed it — I knew I needed to stock up. Everything ended up fine (we had super light flooding where I live), but the earthquake did knock out my power for 12 hours. That night, I realized I had approximately zero flashlights on hand.
Here's the thing. Although my phone flashlight works in most situations, it 100% relies on me having a fully charged phone. When the power goes out, and my phone runs out of battery, I'm out of luck. Plus, let's be real — the iPhone flashlight is great, but it's not that powerful. I can use it to look under my bed, but I don't think I'd have as much luck, say, trying to flag down a rescue helicopter in the midst of hurricane flooding.
I know I might come off as a little dramatic here. But natural disasters and extreme weather are becoming more and more common. It's just a fact of life, and I'm the type of person who believes in being prepared for these things. That's why I ordered the TacLight Max, and I am so glad I did. I'd recommend it to anyone living in a potential natural disaster zone or anyone shopping for a new flashlight. It really is an excellent product.
What Is the TacLight Max?
The TacLight Max is a super-powerful flashlight. It can shine a bright spotlight on objects hundreds of feet away and can be seen up to five miles away. Compare that to your phone flashlight, which can be seen maybe a quarter of a mile away.
I don't want to exaggerate the powers of the TacLight Max, but it's basically impossible to do so. It's just so dang powerful. This is the flashlight you want on hand in the event of a disaster. I know that when the next hurricane hits SoCal (because, as much as we don't want to face it, there will be another one), I'll feel much better having this flashlight on hand.
How Powerful Is the TacLight Max?
To be more specific, this flashlight is fifty times more powerful than an ordinary civilian-grade flashlight. The wide beam utilizes 7000 Kelvins at 500 lumens.
It also has five lighting modes — 25% power, 50% power, 100% power, strobe, and SOS — and I am SO grateful for these different modes. As I said, the 100% power mode is INSANELY powerful, so it's great to be able to rely on 25% power for more casual day-to-day use. You don't want to blind anyone, after all! (No, seriously. I think if you shined this right into someone's eyes at 100% capacity, there's a chance that you could actually damage their eyes. Just saying.)
The 25% power setting is pretty comparable to a normal, high-quality, powerful flashlight. The 50% power setting is strong enough for situations like fishing late at night or gathering kindling for the campfire in the middle of nowhere. And the 100% power is capable of signaling across long distances or for use in emergency/disaster situations.
The strobe setting is just what you'd imagine — repeated flashes of super-bright strobe lighting, which you could hypothetically use to blind and deter intruders or strangers. And finally, the SOS setting flashes out an SOS signal in Morse code, which, again, can be seen up to five miles away.
Although I haven't needed to actually use the strobe or SOS function, I've tested them out, and they seem pretty effective to me. I can imagine that they'd be really powerful tools, should you need them in the event of an emergency. The next time a hurricane or earthquake blows through California, I'll feel much more comfortable knowing I at least have the option of using the SOS and strobe functions on this bad boy. Fail to plan, and you plan to fail, right?
This Flashlight Is Super Durable
This flashlight is powerful in another way, too. It's super physically durable — on the website, there's a video of it getting rolled over by a monster truck and hacked out of a giant block of ice and still functioning fine after both of those things.
What I like about that is not that the flashlight can actually survive these types of damage — what's the likelihood a monster truck will roll over your flashlight — but that it shows that, chances are, you'll have this flashlight for life. This is not a planned obsolescence situation. At no point should you have to worry about your TacLight Max fizzling out because it's just reached its lifespan. It comes with a ten-year warranty and is advertised as "the last flashlight you'll ever buy," and although I've only had mine for a few weeks, I completely believe it.
What Are the Other Perks of This Flashlight?
Other things I really like about this product: It's water-resistant, meaning you can use it in the rain. I've already tested this out twice while fishing, and so far, it's held up marvelously. That's another thing this product has over my iPhone flashlight.
It's rechargeable, so I don't need to worry about batteries, and the charge lasts around 15 hours, so I haven't even had to charge it once since I bought it. I imagine charging it once a month would be plenty.
Once my TacLight arrived, I was shocked by how light it was. Based on its durability and power, I imagined lifting a flashlight the approximate weight of a small engine, but no — it feels super portable and easy to carry around. I intend to bring it fishing and camping with me frequently, so I really appreciate that.
I Would 100% Recommend the TacLight Max
After using this flashlight for a few weeks now, I would absolutely recommend it to others. Even if you don't spend a lot of time in the woods or natural disaster zones, you never know when you're going to need a high-powered flashlight. Just like matches, a first aid kit, and batteries, a good flashlight is one of those things everyone should have in the event of emergencies, in my opinion.
Also, if you're on the fence about investing in this one, I think they have a pretty good money-back policy — you have something like 90 days to test it out and decide if you're going to keep it. If you don't like it enough in that time frame, you can send it back for your money back. I'm kind of an old-fashioned guy. I don't normally like buying things online without being able to test them out or see them myself first, so I appreciated that I had that window of time to decide if I wanted to keep the TacLight or not. If I were a betting man, I'd guess that you're not going to send it back.