All Pro Passer Robotic Quarterback: A Touchdown in Our Review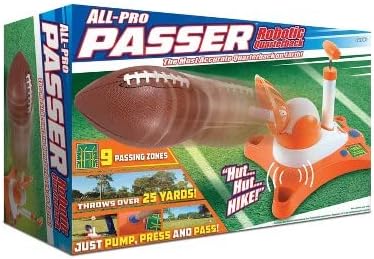 I never thought I would be the type to write a heartfelt review about a robotic football-throwing machine, but here I am, getting ready to pour my heart out. That's because nothing has ever made my son happier than the All Pro Passer Robotic Quarterback.
I mean it. A trip to Disney World, getting his driver's license, his birthday — no matter the occasion or day, I've never seen him happier than when he comes in from the backyard, sweaty and rosy-cheeked, having just spent an hour catching spirals in the backyard. It's wild. And that's why I wholeheartedly recommend this product to you, too.
What Is the All Pro Passer Robotic Quarterback?
It's a little football stand that holds the football and fires it out up to 25 yards so that you (or your child) can practice receiving. Or you can use it for scrimmage. I've seen my son invite a handful of friends over for a scrimmage in the yard across from our house, using this thing as the universal quarterback.
I don't really know anything about football, but I've still been wildly impressed by the speed and power of the All Pro Passer. Obviously, if you play football, you can probably chuck a ball pretty far. But for the rest of us amateurs, I guarantee this thing can beat your best efforts by probably a mile. (Not literally, but you know what I mean.) It throws the ball far and it adds enough oomph to be satisfying.
But the other aspect of this product that I just find wildly impressive is that you can program it to throw according to different plays. My son tells me it can throw in nine different passing zones, which translates to literally hundreds of possible plays. That's why a scrimmage is so satisfying — you can actually run different plays and have a legitimate game of football going on. You just select your play on the All Pro Passer, and it will recalibrate and eject the ball as long or short as it needs to go to complete the play.
Obviously, this makes it super fun to scrimmage. It's also great for practicing individually. My son used this to stay on top of his skills and prep for tryout season all winter and spring long. I think it was exactly what he needed to stay on top of his game and not slip up during the winter break between the end of football season and the beginning of tryouts.
In fact — and my son would absolutely kill me if he knew I was sharing this fact, but what he doesn't know won't hurt him — I think the All Pro Passer did more than he knows to boost his confidence among his teammates and peers. He's been on the high school football team since freshman year, but he's always been second or third string. (Our school district is massive.) He started practicing with this before junior year tryouts and finally made it onto the A-team roster.
Now, obviously, some of that has to do with the fact that he's older and stronger now. He also shot up like a weed between his sophomore and junior years. Definitely, some of it has to do with this thing. Not just because it helped him boost his skills, although that's certainly part of it. But it was more about building discipline and commitment to his sport.
He was struggling with his self-esteem and football ability, and when we bought the All Pro Passer, he got to work on both. He showed himself that he has the determination and grit to work toward something he cares about and to succeed at it. I don't think you can put a price tag on that sort of character development. My son is my pride and joy, and I'm sure he would've figured out a way to achieve this growth regardless. But the All Pro Passer was a catalyst for this development, and as a mother, that makes it one of the best purchases I've ever made.
Is There a Money-Back Guarantee?
If you're still on the fence about this product, I get it. I don't usually like to buy things online without having a chance to see them in real life either. Luckily, I think there's a pretty good money-back guarantee on the All Pro Passer — it was a 30-day money-back guarantee when I bought it — so you can try it out and decide if it's worth your money for a month before fully committing.
If it doesn't work out for you or your family, send it back and get your money back, no sweat. That type of product guarantee always makes me feel better about buying things online (although, if your experience is anything like ours, you will NOT be sending it back).
They also offer a pretty good deal on footballs — less than $15 for additional football(s) with the purchase of the All Pro Passer. I'm a huge fan of a deal like this, so I would recommend you take it, UNLESS you (or your child) are picky about your footballs. Jason has a high standard for the footballs he likes to use, and he'll only practice with NFL-standard balls (or some similar certification, I'm not going to pretend to know). In that case, the extra ball may not be worth it. But if you're just getting this for the fun of the game and aren't on a high horse about the type of football you use, I think this deal beats out the prices at any major sports retailer.
Can You Use Other Types of Balls With the All Pro Passer?
The only thing I would change about the All Pro Passer is that I wish you could adjust the attachment where the football goes so that it could launch other types of balls. Specifically, I wish it had an attachment for tennis balls — my dog would go absolutely nuts! I know there are products that allow dogs to play fetch with themselves, but I would pay a premium to make this thing a two-in-one.
It's so good at chucking the football that I think it would be equally good at playing fetch with my dog. Plus, I already know that it works — I wouldn't have to risk shelling out money on a product that maybe doesn't work as well as advertised when I have this one, which goes above and beyond.
Touchdown With All Pro Passer
In general, I rate this product five out of five stars and recommend it to anyone who likes to throw a football around every once in a while (or who has a family member who likes to do so). Even if you don't use it religiously like my son, it's still great for those cold fall and winter days when you just want to do something outside but don't necessarily have a whole team to scrimmage with or even anyone else to play catch with.
It's transformed my son's self-esteem and made him happier than any other hobby he has. I would absolutely buy this again, and I'm so glad that Jason urged me to buy it in the first place. It's been a game-changer in our house.